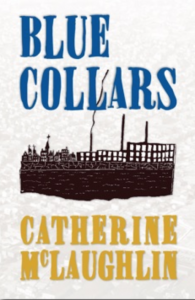 We're bringing walking book clubs to the South Coast! Be the first on your block to try it out! We stole this idea from the Brits (see here) but are putting a decidedly South Coast spin on it by choosing Blue Collars, a book with a local setting, local author and local publisher. Join us on a 1 mile walk, as we visit 5 spots described in Catherine McLaughlin's novel of Finn Kilroy's childhood in New Bedford's South End, as she navigates keeping a dark secret of abuse from her close and loving family.
The price includes the book, a treat from the New Bedford Baking Company & a tour led by Joe Thomas, Publisher of Spinner Publications and South Coast Almanac contributor Corey Nuffer.  Thomas and Nuffer will read passages from the book which relate to the sights and provide some historical background for the novel.
Participants need not have previously read the book to enjoy the tour. Whether you've already finished the book or are just starting it, the tour will provide a context for the novel's setting and will enrich the reading experience.
After the tour, participants are invited to gather at a local restaurant for drinks and further discussion.
When & Where: November 10, from 2-4 p.m. $24.95. We can deduct $10 from the ticket price if you already have the book. Tour starts from the Cove Walk, parking is available at 1087 Cove Road, New Bedford. Advance registration is appreciated. Email [email protected] to register. Rain date is November 11, 2-4 p.m.
Questions? call 781-475-4526.