In these days before spring really arrives, it's so easy to stay on the couch and binge-watch TV episodes. We're trying to resist that temptation (although This Is Us is very good.) Here we give you 6 fun reasons to get out of the house.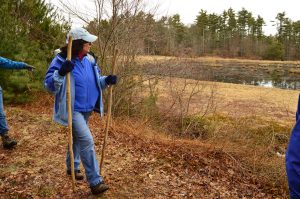 1. Get Fit, and Smart (at the same time)
The Buzzards Bay Coalition and the Wareham Land Trust have partnered to bring us fresh air and history with Wednesday Walkabouts: Historical Tour Series. Take a stroll through four conservation properties and learn about their previous lives as cranberry bogs, iron works and mills. Thanks to Southcoast Health,  these events are free. But you should register online. See how to do that here.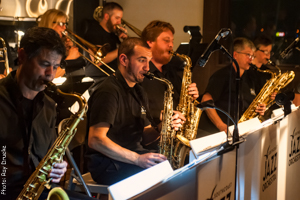 2. Jazzin' Around
We know we've mentioned the South Coast Jazz Orchestra before. More than once. That's because they're that good. Get out and listen to this tremendous group of musicians on either March 13 or March 27 (or both!), hosted by the incomparable Gilda. You will be blown away by their talent. You will also need reservations because the place fills up. Gilda's Stone Rooster, 27 Marion Road, Wareham, 508-748-9700.
3. Turn Up the Gas
Jean Lanahan, owner of the East Wind Lobster & Grille, gives us hands-on cooking lessons. On March 8, she offers Fish 101. She'll teach you Pan Seared Scallops, Rolled Flounder, Poached Salmon and Fried Calamari & Banana Pepper. On March 15, she invites you to play with quahogs. You'll work with 'hogs, 'necks, and cherrystones  to create Stuffed Quahogs, Quahog Stew, and Littlenecks with pasta. Then on March 22, she'll be teaching easy pasta dishes and wine pairings. Just $30 per class, participants will learn how to cook, eat dinner together and take home the leftovers. You can't beat that.
You must reserve your space in advance — check out East Wind's Facebook page here for more info. March 8, 15 or 22 from 6:30 to 8:30. 2 Main Street, Buzzards Bay, 508-759-1857.
4. Irish Adventures
In honor of St. Patrick's Day, go check out the current exhibit at the New Bedford Whaling Museum: Famine, Friends & Fenians. It's a fascinating tale of New Bedford/Irish history just waiting for a Hollywood screenwriter to create a swashbuckling movie. We wrote about the Fenians last year on our blog so if you want to get up to speed before going to the exhibit, check that out here. New Bedford Whaling Museum, 18 Johnny Cake Hill, New Bedford, whalingmuseum.org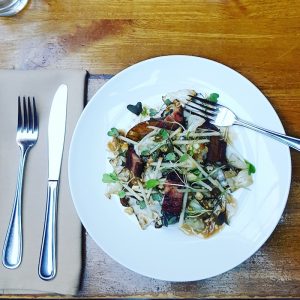 5. Farm-to-Table Party
The spring equinox is March 20. Two days later, Ella's Woodburning Oven Restaurant celebrates with a farm-to-table dinner, featuring meat from Weatherlow Farms and greens from Eva's Garden (see more about Eva here). Chef Marc Swierkowski of Ella's teams up with Chef Ed Rosazck from Mattapoisett's How on Earth to create a delicious celebration of our local bounty. Bog Iron Brewery of Norton rounds out the dinner with local craft beer pairings for the dinner. Contact Ella's Woodburning Stove Restaurant for more information at 508.759.3600 or [email protected].
6. Page to Stage

For a different kind of pairing, the Z is offering three stage performances with a twist this month. To deepen the theater experience, the Z will offer community book clubs to accompany each performance, delving into the themes of the books before the topics come alive on stage.
A March 1 book club will discuss  Life, Animated: A Story of Sidekicks, Heroes, and Autism by Pulitzer Prize-winner Ron Suskind, which is linked to Spencers: Theatre of Illusion performance on March 4.  Life, Animated is a twisting, 20-year journey that follows the author's autistic son Owen, and inspired the Oscar nominated documentary of the same name.
On March 2, the book club discusses The Giver by Lois Lowry before seeing American Place Theatre's superb adaptation the same night. A Newberry Award-winning book, The Giver has become a staple of young adult reading lists but it's engaging for adults as well, with a story that will have you thinking about big concepts like ethics and individuality long after you put the book down,
On March 30, prior to the arrival of Argentine company Che Malambo later that night, the Z's book club will discuss Evita: The Real Life of Eva Peron by Nicholas Fraser and Marysa Navarro.
The book groups are free and open to the public but please RSVP here. To purchase tickets to the shows, go here. The Zeiterion Theater,  684 Purchase Street, New Bedford.
If you have any other suggestions to tear us away from Hulu and Netflix, leave them in the comment section. And if you want to stay in the know about cool and eclectic South Coast events, sign up for our free emails right here.