We're bringing walking book tours to the South Coast where we use books as an excuse to take afternoon walks! We stole this idea from the Brits (see here) but are putting a decidedly South Coast spin on it by choosing books and/or authors with a connection to our region.
This year, we've enjoyed some lovely rambles: in the Fall River Highlands with author Mark Elber and his amazing collection of poetry, Headstone; and at Bay End Farm in Buzzards Bay visiting the hidden cottage where Khalil Gibran wrote The Prophet by Kahlil Gibran. We explored the gilded age of Marion with A Picture Postcard History of Marion, edited by Pete Smith.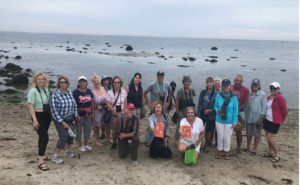 What's a walking book tour, anyway? It's the opportunity to get outside with fellow book lovers and explore a new corner of the South Coast and wonderful books with some connection to the South Coast.
When and Where? We'll join Leslie Lawrence with her recently published book I'm A Lucky Woman: A Photographic Memoir of a Breast Cancer Survivor.  It's a raw, unflinching look at her experience from diagnosis through treatment.
Leslie is a Dartmouth resident and South Coast beaches play a starring role in her story. So join us at the beach!
We'll meet at Allen's Pond Sanctuary in Westport on October 24 from 2 to 4:00 pm. Reading the book is not required but you can pick it up in New Bedford at Footprints or The Drawing Room, or you can order it here.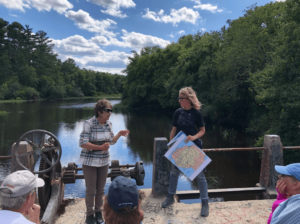 The event is FREE but pre-registration below is required.
Looking ahead, on December 2, we'll join Maggie Jackson with her book Uncertain: the Wisdom and Wonder of Being Unsure (to be published November 7) on a walk filled with fun uncertainty in Little Compton. If you'd like to receive updates on that, sign up here.