We're bringing walking book tours to the South Coast where we use books as an excuse to take afternoon walks! We stole this idea from the Brits (see here) but are putting a decidedly South Coast spin on it by choosing books and/or authors with a connection to our region.
Last year, we explored Westport Point with In the Wake of the Willows by local author Fred Thurber, toured New Bedford's hurricane barrier with the Army Corps of Engineers while discussing Everett Allen's A Wind To Shake the World, about the Hurricane of 1938, searched for migrating shorebirds on West Island in Fairhaven in connection with Yara Zgheib's lovely novel No Land To Light On, and ambled through the woods of Dartmouth with author Ben Shattuck and his book Six Walks: In the Footsteps of Henry David Thoreau.  
Next up is Headstone on May 10 with author Mark Elber from 4 to 6 pm.
We're excited to embrace a collection of poems for the first time. Author Mark Elber will join us to read from his award-winning collection of poetry, Headstone. We'll walk around the Fall River Highlands with Mark, ending inside the sanctuary at the spectacular Temple Beth El to experience the stained-glass windows there at a magical time of day.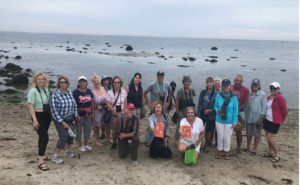 What's a walking book tour, anyway? It's the opportunity to get outside with fellow book lovers and explore a new corner of the South Coast and wonderful books with some connection to the South Coast.
When and Where? The next walking book tour is in Fall River on May 10 from 4 to 6 pm.
Why this book for our book club?
HEADSTONE is Mark Elber's debut poetry collection and won the 2022 Henry Morgenthau Poetry Prize for a poet 70 or older. The South Coast is home to Mark Elber and that's reason enough!
The collection examines Mark's personal history as well as his Jewish inheritance. Though the poems are not set on the South Coast (the books spans past generations' experiences in Eastern Europe, through the Holocaust, and finishes in New York and Israel), we thought we'd bring it home to Mark's present, specifically Temple Beth El in Fall River where the walking tour begins and ends and where Mark and his wife Shoshana are rabbi and cantor.
We'll walk about 2 miles around the historic Fall River Highlands, with multiple stops at places inspired by various poems, before returning back for our final reading in the sanctuary of Temple Beth El. Come experience a special walk around Fall River with award-winning poems read by the author himself.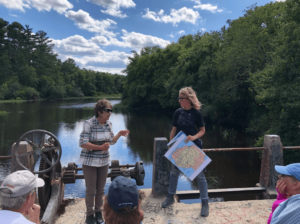 The event is FREE but pre-registration below is required.