Surprenant & Beneski, P.C. is sending us around the area to their favorite food spots because it's a law firm that is all about family and they know food is an integral part of family life. This month, we were picking up our mail in Onset when we smelled bacon…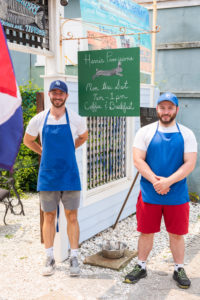 If you're expecting perfection, you've come to the right place.
You may miss the sign but you can't miss the smell of bacon wafting through the air. Tucked in a charming little wooden trolley next to Onset's post office is Harris Provisions, serving up breakfast sandwiches and coffee. They are breakfast sandwiches and coffee like you've never had them, made with a level of attentiveness that brings both art and science to the table.