Surprenant & Beneski, P.C. is sending us around town to their favorite food spots because they know this time of year is all about food and family (and also because this year, more than ever, our favorite small businesses need a shout-out). S&B loves to get lunch from The Baker in downtown New Bedford so we went to find out what Brandon Roderick was up to…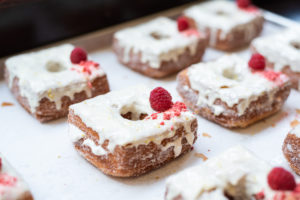 When it was first introduced by Dominique Ansel in 2013, the cronut — a combination croissant/donut — caused a bit of a ruckus in NYC. People lined up around the block to buy them at his bakery. Scalpers bought and resold them for many times the original price — at one point, they were charging $100 per cronut and $5,000 for a 20-piece order.  This winter, The Baker in New Bedford brings the cronut to the South Coast.
Brandon Roderick, a.k.a. The Baker, is no stranger to passionate fans and lines out the door. His four year old shop has been delighting folks with his top-notch pastry and patisserie, his fresh bread, his sandwiches, his weekend specialty donuts, and his crowd-pleasing egg sandwiches. Like Dominique Ansel's bakery in New York, you have to get there early to secure your favorites because he sells out often.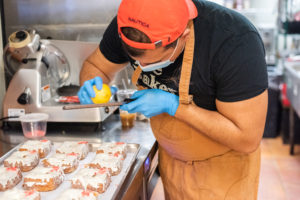 Twelve years ago, Brandon was in the Tufts University library, surrounded by books and studying for his chemistry final exam which led his thoughts to wander beyond chemical equations. Where was he happiest? he wondered. The answer was work. He loved working at restaurants. He sent in an application to Cordon Bleu and four months later, he had left his full-ride scholarship at Tufts for cooking school. He assumed he'd be a chef but he unexpectedly fell in love with pastry along the way.
The guy is a hard worker. After graduating from Cordon Bleu, he worked at from-scratch, technique driven bakeries in Greater Boston where he honed his skills both producing for the pastry case and in management. As demanding and intricate as baking is, performing alchemy with flour, sugar and butter does not bring in the big bucks. So he supplemented his day job with waiting tables at another restaurant at night, sometimes napping in the parking lot of a McDonald's between his shift at the bakery and his dinner shift at the restaurant.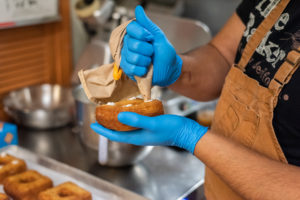 When he moved back home to New Bedford in 2014, he worked at Ella's Wood Burning Oven Restaurant while looking for a storefront to eventually call his own. His grandmother found the spot on Pleasant Street on her way to the post office. In December 2016, The Baker was born. His motto: "classics, done well." On his first day open, he sold out within 3 hours.
It's a strange time to be in the restaurant business and Brandon is trying to shake things up, to make some fun for himself. He wants to fall in love with a new pastry and to engage with his customers in a new way.  So this winter, he's introducing Dominique Ansel's marriage of the croissant with the donut in monthly pop-ups that will take place at night. As much as Brandon needs a little fun, so do we. And the combination of flaky croissant dough filled with whipped white chocolate lemon ganache will make you forget your troubles for a while.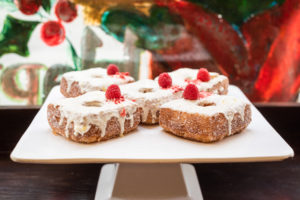 These cronuts are works of art. Three days in the making with lots of care and attention on each of those days, the final product is a beautiful geometric square with a circle for the center, topped with white chocolate glaze and a garnish of freeze-dried raspberry and a fresh raspberry. It begs you to look at it for a bit. Maybe take a photo of it. The cronut is a star.
It's so beautiful, you think that it'll be too much to eat. Too sweet, maybe. Too heavy.
Not at all.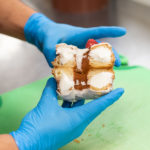 The layers of croissant dough make it pillowy soft. The filling is light and airy with a tarty zest from lemon. We sampled some at home and it was the most delicious thing I'd had in a long while. I didn't even regret it afterward. "Worth the calories," as Prue would say on the Great British Baking Show. I can't wait to see what other cronut flavors Brandon creates.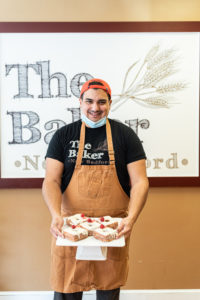 It's a bit of a secret when his cronut popups will happen. He actually doesn't want too much publicity because his small kitchen can't handle large scale production of cronuts. His fryer can only handle 12 at a time.  And because they are so labor intensive, he can't just make them in the midst of the regular busy workday.
But here's what we can tell you — it'll happen monthly throughout the winter in the evening. Think of it as The Baker, After Dark. He'll let fans know on Facebook (here) or Instagram (here) so follow him there to hear the news first. In the meantime, he's still open on Union Street Wednesdays through Sundays with all his usual delicious fare. Why wait for a cronut? Go down and see what's in the pastry case today!
Photos by Liam Connor Photography
The Baker, 562 Pleasant Street, New Bedford
We hope you enjoyed the fifth in a series of blog posts celebrating local food spots, sponsored by Surprenant & Beneski, P.C., the premier estate planning and elder law practice serving clients in Southeastern Massachusetts. Surprenant & Beneski, PC  can help you prepare the foundational documents needed to facilitate healthcare, financial and legal decisions should a medical crisis occur. Early planning can save money, heartache and angst during a temporary bout of incapacity or a long-term care event. Getting your estate plan in order gives you peace of mind – is it on your to-do list for 2021? Find out more about them here.
In the meantime, if you want to make sure you don't miss learning the next of S&B's other favorite food spots, sign up here.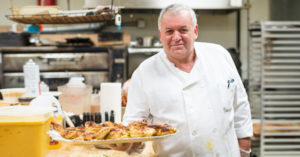 First in the Series: Shipyard Galley
Click here if you want to see why no one makes Tuscan Chicken like Joe makes Tuscan Chicken.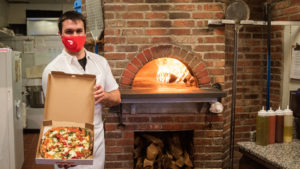 Second in the Series: Brick Pizzeria
If you always wondered what made Brick's pizza so good, we got the answer! Click here.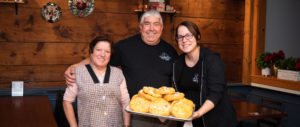 Third in the Series: Tia Maria's European Cafe

The secret to their malasadas? Moonshine! Special order them for Christmas! Click here to learn more.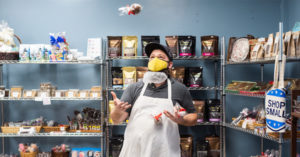 Fourth in the Series: Dorothy Cox Chocolates
Cocoa bombs have a much better ring than Zoom bombs. Dorothy Cox's Candies & Ice Cream is working overtime to end 2020 on the cocoa bomb note. Click here.