Surprenant & Beneski, P.C. is sending us around town to their favorite food spots because they know this time of year is all about food and family (and also because this year, more than ever, our favorite small businesses need a shout-out). Dorothy Cox Candies & Ice Cream is where S&B went for holiday gifts this year, so we paid them a visit… 
Cocoa bombs have a much better ring to them than Zoom bombs. Dorothy Cox's Candies & Ice Cream is working overtime to end 2020 on the cocoa bomb note.
Dorothy Cox's is that old-fashioned treasure: a candy shop run by candy-makers. They know chocolate, through and through. Francis Cox says he eats about a quarter of a pound a day. He thinks of it as quality control. He also says that when they take family pictures, "we don't say cheese, we say chocolate." His wife Shirley Cox doesn't start her day with a cup of coffee; instead, she starts it with a piece of chocolate.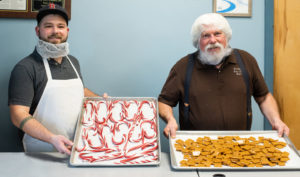 Dorothy Cox started the business over 100 years ago. Four generations later, her nephews and nieces, their children and grandchildren, are still carrying on her legacy. The Butter Crunch recipe is still their most popular seller made with the original recipe that Dorothy Cox used in 1928. As tastes changed over the decades, other recipes were tweaked, some were retired (remember ribbon candy?) and new recipes were introduced. But Butter Crunch is their signature classic.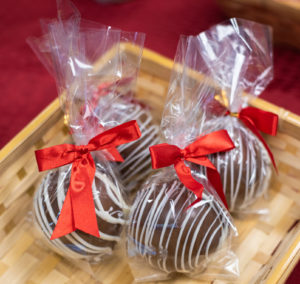 But when someone in the family sees something interesting on TikTok or Instagram, they may give it a whirl. This year, Jennifer Cox lobbied for cocoa bombs. They are milk (or dark) chocolate orbs decorated with white chocolate piping. Inside is filled with rich drinking chocolate and marshmallows. Drop it in a mug of steamed milk and it melts into the perfect cup of rich, hot chocolate. The cocoa bomb is more than a cup of hot chocolate, it's an event in itself! You watch with bated breath to see it crater dramatically from the heat.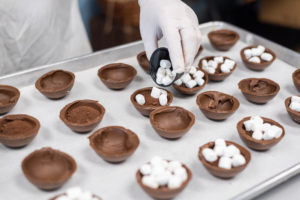 Matt Cox, Dorothy's great-grand-nephew, has been working in the family business since he was eight years old when he stuffed flyers for Christmas fundraisers and his mother paid him in Pokemon cards. He made some cocoa bombs for us last week. This is not machine made. It's a labor of love, made one by one. He can only make twelve at a time because the rest of the molds they tried to buy have been back-ordered. As soon as they make a batch, the finished cocoa bombs fly off the shelves.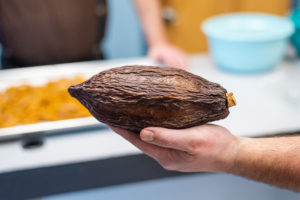 Proud of their past, the Cox family always has an eye on the future, perhaps because the next generation has stepped up to the plate. When the Necco factory closed recently, they bought chocolate conche machines at the factory auction. Soon, they'll use the conche machine to create bean-to-bar chocolate. (Bean-to-bar is a craft chocolate movement, where the candymakers start with whole cocoa beans, which they roast, grind and smooth into chocolate from scratch.)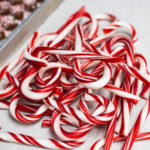 Meanwhile, Dorothy Cox's Wareham factory is busily chugging along, like Santa's workshop, to fill its holiday orders. It's presided over by Francis Cox who, in fact, bears a startling resemblance to St. Nick.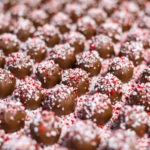 If you can't get cocoa bombs now, try again in January when they will have the capacity to make more. In the meantime, treat yourself to their signature favorite, Butter Crunch. Take a look at everything else they create: the truffles, the chocolate covered berries and nuts, the hand-pulled candy canes. Because you know who on your holiday list loves candy and chocolate?
Everyone.
Photos by Liam Connor Photography
Dorothy Cox retail locations:
21 Berdon Way, Fairhaven and the factory outlet at 8 Kendrick Rd, Wareham.
We hope you enjoyed the fourth in a series of blog posts celebrating local food spots, sponsored by Surprenant & Beneski, P.C., the premier estate planning and elder law practice serving clients in Southeastern Massachusetts. Surprenant & Beneski, PC  can help you prepare the foundational documents needed to facilitate healthcare, financial and legal decisions should a medical crisis occur. Early planning can save money, heartache and angst during a temporary bout of incapacity or a long-term care event. Peace of mind – the ultimate gift for your family this holiday. Find out more about them here.
In the meantime, if you want to make sure you don't miss learning the next of S&B's other favorite food spots, sign up here.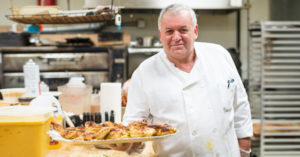 First in the Series: Shipyard Galley
Click here if you want to see why no one makes Tuscan Chicken like Joe makes Tuscan Chicken.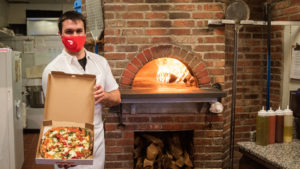 Second in the Series: Brick Pizzeria
If you always wondered what made Brick's pizza so good, we got the answer! Click here.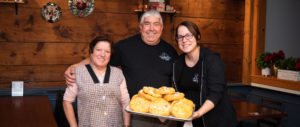 Third in the Series: Tia Maria's European Cafe

The secret to their malasadas? Moonshine! Special order them for Christmas! Click here to learn more.