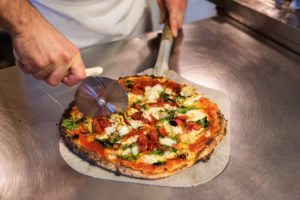 Our sponsor Surprenant & Beneski, P.C. asked us to feature some of their favorite local restaurants during the holidays because they know this time of year is all about family and food (and because this year, more than ever, our favorite restaurants need a shout-out). S & B likes to order lunch regularly from Brick Pizzeria because the pizza is oh-so-good. While they are in the know about Brick's secrets for a stand out pizza, most people we asked were as surprised as we were to learn just why Brick's pizzas are so good… 
There's a little corner of Italy in downtown New Bedford. When the door to Brick Pizzeria opened first thing in the morning last week, we followed the scent of garlic in, wanting to find out what makes Brick's pizzas so good that some regulars come in for dinner four nights a week. And why Surprenant & Beneski, P.C. practically has them on speed dial.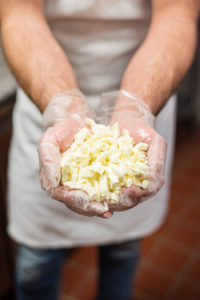 Here's the secret weapon: homemade mozzarella cheese made in-house that morning. Specialty food reps routinely come in trying to sell them fresh mozzarella cheese. Brick doesn't budge. They know that stuff's never as fresh, moist, and flavorful as what they make themselves.
Brick's Assistant Manager Ethan Biron gave us a cheese-making demonstration in the New Bedford location. First, you want this pizza to taste like Italian pizza? Start with Italian cows! They use only fresh curds imported from Italy.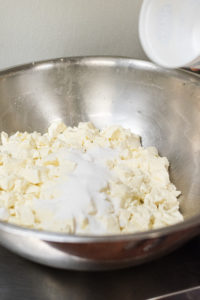 Ethan takes the curds out of the walk-in cooler at the end of his shift. The next morning, he'll stand the wide mouthed bowl under running water to draw the curds up to room temperature before working with them. After draining the water, he'll add a healthy dose of salt before pouring boiling water over it, mixing it and then kneading it like bread dough. He'll then pull some off like taffy and – a quick fold under here and a roll over there – presto, he pinches off a perfectly round ball sized somewhere between a baseball and a softball.
Forming the balls looks easy but it's not (we tried). Ethan says it took him about 2 months to fully master the whole process. He can now work 20 pounds of mozzarella in 25 minutes, start to finish. He'll use this to create over 100 pizzas a day (double that during busy seasons).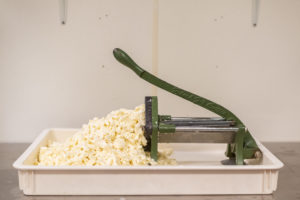 He lets the balls sit in ice water to absorb the flavor and moisture before pushing it through a french fry machine to create short logs of mozzarella that taste better than anything you've ever bought (unless you happen to be buying it at a farmer's market in Tuscany). The leftover water tastes briny like the sea. The cheese carries that with it too.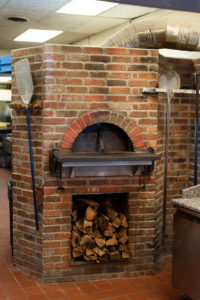 This is what makes Brick Pizzeria stand out from the rest. Their goal is to "make pizza taste more like its roots in Italy." That means fresh house-made mozzarella and dough made in-house. It also means a brick oven, imported by the owners from Italy and carefully reconstructed in New Bedford. "You can cook anything in here. Add some salt, add some pepper, you got something," Ethan says. In fact, co-owner Jay Daniels has been known to use the brick oven to slow-cook his Thanksgiving turkey.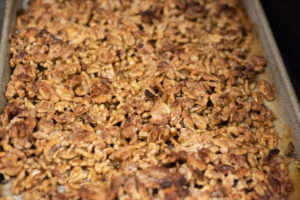 Amidst the hustle and bustle of the holiday season, maybe it's time to order a fresh pie (pizza, that is) from Brick Pizzeria in downtown New Bedford (or from their other locations in Fairhaven & Dartmouth). Order a spinach salad with fresh roasted walnuts on it, while you're at it. When the oven is at its hottest, it takes just 90 seconds in the oven for the pie to bake. You'll likely be served your order less than 5 minutes after you've ordered it.
Sit back and take a bite…close your eyes and just pretend you're in Italy.
Photos by Liam Connor Photography
Brick Pizzeria, Daily from 11 to 9, Sundays 12 to 8. 163 Union Street, New Bedford. Locations also in Fairhaven and Dartmouth. 
We hope you enjoyed the second in a series of blog posts celebrating local restaurants, sponsored by Surprenant & Beneski, P.C., the premier estate planning and elder law practice serving clients in Southeastern Massachusetts. Surprenant & Beneski, PC  can help you prepare the foundational documents needed to facilitate healthcare, financial and legal decisions should a medical crisis occur. Early planning can save money, heartache and angst during a temporary bout of incapacity or a long-term care event. Peace of mind – the ultimate gift for your family this holiday. Find out more about them here.
In the meantime, if you want to make sure you don't miss learning the next four of S&B's other favorite food spots, sign up here.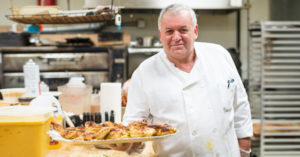 First in the Series: Shipyard Galley
Click here if you want to see why no one makes Tuscan Chicken like Joe makes Tuscan Chicken.