Surprenant & Beneski, P.C. is sending us around town to their favorite food spots to find out their holiday specialties because they know this time of year is all about family and food (and because this year, more than ever, our favorite restaurants need a shout-out). Tia Maria's European Cafe is a favorite spot from which Suprenant & Beneski frequently orders lunch….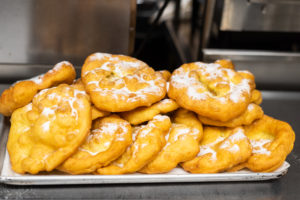 She had me at malasadas. Then she added "we make it with moonshine and lemon zest" and I was setting up the photo shoot.
Jessica Arruda grew up with homemade malasadas on Christmas, Thanksgiving, and Easter mornings and she offers them to her customers by special order so they can relive their own childhoods (or, simply feel like a kid again). She also delivers them on Christmas Eve night to all her friends in the waterfront neighborhood that Tia Maria's European Cafe calls home. "We're all small businesses, always working late into the afternoon of Christmas Eve." She'll be working in overdrive filling malasada orders this Christmas Eve until they run out the door.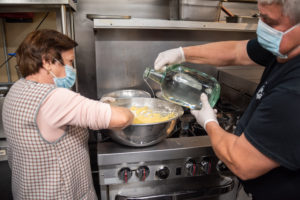 Tia Maria's uses the Coelho family recipe which, unlike any other I've heard of, includes moonshine and lemon zest for just a little extra kick. "Mom is always in charge," says Jessica. "I'm lucky if she lets me flip them in the oil."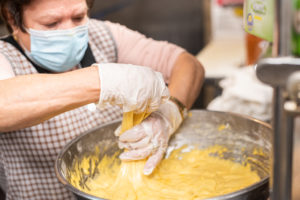 It occurs to me that it's not easy to find moonshine in 2020. Where do they get it? Jessica laughs. Her dad Eduardo Coelho grew up in the small village of Linhares de Beira in the north mountains of Portugal (pop: 400 in summer). He's got a friend from the same tiny village who settled in Dartmouth — he makes moonshine every year and shares a few glass jugs with Tia's. It's a small world when friends from a small mountain village end up living in neighboring towns over 3,000+ miles away.
But in New Bedford, it seems about right. Jessica opened Tia Maria's 7 years ago to create the European vibe she craved from summers spent in Linhares de Beira when she was growing up. "I started the day at a local cafe with my friends and cousins and that's where we ended the day." She decided she wanted to bring that same kind of place back to New Bedford when she grew up. When the space on North Water Street became available, with its multi-paned windows facing the cobblestoned street, she quickly moved on realizing her dream. She opened in 6 short weeks. The first day, she says, she didn't even have a broom.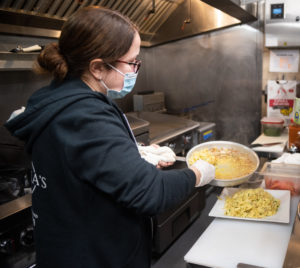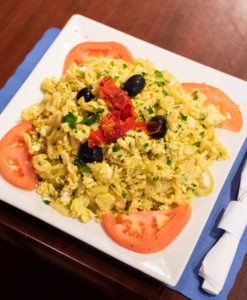 She knew her whole family would be behind her and she wanted the name of the business to reflect that family ethos: "everyone who is Portuguese has a Tia Maria. I have four!" Her mom and dad are often in the kitchen. They help create the food that Jessica (and her customers) love, including Bacalhau A Bras, a delicious mixture of codfish, panfried onions, thinly fried potatoes and scrambled eggs. It's a Portuguese staple and Jessica's favorite. (Our photographer Liam loved it and he doesn't even like fish!) You'll always find it in the weekend dinner specials.
You'll also find the vibe that Jessica dreamed of creating when she was a kid. Yes, it's a coffee shop, where you can get your daily caffeine fix, along with a scone, cookie or breakfast sandwich. But it's so much more. It's a place that feels like a community,
Still, after 7 years of feeding happy customers, Jessica says she doesn't consider herself a chef. She's just serving up comfort food, she says, "from our family to yours."
Photos by Liam Connor Photography
Interested in malasadas for Christmas? It is strongly recommended that you pre-order them!  Call Jessica at 508-993-8900. Tia Maria's European Cafe, 42 North Water Street, New Bedford. Monday – Thursday, 8 am to 2 pm; Friday & Saturdays, 8 am to 8 pm; Sundays 8 to 1 pm.
We hope you enjoyed the third in a series of blog posts celebrating local restaurants, sponsored by Surprenant & Beneski, P.C., the premier estate planning and elder law practice serving clients in Southeastern Massachusetts. Surprenant & Beneski, PC  can help you prepare the foundational documents needed to facilitate healthcare, financial and legal decisions should a medical crisis occur. Early planning can save money, heartache and angst during a temporary bout of incapacity or a long-term care event. Peace of mind – the ultimate gift for your family this holiday. Find out more about them here.
In the meantime, if you want to make sure you don't miss learning the next three of S&B's other favorite food spots, sign up here.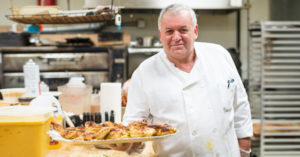 First in the Series: Shipyard Galley
Click here if you want to see why no one makes Tuscan Chicken like Joe makes Tuscan Chicken.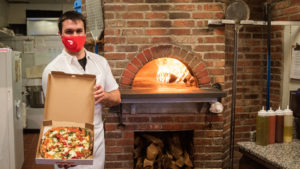 Second in the Series: Brick Pizzeria
If you always wondered what made Brick's pizza so good, we got the answer! Click here.