Our sponsor Surprenant & Beneski, P.C. is all about community. They asked us to feature some of their favorite local restaurants during the holidays because they know this time of year is all about family and food (and because this year, more than ever, our favorite restaurants need a shout-out). First up: Shipyard Galley in Mattapoisett. S & B has used Shipyard Galley to cater their past holiday parties and they know what a treasure it is.
Time to make the donuts debone the chicken.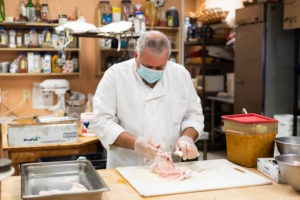 Every morning, for the last thirteen years, Joe Sousa spends his morning deboning chickens, by hand. It's not glamorous work but the owner of Shipyard Galley in Mattapoisett wouldn't have it any other way. He's used to putting his all into everything he serves at Shipyard Galley, his "scratch-made operation" that's open 360 days a year.
The chickens are the star of one of his signature dishes: Tuscan Chicken. Other menu items may come and go but Tuscan Chicken is forever. One customer served it at a party. He came in the next day to tell Joe that one of his guests, who had travelled all over the world, couldn't stop raving about it: "that was the best chicken I ever had!"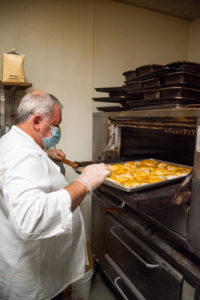 Each morning after deboning all but the wings of roughly 8 chickens, Joe seasons them and pops them in a 500 degree oven for about half an hour. What comes out is tender chicken in a bath of aromatic sauce, with tomatoes, onion, olive oil, wine, fresh herbs and spices. It's Joe's own recipe and he's been making it for 24 years. "The exact same way," he adds. Soon, customers will start arriving to take it home for lunch and dinner with a side of roast potatoes.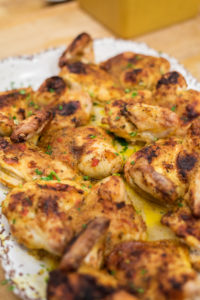 "There's no other place that does this." He pauses a moment. "And I know why," he chuckles, thinking of all the work it entails.
Shipyard Galley is the go-to place for prepared food, the place where locals go to stock up for summer picnics, dinner on their way home from work or for comfort food during the short, dark days of winter. It's been a Mattapoisett mainstay for over 30 years. The Sousas bought it 13 years ago and continued with many of its most loved recipes. Joe works alongside his wife Rose and daughter Jennifer (who is the master behind the cakes and cookies).
"If something works, don't change it" is Joe's philosophy. "Once during this pandemic, my regular mayonnaise was out of stock. I substituted another brand. It wasn't a bad brand, just not the same brand. A customer called me – 'the macaroni salad tastes different.'"
In deference to consistency, the Shipyard Galley will have its usual Shipyard Thanksgiving Specialties even if your Thanksgiving won't look the same as in years past. They're on standby to supply you with staples like Roasted Turkey Breast, Mashed Potatoes, Homemade Stuffing and Gravy. And they'll be rolling out the dough to hundreds of pies. No shortcuts. It's all as if your grandmother is in charge.
Even the bread used for sandwiches is made on the premises from scratch. Every night, the baker arrives at 2 a.m. to bake the bread, along with the Shipyard's signature bear claws, muffins and scones.  The café crowd arrives around 7:30 a.m. The staff often greet them by name, prepping their coffee to order before they've even ordered it.
So accommodating, the Sousas will make anything you want if they've got the ingredients to make it (and they have the ingredients for nearly everything). Someone asks for mac & cheese – not on the menu — they get it. Someone asks for Chicken Abruzzi — also not on the menu — they get it. Joe likes to joke with Rose, "why do we even have a menu?" And all the food is oh-so-fresh. They don't pass day-old stuff as fresh. "We're not making wine," says Joe, "we're making food. It doesn't get better with age."
Shipyard Galley is found at 67 County Road in Mattapoisett.
We hope you enjoyed the first in a series of blog posts celebrating local restaurants, sponsored by Surprenant & Beneski, P.C., the premier estate planning and elder law practice serving clients in Southeastern Massachusetts. Even though our holiday tables may be smaller this year, we're still checking in more frequently with family members (even if that means by Zoom). It's the time of year when Surprenant & Beneski, P.C. often fields calls about what to do when family members seem to be failing. If you have any concerns, know that you can always turn to Surprenant & Beneski, P.C. for advice on how to handle these situations. They know because they've handled them personally and for countless clients. Find out more about them here.
In the meantime, if you want to make sure you don't miss learning the next five of S&B's other favorite food spots, sign up here.
Photos by Liam Connor Photography