Surprenant & Beneski, P.C. is sending us around town to their favorite food spots because they know this this year, more than ever, our favorite restaurants need a shout-out. S&B loves Margaret's in Fairhaven and they had a special reason for sending us there this month…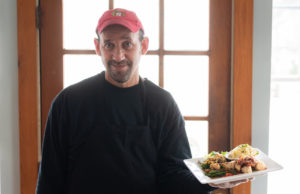 Margaret's chef-owner Doug Buker started as a dishwasher at Seekonk's Cafe in the Barn when he was 15 years old. Mostly, he was drawn to the kitchen because it paid better than his other gig: caddying at Crestwood Country Club in Rehoboth. But soon, he was moving up in kitchens from Houston to Providence: from washing dishes to prepping the food, he joined the line, moved up the line, and then eventually landed at head chef. He is now owner-chef of the beloved Margaret's and its sister restaurant Elisabeth's (note: Elisabeth's is hibernating until spring).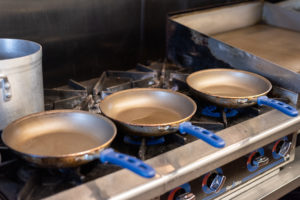 He's there every morning at 6 am (usually earlier), literally playing with fire. The sauté pans sit on open flames ready for action, even when they're empty. "If you're cooking, and you're a sauté chef, you better have a hot pan!" he says.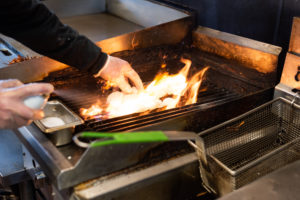 For Doug, it's all about colors. That's what he's thinking about when he creates a dish. He wants greens, reds, whites, and oranges on the plate. It's pretty, yes, but it's also the way we should be eating for heart health. That is one of the reasons we approached Doug about healthy eating choices for this series. Our sponsor Surprenant & Beneski's senior partner, Dan Surprenant had some very personal reasons. It was just one year ago that Dan had major heart attack followed by a quadruple bypass, at just 51 years of age. Happily, Dan has had a great recovery but, like many of us, is looking for ways to incorporate heart healthy eating into his diet. We thought that Margaret's, with its focus on seafood (within sight of the scallop and fishing boats plying the Acushnet River), seemed a great place to turn.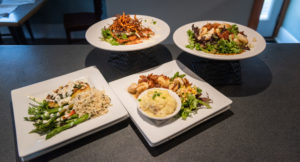 When we asked Doug to recreate one of his favorite seafood dishes, he suggested four (!). Sure, we said, because why not? Doug started flying gracefully around the kitchen prepping the food: grabbing some greens, grilling some asparagus, frying up some sweet potato shoestrings and more. In less than half an hour, he was ready for the photo shoot.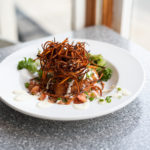 One of his favorite dishes is the fresco haddock which is also one of Margaret's most popular. You've got the haddock, which is lightly fried, set atop a bed of greens and a fresh tomato-basil relish and then garnished with shoestring sweet potato fries. He garnishes it with some lemon aioli and lemon zest and, bam, you're getting all your colors. He wasn't done with haddock though. He grilled some and combined it with grilled asparagus, pesto and almonds. Then he wowed us with grilled scallops with a maple-mustard sauce that he used for a scallop salad. He also paired the scallops with corn relish, greens and mashed potatoes for yet another variation.
In the same way that Doug juggles multiple dinners, he also juggles running both kitchens — he credits his amazing team for making it work (shout out to Brad!). Doug likes that the two restaurants each have their own flavor. Margaret's is a breakfast and lunch place, where you can BYOB. Elisabeth's is for lunch or a night out, with a full service bar.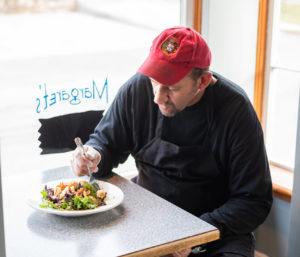 You may see Doug darting between the two kitchens during the day in the little alley between the two buildings. But you won't see him out front as he prefers staying in the background. When we asked him to sit down in the dining room to try his own scallops, he said it was a first, "I've never sat out here before," he said. He took a forkful and nodded, "tastes good." That's definitely an understatement. Everyone else thinks it tastes great.
Longtime waitress Diane Downey says she loves working at Margaret's. "I love the locals coming in. The food – everything is fresh, nothing from a box. I'm proud to serve it."
Photos by Liam Connor Photography
Margaret's, 16 Main Street, Fairhaven. Elisabeth's is closed until spring.
We hope you enjoyed this post, which is part of a series of blog posts celebrating local food spots, sponsored by Surprenant & Beneski, P.C., the premier estate planning and elder law practice serving clients in Southeastern Massachusetts. This month marks one year since Managing Partner Dan Surprenant personally recognized the value of being prepared in the event of a medical crisis. Read Dan's heartfelt story here. Surprenant & Beneski, PC  can help you prepare the foundational documents needed to facilitate healthcare, financial and legal decisions should a medical crisis occur. Early planning can save money, heartache and angst during a temporary bout of incapacity or a long-term care event. Getting your estate plan in order gives you peace of mind – is it on your to-do list for 2021? Find out more about them here.
In the meantime, if you want to make sure you don't miss learning about more of S&B's other favorite food spots, sign up here.
Last post in the series: New Bedford's The Baker — Click here to see Brandon Roderick whip up some cronuts….