Surprenant & Beneski, P.C. is sending us around town to their favorite food spots because they know that after this past year, more than ever, our favorite restaurants need a shout-out. We stopped in at Ella's Wood Burning Oven Restaurant to find out the fun things they're doing over in Wareham….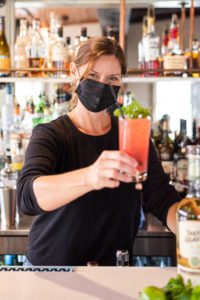 Perhaps it's no surprise that it's all about the cocktails for Bree Swierkowski when she goes out to dinner. She's surrounded by great cuisine all week at Ella's which she owns with her husband Chef Mark Swierkowski. So when she looks at someone else's menu, she's familiar with the flavor profiles of most everything there. But the cocktail menu? That's always got something different and interesting for her to try.
So she wasn't at all surprised that the cocktails-to-go took off last summer. It makes sense to her. People wanted cocktails to elevate their dinners. She says you may be able to throw together a simple Gin & Tonic at home, but hardly anyone has access to infused simple syrup or niche spirits like fig vodka and maple rum to be able to re-create the signature cocktails from their favorite restaurant. So it makes sense to order a cocktail carefully crafted by a professional when you're ordering
The Swierkowski's create new cocktail ideas with their bartender and you can tell they have fun with the bar menu. One season featured cocktails inspired by binge worthy TV shows like the Marvelous Mrs. Mazel, Shameless and Sneaky Pete.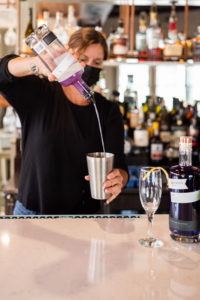 We ordered a couple of cocktails-to-go with our food order and Bree whipped them up for us. An infusion of butterfly pea blossoms gives Empress 1908 Gin its Instagrammable indigo color. To create the 75 Empress, Bree adds some lemon juice, simple syrup and sparkling wine to the gin for a drink that is pretty to look at and smooth to drink. You think it's going to taste — well, purple — but it doesn't. It tastes like a classic, grown-up cocktail. She also mixed up a pretty Cranberry & Blood Orange Tequila Fizz which was as refreshing as it was photogenic.
Early in the pandemic, the Ella's staff had been mixing up batch cocktail mixers (without the alcohol) to sell with takeout meals. "We were trying to figure out how to stay relevant," says Bree. "The bartenders were among the few staff allowed inside the building at first, so they mixed up fun drinks during the down times." They got creative and created drinks with big personalities. She remembers a mango margarita mix prepared without the alcohol for Cinquo de Mayo: pureed mango, lime juice and a simple syrup that was infused with chili and brown sugar. Bree says, "you just had to add the tequila!"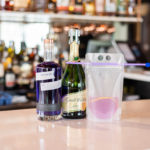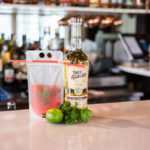 So when restaurants were allowed to offer cocktails to their takeout menus in July 2020, Ella's was right on it. They got some portable pouches — perfect for the beach, the backyard, a picnic — and started filling them with their favorite craft cocktails.
This is Massachusetts so there are some ground rules with cocktails-to-go. You have to order them with food. But that's more like a bonus than a rule at Ella's because then you get to enjoy Chef Swierkowski menu as you sip your craft cocktail. In general, we just get whatever the appetizer special is because we know he's always excited about the specials. But we're also fans of the roasted shishito peppers to ease ourselves into the great dinner that lies ahead. Our photographer Liam ordered the skirt steak and sent a text when he sat down to eat it at home: "Ugh! Everything is so good!"
Yes, Liam. That's right. Everything is so good.
There are some good things that came out of Covid-19 and one of them is the whole cocktail-to-go movement. Enjoy it while we have it!
Ella's, 3136 Cranberry Highway, Wareham. Photos by Liam Connor.
We hope you enjoyed this post, which is part of a series of blog posts celebrating local food spots, sponsored by Surprenant & Beneski, P.C., the premier estate planning and elder law practice serving clients in Southeastern Massachusetts. Surprenant & Beneski, PC  can help you prepare the foundational documents needed to facilitate healthcare, financial and legal decisions should a medical crisis occur. Early planning can save money, heartache and angst during a temporary bout of incapacity or a long-term care event. Getting your estate plan in order gives you peace of mind – is it on your to-do list for 2021? Find out more about them here.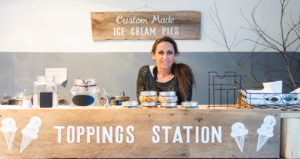 In the meantime, if you want to make sure you don't miss learning the next of S&B's other favorite food spots, sign up here.
Last post in the series: Ice Cream Pies at Gone Country right here.