Surprenant & Beneski, P.C. is sending us around town to their favorite food spots because they know that this year, more than ever, our favorite restaurants need a shout-out. In honor of Pi Day (3.14), S&B sent us out to find a whimsical pie that lived up to the quirkiness of Pi Day…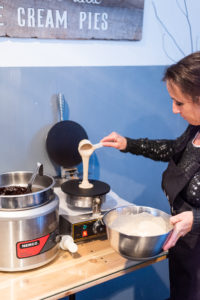 The first thing you notice is the delicious smell of butter, vanilla, and brown sugar that envelops you as you walk in the front door of Gone Country Creamery in Wareham. "Yep," says owner Bryanne Tucy. "I'll never brew coffee here because it would overpower this sweet smell."
That welcoming sweetness is partly the result of the waffle cones she bakes to order. If they're not sold within a short timeframe, they're not good enough for her high standards and she recycles them to use as ice cream toppings.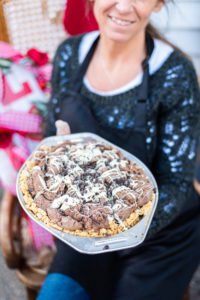 But we were there for the pies. Ice cream pies, to be specific. They're something she just decided to start making on a whim, she doesn't even remember why. Today, they are a signature for the shop, steadily building a cult-like following.
Born and raised in Wareham, Bryanne has worked in food her whole life. As a kid, she didn't play doctor, she played waitress. Since then, she's held waitressing gigs at all the local go-to spots: Lindsay's, Leo's, BrewFish and more. She owned the Victorian Cafe in Onset from 2010 to 2013.
But she's always loved ice cream and dreamed of owning an ice cream shop. She's petite so it's surprising to learn that she makes space in every single day to eat a bowl of ice cream after lunch.  But her desire to open an ice cream place was about more than her own obsession with ice cream. She wanted to have a place that exuded positive vibes and drew happy people toward it. She figured ice cream would do the trick. She couldn't look at a commercial space without wondering if an ice cream shop would work there.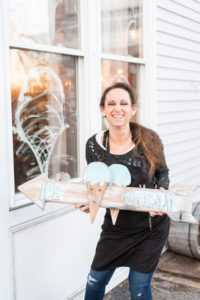 She worked for a time as a realtor until she "sold enough houses to open the shop." She picked out her spot on Main Street in Wareham, down a little alley on the way to Cafe Soleil, with a view of the Wareham River. She built it out, adding family keepsakes like her great grandmother's rocking chairs out front and woodwork created by cousins. The day she opened in July 2018, she only had $30 left in her bank account.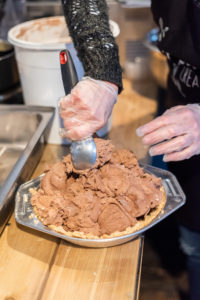 Since then, she's building up the business slowly, proud to serve delicious Acushnet Creamery ice cream. The pies ended up being a niche item that people drive from all over to get. And it's no wonder. They are made with so much care and attention. For the crust, she uses only real Oreo's, no generic brands. She packs it with ice cream and drizzles real Ghirardelli chocolate on top. By the time she finishes, it weighs five pounds (yes, 5 pounds, that is not a typo).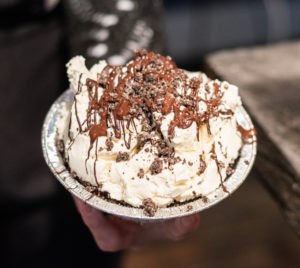 You need a crowd to eat one of her pies. That's why we're lucky she makes individual pies (she calls them individual pie but they easily serve two people). All of the magic of the large pies at just $9 per pie. The individual size pies, which can be made while you wait, "are keeping gas in my car," says Bryanne.
She's still waitressing in the mornings before arriving at Gone Country to open up at 1:00. When she gets there, she's soaking in the positive energy she knew an ice cream shop would provide. She says, "most people dread going to work. I get to hear kids running down the alley toward the shop and hear their excited voices, then their little faces through the window." It's exactly what she imagined when she dreamed of an ice cream shop.
Gone Country Creamery, 245C Main Street, Wareham. Open from 1 to 8. Fridays and Saturdays until 9 pm.  Want to order a pie? Message her on Facebook, email her at [email protected] or call the store (she'll have a phone number starting in April and we'll update this post then).
Individual pies are $9 each, 2/$16. 
We hope you enjoyed this post, which is part of a series of blog posts celebrating local food spots, sponsored by Surprenant & Beneski, P.C., the premier estate planning and elder law practice serving clients in Southeastern Massachusetts. Surprenant & Beneski, PC  can help you prepare the foundational documents needed to facilitate healthcare, financial and legal decisions should a medical crisis occur. Early planning can save money, heartache and angst during a temporary bout of incapacity or a long-term care event. Getting your estate plan in order gives you peace of mind – is it on your to-do list for 2021? Find out more about them here.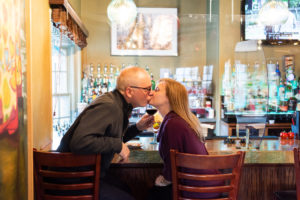 In the meantime, if you want to make sure you don't miss learning the next of S&B's other favorite food spots, sign up here.
Last post in the series: A pair of restaurant love stories, in honor of Valentine's Day right here.