Surprenant & Beneski, P.C. is sending us around town to their favorite food spots because they know that after this past year, more than ever, our favorite businesses need a shout-out. This month, our photographer Liam Connor told us about some amazing macarons he'd had so we stopped in to visit Lauren Wingate at Wingate Cake Design in Westport….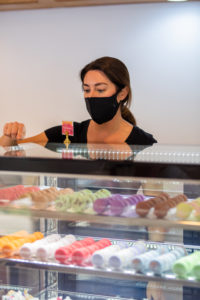 Lauren Wingate didn't bring macarons to the South Coast. The South Coast demanded macarons from her.
"People were obsessed…obsessed," she says, "I never set out to become a macaron baker." She was a cake designer, happily ensconced in her kitchen designing and building cakes that travel to weddings across the South Coast and beyond. But people were clamoring for macarons.  She now often sells 500 macarons a week — sometimes more — and she's only open 2 days a week! Wingate's Cake Design has become the go-to spot on the South Coast for macarons.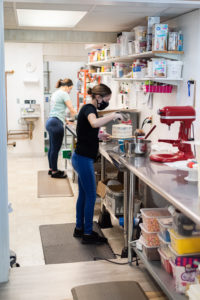 Tuesday is macaron day. It's the day that Katrina Dekett comes to work and "macronizes" the day away– it's a real word, it means mixing your macaron batter smoothly. You want the finished product to have smooth, shiny tops with "feet" or ruffled sides. A little further down the bench Hailee Aldi is decorating Neapolitan cakes. It's a happy workshop that smells like a party coming on. Katrina says, "It's the best job I've ever had!"
Macarons are not for the faint of heart. "If you look at them the wrong way, they won't rise," says Lauren. Too humid a day and they're ruined. Too much steam from the hot water as someone washes dishes and — ka-put.  They refuse to be crowded (only one tray in the oven at a time or they don't bake properly). And if it rains, they have to move macaron day to Wednesday.
After carefully folding in the Italian meringue to the batter, Katrina pipes them into uniform circles on the tray, tapping the tray to see how they spread. Their bright colors are noteworthy, as are their uniformity. She painstakingly hits tiny air bubbles with a toothpick (because that's another thing that can make macarons angry!)
Each weekend, they have well over a dozen different flavors and colors available, and usually a couple of fanciful creations (like unicorns or kitty cats). There's no advertising, just announcements on their Facebook and Instagram sneaking peeks at the weekend's upcoming flavors.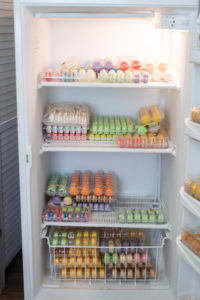 Just as she didn't predict she'd be the proprietor of a macaron mecca, Lauren didn't initially imagine herself as a baker. It was only after she was making cakes and cupcakes for fun that she had an epiphany. It may have been triggered by a Hello Kitty cake and cupcakes that she made in the middle of a July scorcher of a day in her "teeny little kitchen" in New Bedford with no air conditioning. She looks pained as she thinks about trying to put the edible stickers on those cupcakes so many years ago. You might think it couldn't get worse. She figured that if she was willing to bake under these conditions, it was probably a calling. She was enrolled in  the Johnson & Wales Baking and Pastry program less than two months later.
Five years ago, she opened Wingate Cake Design on American Legion Highway in Westport where, in a normal wedding year, she'll probably design 90 wedding cakes. She also does other celebration cakes and cupcakes.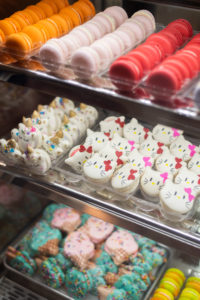 But the macarons are edging out the cakes in the brand new display case — which she may already be outgrowing. Together, the team has created hundreds of macaron flavors. They range from fun (galaxy cotton candy, appletini) to interesting (honey-lavender, juicy pear) to downright unusual (white chocolate basil, strawberry-elderflower-chia).
When there is a rare lull in production mode, Lauren will come up with new ideas to dazzle — ice cream sandwiches using macaron shells and house-made ice cream; chocolate-covered key lime pie slices on a stick.
These are random treats meant to tickle her customers' fancies. They are fanciful and always-changing. What you can count on is a case filled with hundreds of macarons at the beginning of each weekend representing a rainbow of flavor. And probably, an empty case at the end of the weekend.
Wingate Cake Design, 434 American Legion Highway, Westport. Open Fridays from noon to 4 pm; Saturdays from 9 to 1 pm.
Photos by Liam Connor.
We hope you enjoyed this post, which is part of a series of blog posts celebrating local food spots, sponsored by Surprenant & Beneski, P.C., the premier estate planning and elder law practice serving clients in Southeastern Massachusetts. Surprenant & Beneski, PC  can help you prepare the foundational documents needed to facilitate healthcare, financial and legal decisions should a medical crisis occur. Early planning can save money, heartache and angst during a temporary bout of incapacity or a long-term care event. Getting your estate plan in order gives you peace of mind – is it on your to-do list for 2021? Find out more about them here.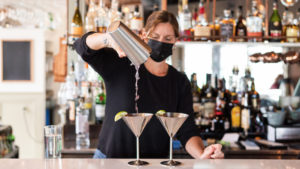 In the meantime, if you want to make sure you don't miss learning the next of S&B's other favorite food spots, sign up here.
Last post in the series: Cocktails to Go at Ella's right here.