Surprenant & Beneski, P.C. is sending us around the area to their favorite food spots because it's a law firm that is all about family and they know food is an integral part of family life. This month, we were picking up our mail in Onset when we smelled bacon…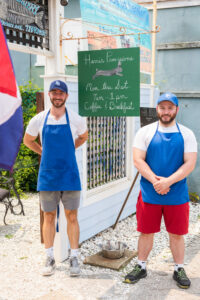 If you're expecting perfection, you've come to the right place.
You may miss the sign but you can't miss the smell of bacon wafting through the air. Tucked in a charming little wooden trolley next to Onset's post office is Harris Provisions, serving up breakfast sandwiches and coffee. They are breakfast sandwiches and coffee like you've never had them, made with a level of attentiveness that brings both art and science to the table.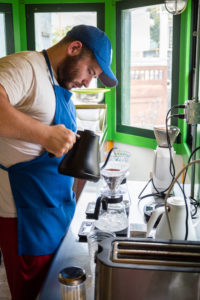 Will Harris and his younger siblings Kevin and Julie are carefully customizing each order from scratch. They don't grind the coffee until you order it and, when you do order, they customize the size of the particles based on whether you order hot or iced. Following the grind is a series of elaborate steps that involve timing the pour-over down to a very exact number of seconds and grams at a 204 degree temperature (not one degree more or less).
---

"When coffee's good, it's something that can change your day."

---
The breakfast sandwich gets the same treatment. Nothing is pre-made. Will puts the bacon on the frying pan when you order your sandwich, not before. Same thing with slicing the cheese and frying the egg. The English muffin is made by artisan bakers in Roxbury who have simply thrown it on the skillet; it's essentially not even baked until Will puts it in the toaster. This is not fast food. This is a breakfast sandwich made for kings.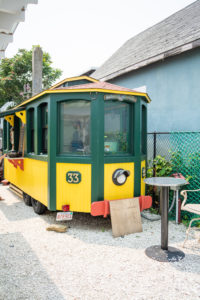 Standing outside the trolley, you can peek in the windows to watch the siblings work. You can also strike up conversations with the other people in line. That's what Will likes best. "The food is good, but I love seeing people meeting up here and getting to know each other. Sometimes, I'll introduce my regulars — 'Dean, have you met Jocelyn?' — I really love the community that happens here."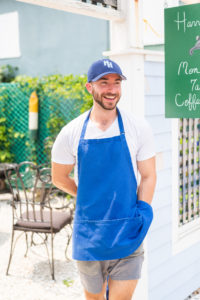 Harris Provisions was a business borne of the pandemic. Will had been working for Clover Food Lab in Cambridge (as a financial analyst, ironically, not as a cook) when he was furloughed in March 2020. The 27-year old says he used the furlough to sleep, read and experiment with coffee. He perfected his coffee and brought it to his friends. Soon, his friends' friends wanted some. "It all started with coffee," says Will, which makes sense to him. "When coffee's good, it's something that can change your day."
There's something special happening here, something you can see growing. Will knows that his exacting standards are not quite scaleable ("it's not scaleable with 20 people in the queue," he says) but he's not worried about that right now. What he's worried about is getting the details right. He says, "there's no being large without being small.  If you take care of the small things, the larger things fall into place."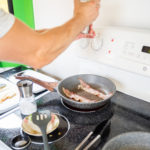 "For now," he says, "I take it one piece of bacon at a time."
Open daily 7 am to 1 pm. Closed Sundays. 218 Onset Avenue, Onset.
Photos by Liam Connor Photography.
We hope you enjoyed this post, which is part of a series of blog posts celebrating local food spots, sponsored by Surprenant & Beneski, P.C., the premier estate planning and elder law practice serving clients in Southeastern Massachusetts. Surprenant & Beneski, PC  can help you prepare the foundational documents needed to facilitate healthcare, financial and legal decisions should a medical crisis occur. Early planning can save money, heartache and angst during a temporary bout of incapacity or a long-term care event. Getting your estate plan in order gives you peace of mind – is it on your to-do list for 2021? Find out more about them here.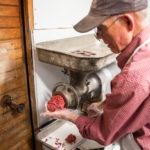 In the meantime, if you want to make sure you don't miss learning the next of S&B's other favorite food spots, sign up here.
Last post in the series: Burgers & Community in Marion right here.