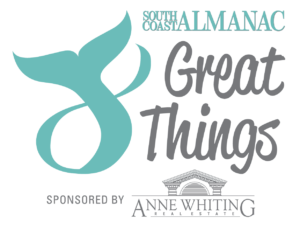 Spring is here! Yahoo! Days are longer and the sun is stronger.  We've got 8 Great Things to make April on the South Coast a great month, with many thanks to Anne Whiting Real Estate for sponsoring this!
We've got everything from the running of the herring to cabaret nights, from biking to fisherpoets (yes, fisherpoets). We're pretty sure there's something on it for everyone!
1. Food, Glorious, Food!
The Onset Bay Association is giving us Taste of the Bay, a fun way to support local restaurants in the Onset/Buzzards Bay/Wareham area, now through May 9. With each restaurant visit, you are entered into a raffle for the grand prize drawing (which we bet will be filled with cool swag and gift certificates to some great restaurants). There will also be random prizes throughout the month, as well as some prizes for most restaurant visits and most creative social media posts. Download the app on your phone right here to get started today!
2. TGIF!
The Narrows is giving us live concerts with some great acts from the comfort of your own home! Every Friday night at 8pm, tune in to their YouTube channel for a live streamed concert. On deck: Popa Chubby, Alex Maes & the Connection, and The Monteirobots. The shows are free to watch, but donations are appreciated and will be split 50/50 between the Narrows Center and that night's artists. Support the Narrows Center as they fulfill the adage, "The Show Must Go On."
3. Fisherpoets
That's it. One word — fisherpoets — we heard it and we were signing up. The Fishing Heritage Center hosts a virtual event featuring fisherpoets from around the country! They'll share stories, poems, and music related to their experiences in the fishing industry and community. And what stories they have (inadvertently serving pasta embedded with shards of glass as a miserable boat cook, selling a first catch for the price of an ice cream cone). Thursday, April 8 at 7. See more here. 
4. Party for the Earth
It's officially the month to celebrate the planet. There are a number of cleanups from Wareham to Fall River. Representing a variety of different locations and times, it's easy to find at least one that you can join. Pair it with a free Earthday film screening presented by the SouthCoast FilmForum and you'll be engaging both mind and body in important sustainability issues. See more on the Aha! page (scroll down to see). 
5. Come to the Cabaret, My Friend!
The New Bedford Festival Theater is adding a little swizzle to our April with four nights of virtual cabaret, featuring 9 performers singing from future NBFT-produced shows, such as The Wiz, Ragtime, and Little Shop of Horrors. The cast have multiple combined Broadway credits and features Samantha Johnson, who'll sing "Wheels of a Dream" from Ragtime and "Home" from The Wiz. The four events each feature a different post-show event.  Evening performances April 8 through 10. Matinee performance April 11. Tickets, starting from $25. See more here.
6. Herring Run
We are lucky to witness one of nature's finest inspiration stories every spring as we watch herring migrate from the Atlantic Ocean returning to the ponds and rivers where they were born to spawn. They go upstream against the current and to watch them climb a herring ladder is like that scene in Rocky when he runs up the Philadelphia Museum of Art steps. You'll find yourself holding your breath and/or cheering these little fish on. Luckily, the Buzzards Bay Coalition has gathered 10 local spots to take in the action, see that here. And check out this video taken in Middleboro while you repeat the herring mantra, "Rest. Movement. Go." The Herring can be seen starting in April, depending on water temperature.
P.S. the New Bedford Science Cafe hosts Brad Chase to discuss herring on April 6. See more about that free virtual event here.
7. An Odyssey
We may not be able to travel to the Arctic Circle but we can travel to downtown New Bedford. John Bockstoce has been described as an "Arctic Ulysses." Bockstoce navigated the Northwest Passage—an icy and dangerous voyage—over the course of a decade, much of it done in a salvaged, walrus-hide covered umiak. Through his photographs on display at the Whaling Museum, we can experience his own narration of small-boat journeys through the Arctic.  More here.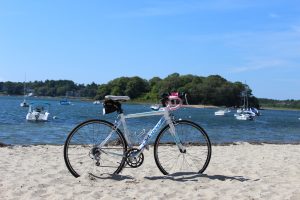 8. Get Out On Two Wheels
You may not have a walrus-hide covered umiak in your shed, but you probably have a bicycle! Haul it out, get it tuned up at a local bike shop and hit the road to explore the South Coast. If you need inspiration, find five of our favorite routes right here.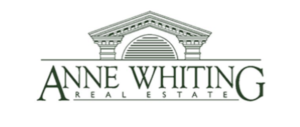 Again, our great thanks to Anne Whiting Real Estate in Dartmouth for showing us all the South Coast has to offer and getting us through the winter!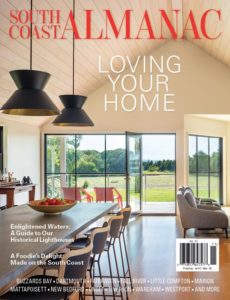 Want more South Coast Almanac? Keep up with things to do on the South Coast by signing up for our free monthly email newsletter right here.
Even better, sign up to get our print issues delivered straight to your door. Our current issue should hit newsstands any day now! But don't wait for newsstands…just $19.95 gives you 4 issues delivered straight to your door with stories that make you feel good about the place you live, written and photographed by local talent.