Surprenant & Beneski, P.C. is sending us around town to their favorite food spots because they know that this year, more than ever, our favorite restaurants need a shout-out. S&B wanted to focus on Valentine's Day this month — so we found a pair of restaurant love stories….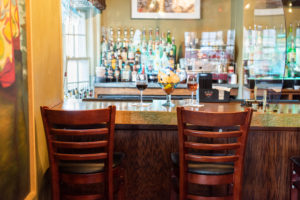 Carol Lareau sees a lot of date nights at her restaurant, Tastebuds in Mattapoisett. She can often tell when there's a special spark. But she says there are 2 seats in particular that have proved lucky for love: seats 7 and 8 at the bar. She even has conjured a special rhyme for the phenomenon, "Bar seat 7 and 8, Bring a date, Soon to be your mate!"
More than one couple have had their first date at those seats and gone on to long term relationships. We caught up with one of them…
Michael & Jennifer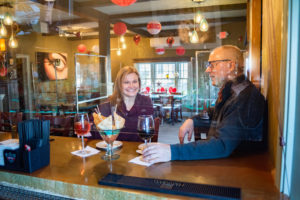 When Michael and Jennifer showed up on their first date to take seats 7 and 8, Carol says, "I could feel the energy, I called Jennifer's sister, 'Hey, something's going on!'" Before Jennifer made it out the door, she had a text from her sister "Are you on a date with Mike?!" By the time she got home, she says everyone knew.
It wasn't supposed to be a date. After bumping into each other while separately running, Jennifer and Michael made plans to run together after work. They enjoyed each other's company so much, they wanted to extend it so they decided to go eat. "We were both so excited, we didn't even want to go home to shower first," Jennifer says. On that hot July day, they showed up at Tastebuds sweaty and dirty.  Jennifer wants to be clear about one thing: Tastebuds is a nice restaurant, not the kind of place you show up with your phone tucked into a sports bra, but the connection with Mike was so intense, "apparently I didn't care. The whole world didn't matter."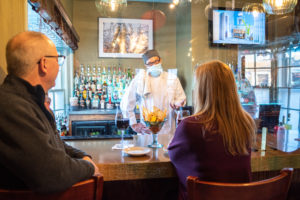 Over 5 years later, they're still excited to sit in seats 7 and 8. They've bought a house together in the Village "walkable to Tastebuds — it had to be walkable to Tastebuds." And whenever they can, they sit in those special seats. The magic's still there.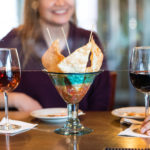 Pictured right: fire roasted shrimp with housemade salsa and wonton chips.
Tastebuds will be open this weekend (including Sunday brunch) for your own love story. They'll be serving their special Valentine's menu on Saturday and Sunday. Seats 7 and 8 still have some openings but they're going fast.  For takeout, preorder on Friday for Saturday pickup and Saturday for Sunday pickup.  Tastebuds, 42 Main Street, Mattapoisett.
Chris & Jen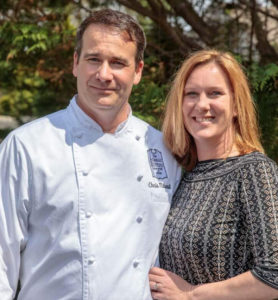 Just down Route 6 in Marion, you'll find chef-owner Chris Thibeault in the kitchen of Atlantic Bistro who has his own very personal restaurant love story. He met his wife Jen when she was a bartender and he was a sous-chef at Mount Blue in Norwell (owned by Joe Perry and Steven Tyler). Unlike our previous couple, Chris' love story was a little rockier. Jen had a boyfriend when they met but that was not the only obstacle. The problem was that she didn't really like Chris. He says, "she thought I was particularly cheesy."
He persevered in proving her wrong. Then, when Jen and her boyfriend broke up, "I saw an opening and made my move," he says. That was more than 20 years ago so it's worked out pretty well for him. Jen was instrumental in helping Chris launch Atlantic Bistro in 2017 where he brought his European inspired dishes to Marion.
Atlantic Bistro is closed on Sundays so this year, Chris will be spending Valentine's Day with Jen. You wonder what a high end chef does for Valentine's Day? They'll likely go to brunch for bloody marys and eggs benedict, their usual Sunday treat. But it doesn't have to be even that elaborate, he says, "if someone makes me a grilled cheese and I don't have to cook it, I'm happy."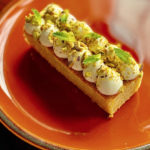 In the meantime, he's also happy to transport you away on Friday and Saturday with his food. You can't jump on a plane to Paris for Valentine's Day but you can have some French-inspired food at Atlantic Bistro (think duck confit poutine, mushroom tartine, classic pate). You can also try some other specials that will make you feel like you've travelled far away from 02738.
After dinner, while you're savoring the Moroccan-inspired Cardamom and Coriander Cake with chai syrup, topped with a whipped honey syrup (courtesy of Chef de Cuisine Tom Kilbourne), give a silent thanks to Jen for giving Chris a chance two decades ago.
Atlantic Bistro, 167 Spring Street, Marion. 
We hope you enjoyed this post, which is part of a series of blog posts celebrating local food spots, sponsored by Surprenant & Beneski, P.C., the premier estate planning and elder law practice serving clients in Southeastern Massachusetts. Surprenant & Beneski, PC  can help you prepare the foundational documents needed to facilitate healthcare, financial and legal decisions should a medical crisis occur. Early planning can save money, heartache and angst during a temporary bout of incapacity or a long-term care event. Getting your estate plan in order gives you peace of mind – is it on your to-do list for 2021? Find out more about them here.
In the meantime, if you want to make sure you don't miss learning the next of S&B's other favorite food spots, sign up here.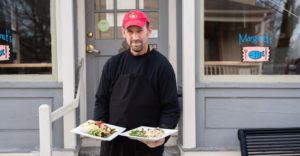 Last post in the series: Margaret's in Fairhaven — Catch the seafood at Margaret's right here.