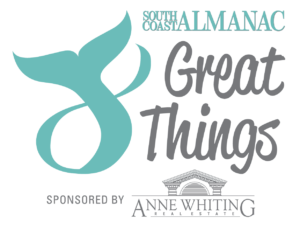 Spring is so close, we can almost taste it. As we MARCH toward it, we've rounded up some things to keep us busy. We think there's a nice mix: inspiring cozy moments with more active, outdoor pursuits. It's all about balance. Enjoy our 8 Great Things for you to do in the month ahead (with many thanks to Anne Whiting Real Estate for sponsoring this!) and think about this lovely fact: we'll be back to you with our next 8 Great Things list on the other side of winter.

1. Lit Up
New Bedford celebrates winter throughout March with fire pits and curling games from 5 to 8 pm Thursdays through Saturdays. Walk around and enjoy decorated storefronts nearby, as well as some selfie-ready spots created by local artists, like the five-foot snowflake, six-foot lantern, and this 18-foot scallop boat with room for you to settle in for a charming photo. Wings Court, Custom House Square and surrounding neighborhood. Learn more here. 
2. Reimagined Histories
There's something secretly thrilling about Laura Christensen's work, like being able to touch something at a museum. Christensen paints on recovered vintage portraits and constructs miniature shadow boxes to cradle the altered photographs. She is creating a series of artworks in response to the Rotch-Jones-Duff House & Garden Museum's collections and histories which will be displayed as interventions throughout museum displays. Christensen's themes explore how artifacts of different time periods coexist in the house. The exhibit opens on March 18 but get a sneak peek on March 11 with a virtual conversation with the artist to whet your appetite. Free registration for March 11 here. More about the exhibit here.
3. Celebrating Black Culture at the Symphony
The New Bedford Symphony features four generations of leading Black composers this month. Among them: Florence Price whose Andante Cantabile will be performed in a version for string orchestra. A woman of color living in the Jim Crow era, Price was not only a great composer but also a symbol of perseverance against severe discrimination. She summed it up in a 1943 letter to Boston Symphony Music Director Serge Koussevitzky: "Unfortunately the work of a woman composer is preconceived by many to be light, froth, lacking in depth, logic and virility. Add to that the incident of race … and you will understand some of the difficulties that confront one in such a position." Buy a ticket and show up (virtually) with gratitude that Price's perseverance and work has endured. $20 per household. Released March 20 at 7:30 (available to watch afterwards, as well). For more information and tickets, go here. 
4. Trail Mix
If this last year has taught us anything, it's how important our local land preserves are to our collective sanity. Our most popular post in 2020 was our 8 Great Walks published last April. The DNRT is giving us the opportunity to join work parties to ready the trails for the season to come. Get a little exercise, a little socially distant socializing and a lot of satisfaction that you're helping everyone in the community who enjoys those trails. There are a mixture of seven different times and places to choose from, starting March 2 through March 25. See here for more information. 
5. The Libraries are Beehives of Activity
Our libraries are really stepping up to the plate to get us over the finish line of Winter '20-'21. You've got grab book bags for adults chosen with your interests in mind at many of our libraries (Fairhaven, Wareham, Westport and more); you've got the Library of Things at the Elizabeth Taber library (borrow their disc golf or gardening sets); you've got the cookbook club at the Berkley/Dighton/Fall River/Somerset/Swansea libraries (where participants make something from the chosen cookbooks and show up for a zoom meeting).  Go check out what's happening in your local library!
6. Froggy Watch
The Buttonwood Park Zoo is putting out a call for Frog Watchers. After just a short half hour training, you'll be deputized as a citizen scientist with the opportunity to explore local wetlands, learn to identify local frogs and toads by their calls, and contribute data to a long-term scientific study. Not that you need a reason but frog watching is a great way to get out of the house and enjoy nature. See more here.
7. Sit and Knit for a Bit
This is the time to cross two (or maybe three) things off your list. 1) Support a new local shop; 2) Start a project while you're binging on second-rate Netflix shows (because you're already gone through the first rate ones); and 3) learn to knit (or pick it up again). The folks at Knotty Knit can help everyone find a good project, from flat-out beginners to pro. You want easy-peasy? You could probably whip up these cute shoelaces in 1 or 2 episodes. 302 Elm Street, Dartmouth. See here for more about Knotty Knit.
8. March Along with Historic Women
Celebrate Women's History month by taking a self-guided walk in downtown New Bedford with the Lighting the Way project spotlighting historic women of the South Coast. Download the app here or the map here and explore the dozens of remarkable women who continue to inspire us.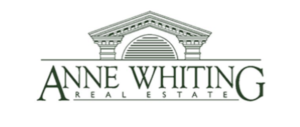 Again, our great thanks to Anne Whiting Real Estate in Dartmouth for showing us all the South Coast has to offer and getting us through the winter!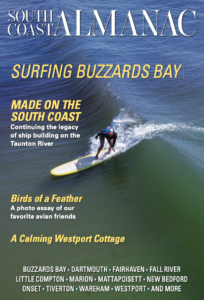 Want more South Coast Almanac? Keep up with things to do on the South Coast by signing up for our free monthly email newsletter right here.
Even better, sign up to get our print issues delivered straight to your door. Our next issue arrives in mailboxes at the end of this month!! Just $19.95 gives you 4 issues with stories that make you feel good about the place you live, written and photographed by local talent.