It felt like just the other day when it was winter (probably because it was the other day!) But now the sun is breaking out and things are quite literally brightening up. We're so excited to see June, heralding the arrival of summer wonderfulness. You want to know what to do this month? Here are 8 things we recommend to make the most of it!
1. Bed of Roses
Everything's coming up roses! The hundreds of roses at the Rotch-Jones-Duff House & Garden Museum are set to bloom this month and they're celebrating with a host of events. From lawn games, to chamber music to solstice poetry readings and garden tours, find something to celebrate the beauty of the RJD garden this month! Various dates and times. 396 County Street, New Bedford.  More here. 
2. Ta Da! Ending with a Bang!
The New Bedford Symphony Orchestra wraps ups its season with a virtual concert that has been chosen by the League of American Orchestra to perform for its national conference. We are so proud of the Symphony which has kept shining through the last 15 months with over 130 virtual events. Show them you're proud of them too by buying a ticket to the season finale which premieres on June 9 and is available for viewing through July 9. The program features music by four women of color who are among the leading composers of our time. Their pieces grapple with questions of self-identity and draws inspiration from the folk music of their traditions – African, Indian, Japanese, and Latin American. $20 per household. More here. 
3. Surf-Casting
Those images of fishermen standing on the beach, casting their lines out for stripers are so iconic and romantic. If you've been wanting to try it, join the Buzzards Bay Coalition who'll lend you some waders, lines, bait and expertise. And remember to ask someone to take your photo. June 11, 6:30 am. More here. 
4. Yoga at the Fort
Enjoy yoga, beautiful views of Buzzards Bay and the company of others. Join Zen Revolution in this 11 year tradition on Saturdays, Sundays and Thursdays from 8:30 to 9:30 am. Fort Phoenix, Fairhaven. Through the summer, weather permitting. $10 per class. More here. 
5. Juneteenth Pop Up Market
BuyBlackNB is hosting their very first outdoor event with a hand-selected diverse group of local vendors offering you an opportunity to find your next favorite product! Safely celebrate the summer and enjoy art, food, clothing, children's entertainment and handmade goods in the beauty of the Rotch-Jones-Duff gardens.  June 19, 11-3. More here.
6. The Music of Frogs
As if evening hikes aren't already magical, throw in the sounds of frogs, some flashlights and Buttonwood Park Frogwatchers to point out different species and this will be a walk to remember.  June 24 at 7:30 pm. Free but advanced registration is required. The Sawmill, 32 Mill Road, Acushnet. More here. 
7. Secret Gardens
Among the many things we missed last summer were garden tours. The Marion and Mattapoisett Garden Clubs each give us one day – rain or shine – to visit some stunning gardens that are normally hidden away from us. Marion: June 25. 10-3. Tickets: $35 in advance. $40 on 6/25. More here. Mattapoisett: June 26. 10-4. Tickets $25 in advance. $30 on June 26.  More here. 
8. Uncommon  Threads
Massachusetts-raised Ruth Carter was the first Black woman to win an Oscar for Costume Design (Black Panther, 2018). She has worked on a number of impressive films, including Selma, Do the Right Thing, Dolemite is His Name, Malcom X and more. The New Bedford Art Museum has an exhibit including many of the original costumes worn by A-list actors so you can admire her work up close, along with her inspiration boards and ephemera. It's such a fun exhibit and you'll want to go home and binge-watch all the movies.  New Bedford Art Museum, 608 Pleasant Street, New Bedford. More here.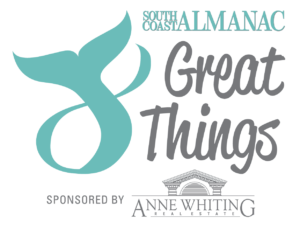 Many thanks to Anne Whiting Real Estate for sponsoring this monthly list!