Surprenant & Beneski, P.C. is sending us around the area to their favorite food spots because it's a law firm that is all about family and they know food is an integral part of family life. They also like to keep up with all the food news. This month's big news: Little Moss is now open for lunch!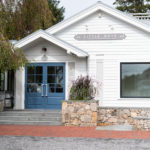 Dinner at Little Moss is such a treat! We know people who drive down to Padanaram from Greater Boston just to have dinner there.
The only thing that could make it better is MORE. More Little Moss. John and Lisa Lofberg grant us that very thing -- more great meals at Little Moss -- by throwing open the doors for lunch.
We joined Lisa in the kitchen the other day to watch her put together an especially local salad -- most everything is grown within 25 miles of Little Moss. It's designed to specifically utilize vegetables that will be available throughout the winter. So we can be enjoying this local salad all the way through to spring.
Sitting on the plate, the salad is awash in bright kindergarten colors. The beets, red cabbage, carrots, red onions sitting on Eva's greens pop off the plate. The cauliflowers pickled with turmeric are yellow crayon bright. You want to take a picture of it.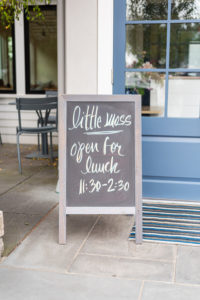 A not-quite-hard-boiled egg and quinoa add heft to the meal. "It's just fun," says Lisa. In designing the menu, she was going for a healthy and thoughtful approach. At a more basic level, she was looking for what she wanted to eat for lunch.
Like the salads, the sandwiches on the lunch menu are elevated by the LIttle Moss approach: a BLT sandwich with heirloom tomatoes, artisan bacon and homemade milk bread; a banh mi sandwich with homemade chicken sausage and chicken liver mousse.
Little Moss has designed the lunch menu so that it's take-out friendly. But it's also well worth sitting down for. If you choose to sit in the sunny dining area, Little Moss bartender Morgan Kaegael has the perfect drink for you: an amaro spritz (what's amaro? Morgan showed us a variety of the Italian digestifs that are starting to gain popularity. Perhaps the most well known are Campari and Aperol).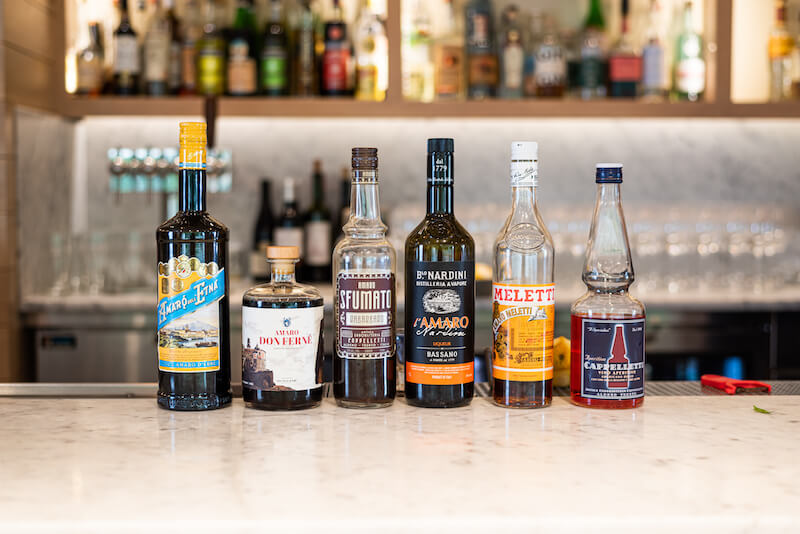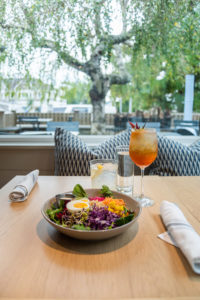 Morgan approaches the amaro spritz just like Lisa approaches the salad: she is looking for a light, refreshing balance and using fresh elements (garnishes are fresh herbs from the restaurant's rooftop garden).
The amaro spritz works well for lunch because of the low-alcohol content. Its citrus and bubbles feels like a celebration.  Morgan says, "it's one of those drinks you don't want to do too much to. It's so simple, so good."
It's a good description for lunch at Little Moss: so simple, so good.
6 Bridge Street, Dartmouth. Open for lunch and dinner, Wednesday through Saturdays.  
Photos by Liam Connor Photography
We hope you enjoyed this post, which is part of a series of blog posts celebrating local food spots, sponsored by Surprenant & Beneski, P.C., the premier estate planning and elder law practice serving clients in Southeastern Massachusetts. Surprenant & Beneski, PC  can help you prepare the foundational documents needed to facilitate healthcare, financial and legal decisions should a medical crisis occur. Early planning can save money, heartache and angst during a temporary bout of incapacity or a long-term care event. Getting your estate plan in order gives you peace of mind – is it on your to-do list for 2021? Find out more about them here.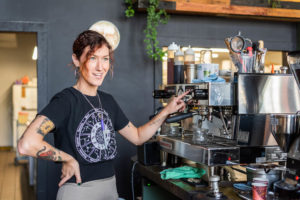 In the meantime, if you want to make sure you don't miss learning the next of S&B's other favorite food spots, sign up here.
Last post in the series: DōCo Is Making Kilburn Mills a Dining Destination right here.