It's November and time to step away from the Halloween candy and figure out what's in store for the month ahead.  Thanks to Anne Whiting Real Estate, here are 8 Great Things to distract you from the leftover candy.
1. Go Back in Time!
The British rock band The Fixx helped write the soundtrack to the 1980s. Come enjoy their hit songs (One Thing Leads to Another, Saved by Zero are just two of them) and recall the early days of MTV. $65. The Narrows Center, 16 Anawan Street, Fall River. Tickets here. 
2. Trail Running
The DNRT has mapped out three 5K courses in 3 of their properties. You choose  -- run or walk, do all 3 or just 1 -- it's whatever you want it to be in their second annual Virtual Over the Hill Trail Race. You have the whole month of November to get out there. How fun! See more here.
3. Bike & Bird
We love bikes and we love birds. So we're thrilled that Justin Barrett from the Nasketucket Bird Club is leading us on a combination sunrise bike/bird tour.  -- We're also thrilled that sunrise at this time of year means 7:30. November 6 at 7:30. Shaw Farm Trail, Fairhaven. Free but you have to register here. 
4. Meet Up with Ludwig
Everyone loves Beethoven and his music pops up in the most surprising places (Saturday Night Fever, Peanuts specials, the list is long!) The New Bedford Symphony performs two of his symphonies this weekend. And as a special treat: Pixar Animation artist Olivia Coucci has created a cartoon Beethoven who discovers the places we love in New Bedford (she knows them because she loves them too, having grown up in New Bedford). See Olivia's 8 original works at the concert! November 6, 7:30 pm. 684 Purchase Street, New Bedford. Tickets and more here. 
5. Thanksgiving Walkabouts
We love a little physical activity after our turkey but sometimes we need someone to take charge and make it happen for us. Lucky for us, many of the local land conservation organizations are creating the opportunities for us to get out there and work off the extra serving of pie. We're collecting the list of Thanksgiving walks/hikes/runs right here, thanks to the good folks over at TM Ryder. Please let us know in the comments if there's something to add!
6. Friday Night Brights
The Rotch-Jones-Duff House invites us to dust off our ugliest holiday sweaters and join them in the garden for an evening of family-friendly fun, music and refreshment (including the return of the Cookie Challenge!) The decorated museum will also be open as space allows for touring. November 26. 5 to 8 pm. 396 County Street, New Bedford. Suggested donation: $5 individual/$10 family. More here. 
7. Front & Center!
The women-owned business on Front and Center Streets in downtown New Bedford are celebrating Artists' Sunday to help you get a kickstart on your holiday shopping. The Whaling Museum joins the fun by hosting a sidewalk chalk art contest! November 28, noon to 4 pm. More here. 
8. Stargazing
The Buzzards Bay Coalition provides the hot chocolate, binoculars and an amateur astronomer to guide you. You provide the sense of adventure and picnic blankets, if you want to lie on the ground while gazing at the night sky in this Family Stargazing Night at Fort Tabor. November 30, 8 pm. 1000 South Rodney French Blvd., New Bedford. Free but pregistration is required.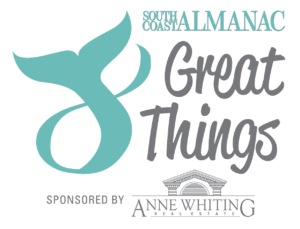 We love putting this list together every month and getting excited to see what's in store for us! And we love Anne Whiting Real Estate for sponsoring this list! Thanks to everyone over there for supporting great things on the South Coast.
---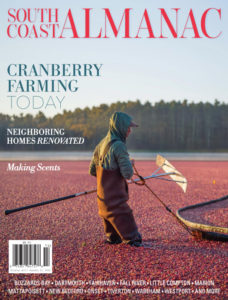 Our Fall/Holiday issue hits newsstands next week! Can't wait? Become a subscriber and you'll always see it a couple of weeks before it hits the racks!
Order an annual subscription and have the this South Coast issue delivered straight to your door. Just $19.95 gives you four issues chock-a-block full of stories about the people and places of the South Coast.