Surprenant & Beneski, P.C. is sending us around the area to their favorite food spots because it's a law firm that is all about family and they know food is an integral part of family life. This month, we were gobsmacked by a coffee drink that defied easy categorization...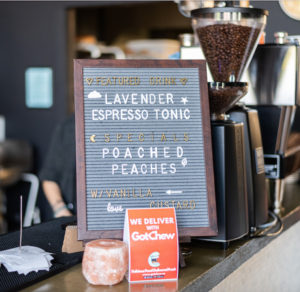 There was an intriguing sign on the counter at DōCo last week, a featured drink called Lavender Espresso Tonic. It was so quirky that I ordered it, even though I didn't expect to like it. Sometimes you take a chance on inventiveness.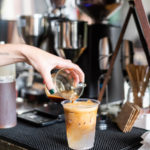 I wasn't sure what to expect:  coffee and tonic water? With lavender and honey? What was this all about?
I took my first sip and....mind blown. It was delicious. But I couldn't quite describe it, except to say that it was delightful. Tasting it reminded me of the giddiness you feel as a young kid with a popsicle on a hot summer day, or sitting down to a craft cocktail on a Friday evening. Refreshing and delicious, I was thinking about it all afternoon.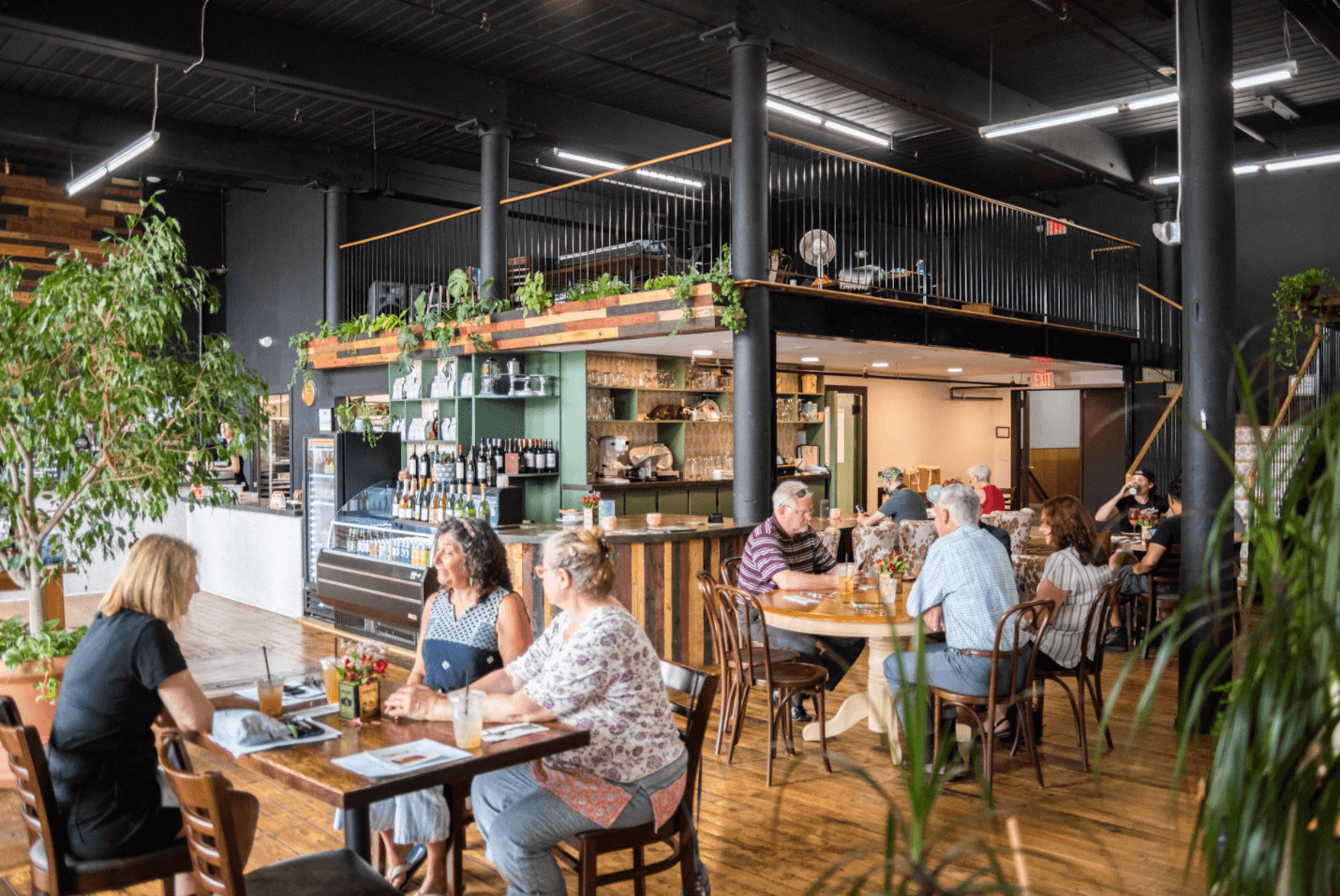 Jason and Jillian Cotter opened Dough Company -- or DōCo -- in June 2020 and the space evokes a breath of fresh air, sitting inside the Kilburn Mills next to the salty breezes coming off the harbor. Prior to the brick and mortar opening, they operated DōCo at local farmers' markets with baked goods they made at their Fairhaven home. Since opening, the menu has become decidedly more varied. "People who know us from the early days think of us as baked goods, but we're so much more than that," says Jillian.  The menu changes frequently based on whatever's in season at a good price. But on the menu since day one: lemon blueberry pancakes which Jillian says brings in pancake connoisseurs who rave that they're the best pancakes they've ever had.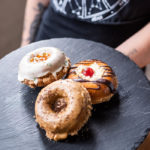 Their Muffnuts are also always available, a creative hybrid of a baked donut and a half of muffin top, with fun flavors like orange basil poppy seed (featuring house made orange marmalade) and malted ice cream shake (featuring chocolate caramel, whipped cream and gorgeous bing cherries).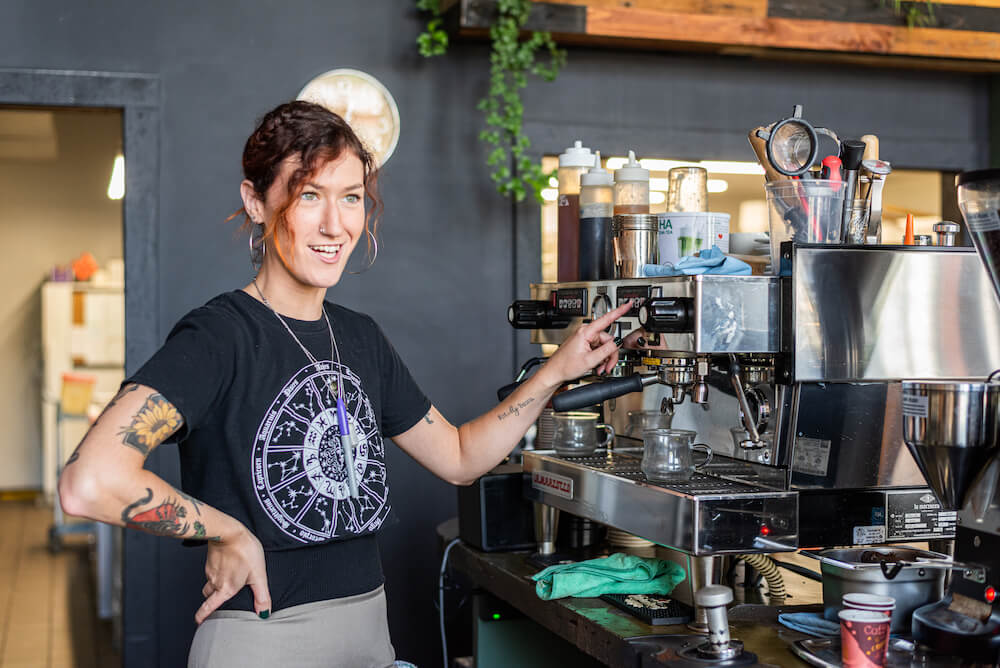 Their head barista Becca Grant, inventor of the Lavender Espresso Tonic, has found her special place at DōCo. She's loved coffee shops since before she even drank coffee. She likes the vibes, the feeling of community, the regulars, and even the early morning hours. At DōCo, she's created quite a following with people waiting at the door for their 7 am opening. The Westport native actually uses her days off to visit other coffee shops.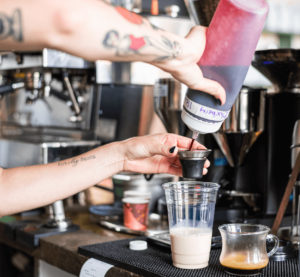 She's been at Dough Company almost from the very beginning. She arrived in July 2020, a month after the opening, and the Cotters quickly recognized what she brought to the table. Like a creative bartender, she is encouraged to design inventive drinks. In fact, she has bartended in the past: "it's the same, except for the hours and the alcohol [laughs]. But I much prefer a coffee shop."
It shows in the drinks menu. You'll find blueberry oat lattes, mushroom mochas, golden turmeric lattes, and other niche drinks there. You won't see Monin syrup bottles anywhere on the premises. They make all their own flavors from scratch. Becca says it's been fun to watch people slowly discover the place. She recognizes first-timers by the wide-eyed looks they have when they first walk in.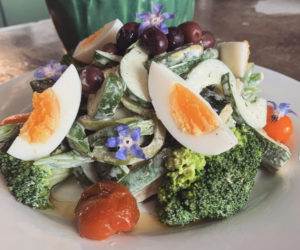 Like the drinks, the food menu is evolving and intriguing. Think local squash blossoms with herb truffle ricotta, local heirloom and stracciatella cheese sandwich, cauli mac and cheese, poached local peaches. The soaring ceilings and windows of the Kilburn Mill provide a sun-drenched space filled with plants which feels like an urban oasis. The Cotters have dreamed of opening a restaurant that celebrated local food ever since they met in Florida when Jason hired Jillian as a bartender at the Riverside Hotel in Fort Lauderdale. They both had ties to the South Coast. Jillian had grown up in Westport; Jason still had family in the area. When they visited New Bedford together from Florida, Jason said, "This place is special, we need to open a restaurant here!"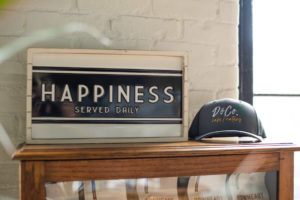 Five years later, the young couple made it a reality, despite the challenges of opening a restaurant during the pandemic.  They seem to welcome challenges: they have a baby at home, born last Fall in the midst of getting the restaurant up and running. Jillian worked the day she went into labor and was back at the restaurant a week later. They named the baby Dolores after a family member - Dolores Cotter, another Do-Co, another baby.
It'll be fun to watch them grow up together.
Dough Co., 127 W. Rodney French Boulevard, New Bedford. 7 am to 5 pm, every day except Tuesdays. Coming soon: Friday and Saturday dinners! Follow them on Facebook here to keep up with the dinner plans.
Photos by Liam Connor Photography
We hope you enjoyed this post, which is part of a series of blog posts celebrating local food spots, sponsored by Surprenant & Beneski, P.C., the premier estate planning and elder law practice serving clients in Southeastern Massachusetts. Surprenant & Beneski, PC  can help you prepare the foundational documents needed to facilitate healthcare, financial and legal decisions should a medical crisis occur. Early planning can save money, heartache and angst during a temporary bout of incapacity or a long-term care event. Getting your estate plan in order gives you peace of mind – is it on your to-do list for 2021? Find out more about them here.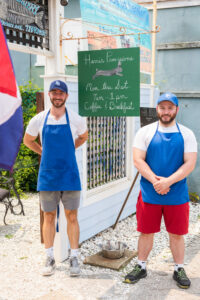 In the meantime, if you want to make sure you don't miss learning the next of S&B's other favorite food spots, sign up here.
Last post in the series: Harris Provisions in Onset: The Definitive Breakfast Sandwich & Coffee Combo right here.