October is a gift: beautiful blue skies, leaves changing color, the return of candy corn! Thanks to Anne Whiting Real Estate, here are 8 Great Things to make the most of the month ahead!
1. Get Out & Do Some Good!
You've got 31 days to complete the Nicole Podkowa 5k which supports patients and their families at the Southcoast Health Cancer Center and honors the memory of Dr. John Podkowa's wife Nicole. It's virtual this year -- weekend, weekday, walk, run or hop, you name it -- it's all up to you! More information and register here.
2. Medieval Tomfoolery
Once a year, the King Richard's Faire comes in and transforms a forest in Carver into a medieval kingdom. Elaborate and over-the-top costumes, folks walking around with turkey drumsticks bigger than dinner plates, human-powered amusement rides and entertaining shows make it a not-to-be-missed event each year. Weekends through October 24. $37 for adults; $18 for children; 3 and under are free. More here. 
3. Pick Up Some New Skills
Here's your chance to hone your nature photography skills with local historian and photography expert Greg Stone who will guide you on how best to take advantage of the golden hour of sunrise.
6:15 am, October 2. Gooseberry Point, Westport. Free, but preregistration is required. Register here. 
4. Film Appreciation 101
Join film professor MJ Herrup every other Wednesday in October and November at the Z to discuss film basics – from what makes a great shot to the subtleties of sound design – and dive even deeper into the history, reception, and critical analyses of each film. No grades or pressure -- drop in for 1 or go to all 4 classes. $20 per class. Zeiterion Theater, 684 Purchase Street, New Bedford. Starting October 13. More here.
5. Live Theater!
How about a little live theater featuring an outspoken, wise-cracking heroine who dispenses free shampoo and advice to a bevy of eccentric characters? Join the Marion Art Center for Steel Magnolias, its first indoor live performance since January 2020! October 15-17, 22-24. 80 Pleasant Street, Marion. Tickets start at $18. Get them here. 
6. Donkeys, Horses, Alpacas, Oh My!
We featured West Place Animal Sanctuary last year and fell in love with the place. One weekend every fall, they open their doors to the public. What better way to spend an autumn day than meeting their farm animal rescues during an educational and interactive tour? Bring a picnic and make a day of it. 3198 Main Road, Tiverton. October 16 and 17, by appointment. Donations of $18 (adults) and $15 (children) are appreciated. Sign up for your time slot here.
7. Have Some Fun-ghi!
The idea of foraging for mushrooms intrigues us. It seems so grounded but with a hint of danger thrown in. Join the Sippican Land Trust's Fall Mushroom Walk with the Boston Mycological Society for the adventure and knowledge it brings. October 17 at 11. White Eagle Property, Marion. Register here.
8. Get Scared!
The Onset Bay Association has its annual Scarecrow Contest with scarecrows popping up all over the village, culminating in trick-or-treating on October 29 (3-5 pm). Come check out South Coast Almanac's entry! October 15 through 31. Onset Village.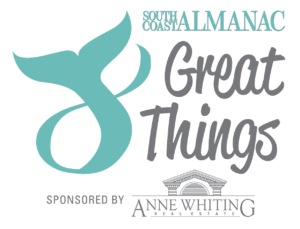 There you have it, 8 Great Things for September! Again, many thanks to Anne Whiting Real Estate for sponsoring this monthly list!
---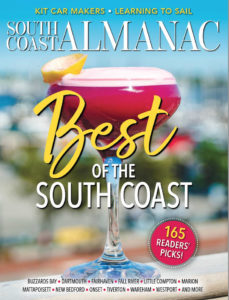 We're putting the finishing touches on our Fall/Holiday issue right now (so we can't show you the cover yet - at right is our Late Summer cover!)
Order an annual subscription and have the Best of the South Coast issue delivered straight to your door. Just $19.95 gives you four issues chock-a-block full of stories about the people and places of the South Coast.