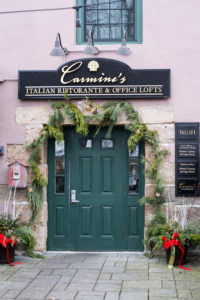 When we heard Surprenant & Beneski was heading to Carmine's for their holiday party, we raised our hands to ask, "can we come too?" for a couple of reasons. First, because the law firm of Surprenant & Beneski has been sponsoring these Food & Family blog posts for a year now. What's the connection between restaurants and a Trusts and Estates/Elder Law practice, you may wonder. Nothing, really. These posts were envisioned by the firm as a way to support local restaurants during the myriad challenges they faced the pandemic. They just wanted to be good neighbors.
The other reason we wanted to go was because, coincidentally, we had gotten a hot tip (thanks, Mike Russell of Wareham!) that the prosciutto-wrapped cod at Carmine's was a big winner.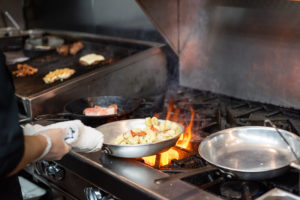 So there we were smack dab in the middle of the lunch service. And, boy, was the kitchen busy, with 6 to 8 people working at any time. Chefs were prepping, sautéing, cooking, plating and ringing the bell for servers to pick up the food. It's a small space so it's a little bit of a dance, but it's a perfectly choreographed dance. With a separate kitchen for preparing the pizzas, salad and desserts, they use walkie-talkies to communicate between the two kitchens.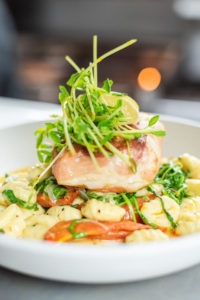 And what about that cod? It's one of their best sellers. Cod is like a blank canvas. You can make it taste like whatever you serve it with. At Carmine's, it tastes like luxury. Wrapped like a Christmas present with fresh prosciutto, the hefty slice of fish is suddenly a star. Atop delicious gnocchi in a lemon sauce with roasted tomatoes and garnished with delicate pea tendrils, it marries so many wonderful things -- lemon, garlic, the saltiness of prosciutto -- and you can't stop eating it.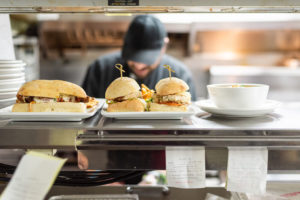 In the meantime, in the middle of lunch service, there is no panicked frenzy in the kitchen. Just teamwork and lots of great food hitting the serving shelf over and over (on a weekend night, they'll go through 50 pounds of pasta!)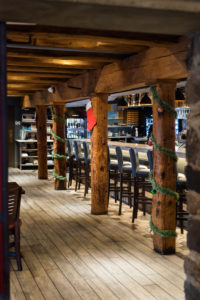 Meanwhile, the dining room evokes the history of New Bedford. It's one of the reasons Surprenant & Beneski hosted their holiday party there. Christa Silvieus said, "it just feels like old New Bedford." Built in 1810, it served as a candleworks factory for decades before the Civil War, relying on the spermaceti which was offloaded by whaling ships just across the street. It is part of the history of New Bedford, the city that lit the world. The strong wooden beams attest to endurance. The exposed stone and wood create a cozy space, perfect for dining. Perfect for an office party.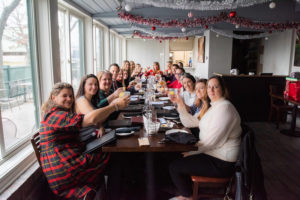 And how was Surprenant & Beneski's holiday party? They stayed over three and a half hours enjoying their meals, desserts and espresso martinis. A good time was had by all!
Carmine's at Candleworks. 72 No. Water Street, New Bedford.
Photos by Liam Connor Photography.
We hope you enjoyed this post, which is part of a series of blog posts celebrating local food spots, sponsored by Surprenant & Beneski, P.C., the premier estate planning and elder law practice serving clients in Southeastern Massachusetts. Surprenant & Beneski can help you prepare the foundational documents needed to facilitate healthcare, financial and legal decisions should a medical crisis occur. Early planning can save money, heartache and angst during a temporary bout of incapacity or a long-term care event. Getting your estate plan in order gives you peace of mind – is it on your to-do list for 2022? Find out more about them here.
If you have ideas of places we should check out, let us know by leaving a comment. Again, thanks Mike Russell for letting us know about Carmine's cod! And thanks Surprenant & Beneski for letting us horn in on your celebration!
In the meantime, if you want to make sure you don't miss learning the next favorite food spot, sign up here.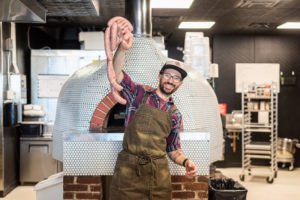 Last post in the series: the local handmade sausages at The Artisan Pig are SOOO good! Find out more here.