Surprenant & Beneski, P.C. is a law firm that is all about family and they know food is an integral part of family life, especially around the holidays. They also like to keep up with all the food news. This month's secret tip: the fresh sausage from The Artisan Pig will be the best you've ever eaten!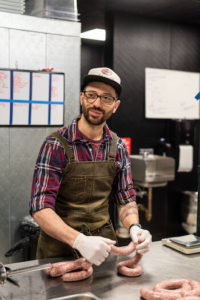 Andrew Rivera-Myers learned a lot about sausage making when he was an intern in San Francisco at Incanto under celebrity chef Chris Cosentino. At least once that summer, he made 400 pounds of sausage for an event and it sparked an epiphany. He learned he was a guy who loved making 400 pounds of sausage.
His passion for the craft of sausage-making followed him across the country. After graduating from Johnson & Wales with his wife Samantha, they headed to Sanford, Maine, where they sold their handmade sausages at local farmers' markets, christening the business The Artisan Pig. When they moved to Plymouth, they were ready to open a restaurant.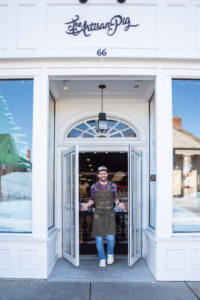 They found a lovely little spot on Court Street ("we fell in love with the windows," he says) and signed a lease in February 2020 (yes, February 2020). They forged ahead through the pandemic, building a custom wood-fired oven on site with stones imported from Italy. What would complement the sausages? To him, the answer was obvious: pizza. He loves pizza. "I eat it 3 times a day," he says.
He loves the move from farmers' markets to restaurant because he can control the experience of eating his sausages from start to finish. All the sausages on the pizzas are handcrafted in-house. Tuesday is sausage-making day because the restaurant is closed that day and he invited us in to watch. They marinate the pork, then feed it through the grinder, and add the "wet mix" or the seasonings. Not just salt and pepper, he's got fennel seeds, garlic, white wine, and orange zest in there. He carefully feeds it through into the casing and then, finally, twists them off into individual sausages.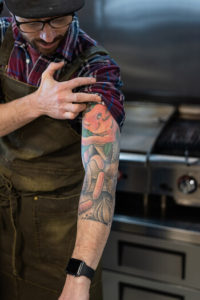 Andrew works 15-hour days most days of the weeks but he's loving it. He literally wears his passion on his sleeve: his left arm features a sausage-making scene.  When he looks out across the kitchen counter with a clear view to the dining room, he describes it as surreal. "When I look out at a packed dining room, it's humbling," he says. It tells him that people "notice what we're doing and that we're taking the time to do it right."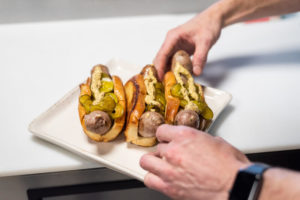 He treated us to a fresh sausage when we were there, grilling the hot dog roll before placing the grilled sausage inside it. He topped it with homemade bread and butter pickles, and a mustard sauce of whole grain and dijon mustards mixed with fresh horseradish.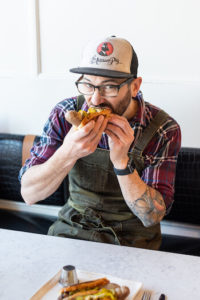 The result is astounding. I mean, I'm a sausage fan but this was something else. It's like I had never really tasted sausage before. "It's so delicious," I said. "But I can't even describe it and I want people to know they should come try it. How can I describe it?"
"Why can't you just say it's delicious?" he very reasonably responded.
So there you have it. It's delicious. Better than delicious. Go try it!
The Artisan Pig, 66 Court Street, Plymouth.
Photos by Liam Connor Photography
We hope you enjoyed this post, which is part of a series of blog posts celebrating local food spots, sponsored by Surprenant & Beneski, P.C., the premier estate planning and elder law practice serving clients in Southeastern Massachusetts. Surprenant & Beneski, PC  can help you prepare the foundational documents needed to facilitate healthcare, financial and legal decisions should a medical crisis occur. Early planning can save money, heartache and angst during a temporary bout of incapacity or a long-term care event. Getting your estate plan in order gives you peace of mind – is it on your to-do list for 2022? Find out more about them here.
If you have ideas of places we should check out, let us know by leaving a comment. A big tip of the hat to our friend Joanna Sayce who clued us in to The Artisan Pig. She told us about the great pizza there but we got distracted by the sausage-making!
In the meantime, if you want to make sure you don't miss learning the next favorite food spot, sign up here.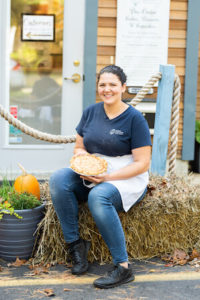 Last post in the series: Artisan Bake Shop's best kept secret  is right here.