Surprenant & Beneski, P.C. is a law firm that is all about family and they know food is an integral part of family life. They also like to keep up with all the food news. This month's secret tip: forget maple syrup on oatmeal, try it with vinegar kraut on the savory oat bowls for a filling meal at Wareham's Blue Foot Cafe!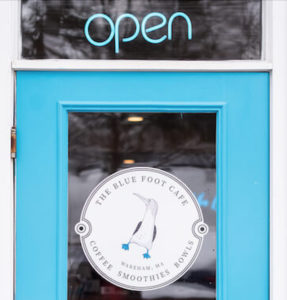 Katie Gallagher had outgrown late night hours working as a bartender at Rose Alley in New Bedford. But she loved the hospitality industry; she loved those jobs so much more than the finance jobs she had held. So when looked to marry her love of hospitality with her desire to be in bed by 9 pm, a café seemed the answer.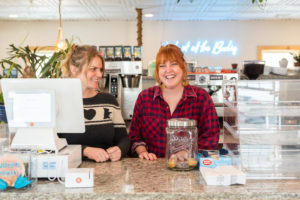 She gathered up her friends -- other alum from downtown New Bedford like Shea Higgins from Pour Farm Tavern and Leah Dubray from Rose Alley -- and they moved the band to Wareham, with daytime hours.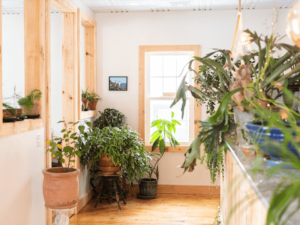 Katie set to work during the early months of the pandemic to design her perfect space. It's got a Friends' vibe to it, with couches both comfy and stylish (repurposed from home), a jigsaw puzzle in progress where everyone stops to find a piece or two and plants galore. She's been  collecting the plants for the cafe for over a year, including some you may never have encountered (like sea onion plants). The cafe's fun mascots (and the key to its name) are the blue-footed boobies that can be found in real life in the Galapagos Islands.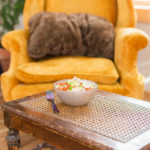 We went in because we wanted to find out something that had us curious: what exactly are savory breakfast oats? We got distracted when someone in front of us ordered a Blue Foot Latte and when it appeared – actually blue – we ordered one of those too. It's their take on a vanilla latte and the blue comes from spirulina which is a naturally occurring algae filled with good minerals and nutrients but ironically looks too fun to be good for you.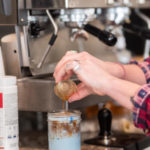 It's Katie's signature drink on the menu, a homage to her fondness for blue drinks. "There's a blue drink on the menu? Yes, please!" she says. She's been known to order Blue Hawaiians at high end, pricey restaurants.
Shea laughs, "I was surprised the first time we got drinks together." Because other than that fondness for blue curacao, Katie's pretty health conscious. It's what she wanted to bring to town: a place where you could grab some quick food that was both yummy and healthy. Which brings us back to the savory oats.  What exactly are they?!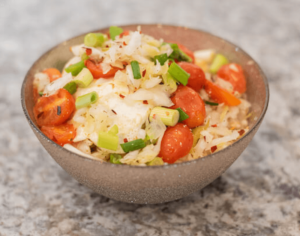 The short answer is they're delicious. They can work as breakfast or lunch (if Katie was open for dinner, they'd work for dinner too). The base is good old-fashioned oatmeal. But the oats are dressed up with green onions, blistered cherry tomatoes, garlic sauerkraut and a fried egg. We've been brainwashed to believe that oatmeal pairs best with maple syrup, but you know what? That vinegar pairing is sneaky good! The savory oat bowl is starting to gain a following and Shea says that everyone who has tried it for the first time continues to order it.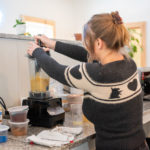 You'll also find acai bowls, avocado and sunbutter toasts, smoothie bowls, along with the full coffee menu (featuring the usual drinks, next to unusual ones like turmeric and matcha lattes). Katie's whole ethos is that healthy food doesn't have to be boring. And she proves that every day at The Blue Foot Cafe.
The Blue Foot Cafe. 379 Main Street, Wareham.
Photos by Liam Connor Photography.
We hope you enjoyed this post, which is part of a series of blog posts celebrating local food spots, sponsored by Surprenant & Beneski, P.C., the premier estate planning and elder law practice serving clients in Southeastern Massachusetts. Surprenant & Beneski can help you prepare the foundational documents needed to facilitate healthcare, financial and legal decisions should a medical crisis occur. Early planning can save money, heartache and angst during a temporary bout of incapacity or a long-term care event. Getting your estate plan in order gives you peace of mind – is it on your to-do list for 2022? Find out more about them here.
If you want to make sure you don't miss learning the next favorite food spot, sign up here.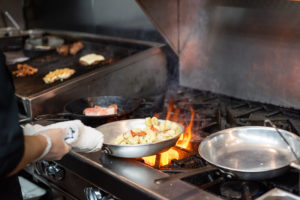 Last post in the series: the Carmine's Kitchen is a well-0iled machine churning out great food every day! Find out more here.