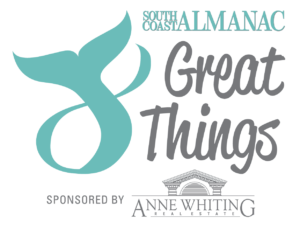 December is that super busy time of year when we're overwhelmed with parties, shopping, cooking, entertaining. Except not this year. Sure, we'll still be busy getting ready for the holidays but our calendars are going to be a lot more open. So use this year as an excuse to slow down a little and build in  some quality time celebrating all the wonders the South Coast has to offer. Enjoy our 8 Great Things for the month ahead, with many thanks to Anne Whiting Real Estate for sponsoring this fun list!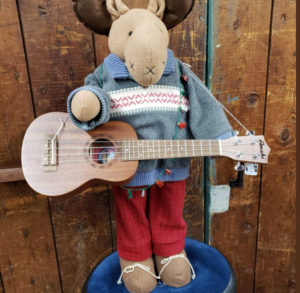 1. Uke Can Do It!
Just say the word ukulele and the corners of your mouth start turning up. It just conjures up the feeling of  happiness and good times. So there has never been a better time to pick up the ukulele than now. The Z is obliging by offering us a 4 week virtual classes for kids and adults, beginners and advanced beginners. And may we suggest you check out the Symphony Shop in Dartmouth to buy your ukulele. See here to register for the classes.
2. Say Bakery Bike 5 Times Fast
The Starchasers are meeting at the Buzzards Bay Coalition headquarters in New Bedford's downtown for a slow ride around the city that they've dubbed the Casual Bakery Bike Tour. We love every word in that name: Bakery, Casual. Bike. Tour. Join them on Saturday, December 5 at 9:30. Registration is free but you must register here. Register early because space is limited.
3. To Market, To Market
Tiverton is keeping its farmer's market going through the winter in the airy and light-filled community hall at Sandywoods Center for the Arts where they'll open all the windows and doors to let the outside in (and increase air flow). With safe, easy access to fresh and local produce, meats, seafood, art, and music every Tuesday — rain or shine — from 2 to 6 pm, we bet it'll be the highlight of your winter weeks. 43 Muse Way, Tiverton. Starting December 15, through the winter. See more here.
4. Snow Place Like Home
The 1834 Rotch-Jones-Duff mansion is dressed to the nines for the holiday season and the garden will be illuminated from sundown on, seven days a week. Even better — on Fridays in December, they will have family friendly themed nights (like Ugly Sweater Spirit Night and Hoe, Hoe, Hoedown!) See more here.
5. The Show Must Go On
The New Bedford Symphony's Holiday Pops concert is an annual tradition and they're not letting us down this year! They've got lots of treats: the NBSO musicians will be performing holiday favorites at festive South Coast locations, the Showstoppers will be there, and — special treat — Broadway's Elena Shaddow will sing holiday songs with Yaniv's virtual accompaniment. Tickets are just $10 and you'll receive a private Youtube link — you can watch the performance when it first airs on December 19th and for the month following that. See more here. 
6. Celebrate the Solstice
Start the shortest day of the year off with a little nature and community. The Buzzards Bay Coalition has a sunrise stroll on the Solstice. It makes our list every December because we love the idea of joining together on the solstice. We also love the idea that from here on out guys, each day gets a little longer! Monday, December 21 at 6:30 a.m. Registration is free but you must register here. 
7. D-I-Y Christmas Fun
We love cookies. And we love decorating them. What don't we love? We don't love gathering all the things needed to create beautifully decorated treats. Meredith Rousseau jumps in to rescue us! Order her Artisan Bake Shop kits to make cute cottages or colorful mittens and you'll be able to throw yourself right into the decorating. Everything you need comes in the kits. And you know the cookies are made locally, with love. Artisan Bake Shop, 265 Walnut Plain Road, Rochester.
8. Wander A Bit
We're adding something a little outside our borders because this will make you feel like you've really travelled across space and time. Rather than a stuck-at-home resident of 2020, pretend you're a nineteenth century resident of the Gilded Age. The Breakers mansion in Newport is all gussied up for guests for the holidays and has a sparkling light show starting daily at 4 pm. Guests can purchase hot beverages (including adult beverages) to enjoy while strolling the grounds outside. See more here.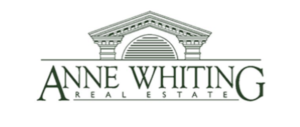 There you go, 8 Great Things for a wonderful December. Again, our great thanks to Anne Whiting Real Estate in Dartmouth for sponsoring this blog. Want to show them you appreciate them as much as we do? Give them a like on Facebook right here!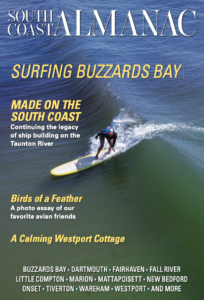 Want more South Coast Almanac? Keep up with things to do on the South Coast by signing up for our free monthly email newsletter right here.
Even better, sign up to get our print issues delivered straight to your door. Just $19.95 gives you 4 issues with stories that make you feel good about the place you live, written and photographed by local talent.