We're in that sweet spot of summer…we've been swimming, kayaking, biking and clamming and there's still a lot more of that ahead for us before Fall comes a' calling. Here are 8 Great Things we're looking forward to in August. They'll help round out the summer and make those memories for you that you can pull out and polish by the fire in January. As always, many thanks to Anne Whiting Real Estate for sponsoring this monthly roundup!
1. Country Drives & Great Art
There are a couple of upcoming weekends where you can drive around the beautiful towns of Dartmouth, Westport, Tiverton & Little Compton, enjoying the scenery and visiting artists in their studios. The Art Drive weekend is August 6 through 8 and the South Coast Artists Open Studio Tour is August 21 through 22. Download the maps and get driving!
2. TGIF: Kayak & Poses
The Buzzards Bay Coalition offers two Friday evenings to kayak out to Wickets Island in the middle of Onset Bay and enjoy some island yoga away from the hustle and bustle. $15. 5:30 to 7:00 on August 6 (register here) and August 13 (register here).
3. They're Gonna Need A Bigger Theater
The Z is showing Jaws on the big screen this month and there's no better way to see it. Plus, it's free! Reserve your tickets now so that you can experience Jaws just like in 1975 when it came out — in a dark theater surrounded by a gasping audience. 8 pm. August 13. 684 Purchase Street, New Bedford. More here. 
4. Chalk It Up
One of our favorite events of the year is the annual Chalk-Full-O-Fun Street Painting Fest. Usually held in Onset, it's moved this year to outside the Wareham Town Hall. A nominal registration fee buys you a sidewalk square, some really vibrant chalk (that we use all year long) and the chance to compete for a prize in a variety of categories for young and old. There's always a guest artist who knocks it out of the park with their art but the coolest thing is seeing the creativity of the regular folks and kids. Wander around and enjoy the chalk art, vendors and music. 9 to 4, August 21 (rain date: August 22). 54 Marion Road, Wareham. More here. 
5. Clamm'n with the Gnome Surf Clan
We have a soft spot in our heart for Gnome Surf after featuring them in our Fall issue last year. They bring surfing to young athletes of all abilities (follow them on Instagram and joy pops up in your feed whenever they post anything). They're hosting a family clambake to help support their great work. Come see what it's all about! 12 to 4, August 29. Little Compton Game Club, 80 John Dyer Road, Little Compton. $50/$15 kids tickets. Tickets here.
6. Walk Back in Time
Fairhaven's outdoor walking tours are back this year! They were rated among the best walking tours in the Northeast by the Huffington Post. Join them on Tuesdays and Thursday mornings to see Fairhaven from the eyes of Standard Oil Executive Henry H. Rogers and on Friday mornings for their interactive Pirates and Privateers tour. It's free! More here.
7. Time for a Scavenger Hunt
We love scavenger hunts and we love Dartmouth Natural Resource Trust properties. Put 'em together and it's like peanut butter and chocolate. To celebrate their 50th birthday, you find and photograph 50 of the 70 items listed on their "Discover DNRT Scavenger Hunt" checklist. Complete the challenge and you'll receive a special DNRT tote that isn't otherwise available so people will know you're the bees' knees. $25 per entrant. Through October 31st. Learn more here. 
8. Feeling Crabby
Join the Mass. Department of Conservation in exploring the biodiversity of Fall River's Quequechan River in this catch-and-release program. You can help pull up the traps and see what's inside– you may see blue crabs, oyster drills, comb jellies, and other creatures. 11 to noon on Wednesdays through September. Meet at the footbridge at Fall River Heritage State Park.Visitor's Center.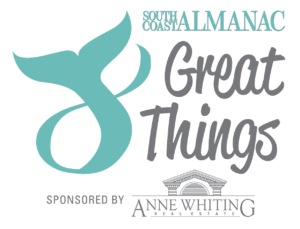 Again, many thanks to Anne Whiting Real Estate for sponsoring this monthly list!
---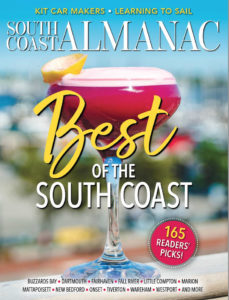 Last Spring, our readers voted on their favorite picks, from shoes to Bloody Mary's. See the winners in our issue that is rolling on the presses right now.
Order an annual subscription and have the Best of the South Coast issue delivered straight to your door. Just $19.95 gives you four issues chock-a-block full of stories about the people and places of the South Coast.