Surprenant & Beneski, P.C. is a law firm that is all about family and they know food is an integral part of family life. They also like to keep up with all the food news. This month's secret tip: from-scratch popsicles with whimsical flavors and a killer view.
Monica Ferracioli grew up in New Bedford but spent some summers visiting her parents' families in Brazil. There's a picture of her as a three year old, sitting in her high chair, double fisting it: ice cream in one hand, a popsicle in the other. She still has a passion for the early childhood ice cream flavor that evokes those summers in Brazil: milho verde (or sweet corn). As an adult, she was always on the hunt for the flavor closer to home.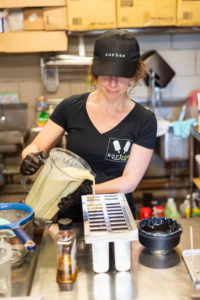 In 2019, she bought a used professional-grade gelato machine in 2019  and started experimenting. Recently diagnosed with a dairy sensitivity, she decided to focus on vegan gelato because she didn't think it existed yet. Through trial and error, she found her original flavors didn't churn well in the machine she had. So she poured the batter in some popsicle molds and -- voila! It worked. Her career as a popsicle entrepreneur had begun. Those first popsicles were mango flavored but she thought: why not sweet corn? And after she perfected that recipe, she created a guava popsicle based on an appetizer in Brazil that featured guava and cheese.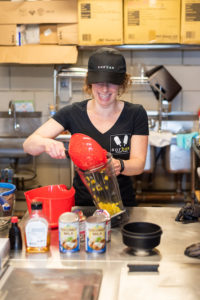 When the concession stand at Fort Taber was available for bidding, she went for it and got the bid. She called the business Sorbae, a playful combination of sorbet and the slangy BAE (Before Anything Else) and opened shop at New Bedford's Fort Taber.
The hand-nurtured popsicles are as special as the view. From the take-out window, you have a bird's eye view of the fort and the harbor. Sit at one of the picnic tables or stroll along the waterfront. Got kids? There's a playground within spitting distance of the concession stand. In the summer on a hot day, it's a perfect combination. Really, it's a perfect combination every day.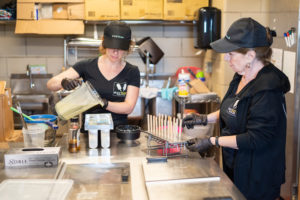 Last winter, she joined the EforAll entrepreneurship class to work on some of the non-ice cream business essentials, and this summer she's back and better than ever! EforAll Executive Director Samia Walker calls Monica a "tiny powerhouse". She juggles a full-time job with the business; family and friends to assist in her frozen treat dreams. Her parents are on call all the time. Her mom helps out with production; her father is her maintenance guy. They make popsicles on Tuesdays through Friday. It's very small batch production -- they only have 100 molds and the popsicles require an overnight to properly set. Suffice it to say, when you buy a popsicle from Monica, it's gotten a lot of personal attention.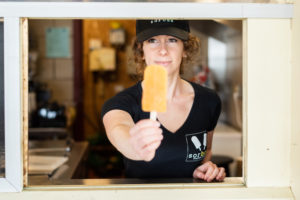 Sorbae has loyal customers who visit every day. It turns out that others were also craving the flavors that spoke to her. She notices that Dominicans are excited to see the sweet corn and guava paste flavors. She met a woman from Venezuela who told her that her own homemade arepas (sweet corn cake) taste just like the popsicles.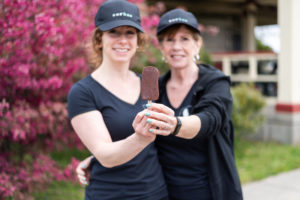 In addition to her from-scratch popsicles, she's got ice cream from Rhode Island's Warwick Ice Cream and she makes sure to have selections for those who can't have dairy. The non-dairy fudgsicle made with coconut milk and maple syrup is her current favorite, made after she tried "a million different recipes." But her favorite -- and the selections themselves -- keeps changing. For an added treat (wait, there's more?), dress your popsicle with one of the many toppings and sit down to enjoy the view.
Sorbae, 1000 S. Rodney French Boulevard, New Bedford. Weekends in May and June. Daily starting July 1.
Monica's popsicles are also available downtown at The Drawing Room, 22 William Street, New Bedford and Huttleston Marketplace on Saturdays.
We hope you enjoyed this post, which is part of a series of blog posts celebrating local food spots, sponsored by Surprenant & Beneski, P.C., the premier estate planning and elder law practice serving clients in Southeastern Massachusetts. Surprenant & Beneski can help you prepare the foundational documents needed to facilitate healthcare, financial and legal decisions should a medical crisis occur. Early planning can save money, heartache and angst during a temporary bout of incapacity or a long-term care event. Getting your estate plan in order gives you peace of mind. Find out more about Surprenant & Beneski here.
If you want to make sure you don't miss learning the next favorite food spot, sign up here.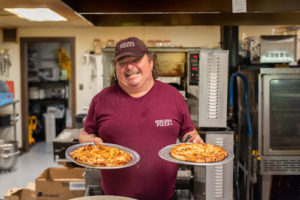 Last post in the series: On the first day of every month -- whether that's a Monday or a Thursday or a Saturday -- he enters the Dough Licious kitchen and looks at the ingredients in front of him. "The food just starts to talk to me," he says. Before you know it, he's combining barbecue chicken, vinegar and teriyaki sauce to create the Bad Larry pizza.  Find out more here.