Surprenant & Beneski, P.C. is a law firm that is all about family and they know food is an integral part of family life. They also like to keep up with all the food news. This month's secret tip: milkshakes that turn heads and star in many Instagram stories at Mic's Main Scoop.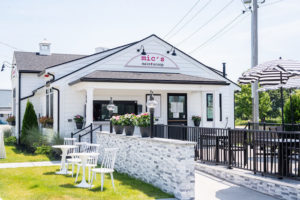 Michaela ("Mic") Michienzi is a photographer and it shows in everything you find at her picture-perfect ice cream shop. Perhaps most important is the setting: it could easily be straight out of a Gilmore Girls episode (nestled near a gazebo, a retro train depot, and the intriguing train bridge that comes down a few times a day).  Then, there's the outdoor fun that surrounds her. She's situated just at the beginning of the canal's 7 mile long bike path and right next door to a fun spraydeck/playground.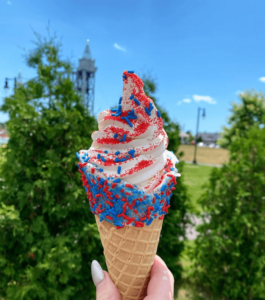 That's all before you can take in the ice cream creations themselves! When they start coming out of the window, you're going to want to photograph each one. The milk shakes are fun and colorful, and so are the waffle cones and homemade chocolates she uses for garnishes. As much as you want to try yours right away, you can't help wanting to stop and capture a photo first. They seem designed for Instagram close-ups (portrait mode, the railroad bridge in distance).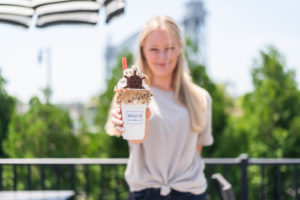 We asked Mic to make one of her most popular shakes for us: the Chipwreck. We watched as she spooned nearly a pint of ice cream into the stainless steel shaker, before adding milk and vanilla. After blending it, she poured it into a cup that she had frosted and rolled in chocolate chip cookie crumbs. She added some whipped cream, a chocolate ship's wheel and a chocolate chip cookie for garnish. But that's not all! She topped it off with some drizzled chocolate sauce and a sprinkling of golden dust. Then, it was ready for its close-up.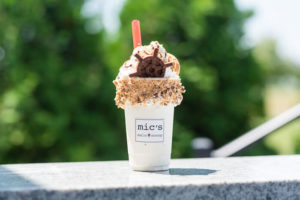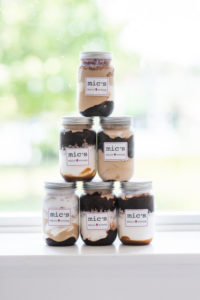 While creating it, she told us she got her start in the food business as a teenage server at the Lobster Trap which created a family type atmosphere that she strives to emulate with her high school and college servers. After high school, she went to Clemson where she worked at a local sandwich shop. She worked in property management and development in Charleston after college graduation.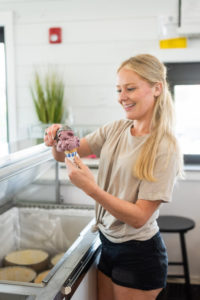 But, in her heart, she was always dreaming of an ice cream shop. Her family owned the spot where Mic's Main Scoop now sits. In 2020, she worked on the design and development of the shop (thanks to her background in property development) and then turned her attention to the design and development of the ice cream treats (thanks to years spent slinging mudslides in South Carolina). She opened last summer and there's been a line outside almost every night.
Ultimately, Mic wants to own 3 ice cream shops: in the mountains, beach and city. We can tell you: she's nailed the water location.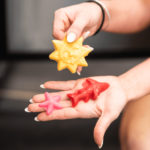 Each of her shakes and sundaes have beachy and nautical names. The kiddos in our neighborhood are big fans of the mermaid and pirate sundaes, garnished with chocolates made in-house that reflect the same themes.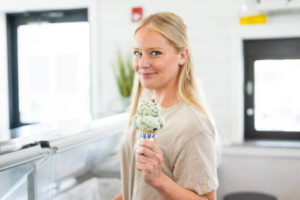 But it doesn't just look good. Mic is an ice cream fanatic, intent on serving only the best. She's one of the few Crescent Ridge vendors around. In part, she wanted Crescent Ridge because she had fond memories of going for ice cream at their Sharon farm with her grandmother as was a kid. But also -- and importantly - because it met her high standards.  National Geographic listed Crescent Ridge in their top 10 ice creams IN THE WORLD. "I chased them down for 3 years because I love Crescent Ridge," she says. Even the soft serve is special. "Most soft serves have about 5% butterfat, mine is 10%."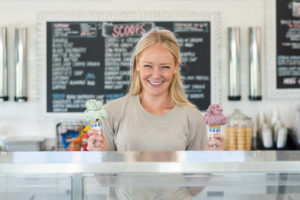 Mic was born to preside over ice cream. Like her first and last names, her middle name begins with an M, making her monogram MMM as in "Mmmm....this is delicious." She's definitely found her calling.
Mic's Main Scoop, 100 Main Street, Buzzards Bay.
Photography by Liam Connor Photography.
We hope you enjoyed this post, which is part of a series of blog posts celebrating local food spots, sponsored by Surprenant & Beneski, P.C., the premier estate planning and elder law practice serving clients in Southeastern Massachusetts. Surprenant & Beneski can help you prepare the foundational documents needed to facilitate healthcare, financial and legal decisions should a medical crisis occur. Early planning can save money, heartache and angst during a temporary bout of incapacity or a long-term care event. Getting your estate plan in order gives you peace of mind. Find out more about Surprenant & Beneski here.
If you want to make sure you don't miss learning the next favorite food spot, sign up here.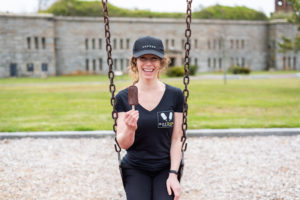 Last post in the series: Sweet corn, guava, coconut, tropical passion: Monica Ferracioli is making artisan popsicles with adventurous flavors at Fort Taber. Find out more here.