Surprenant & Beneski, P.C. is a law firm that is all about family and they know food is an integral part of family life. They also like to keep up with all the food news. This month's secret tip: Berkley is the place to go for unique and creative pizza flavors.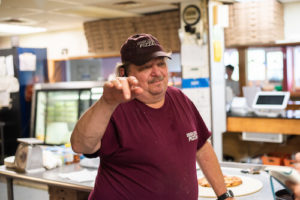 It's a local pizza shop, like dozens of others you've seen in the area. This one is in the very small town of Berkley but business is booming. Bill Russell, who opened Dough Licious Pizza in 2014 after retiring as a tractor-trailer driver, seems both proud and a little surprised to be churning out "thousands of pizzas a month, in the middle of nowhere."
Why the crowds?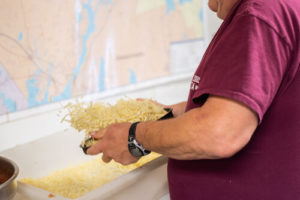 Bill has come up with 120 unique and sometimes quirky pizza flavors and people are eating their way through the menu. Bill adds a new one to the menu each month, like clockwork. On the first day of every month -- whether that's a Monday or a Thursday or a Saturday -- he enters the kitchen and looks at the ingredients in front of him. "The food just starts to talk to me," he says. Before you know it, he's combining barbecue chicken, vinegar and teriyaki sauce to create the Bad Larry pizza.  Or he's tossing on some spaghetti, cheese, chicken tossed in garlic parm and buffalo sauce, oregano and basil for the Buffaghetti pizza. He's got fresh haddock pizza on Fridays and Saturdays.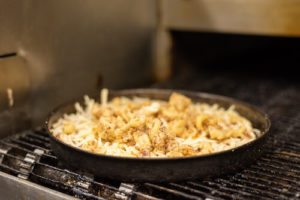 We were there for the Bacon Mac & Cheese pizza because after our last stop at Patti's Pierogi's, someone told us that we should have tried the mac & cheese pierogis there. We couldn't get mac & cheese out of our heads so we tried looking for it in another unlikely place: pizza. We figured Dough Licious would have it since we heard they had nearly any kind of flavor combination you can imagine on a pizza. And we were right. Bill invited us over to try it.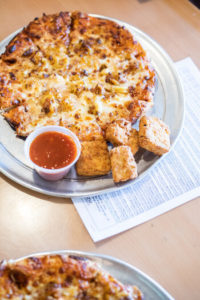 It was as you might imagine it to be: a deliciously guilty pleasure. Just yummy. And filling. Have it for lunch and you'll be so full you'll forget to eat dinner. While we were there, Bill fried us up some Bacon Mac & Cheese bites with the smoky bacon taste lending a nice contrast to all the comfy pasta and cheese feelings.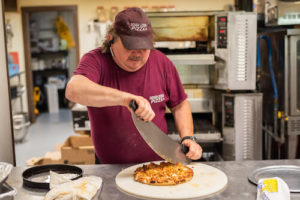 Though we loved it, we probably won't order it again. Because there are 119 reasons not to order the same pizza again. With 120 on the menu and more added each month, you don't want to stop at one favorite, even if you love it.  Some customers are working their way through the entire menu. One guy bought 2 small pizzas every Tuesday and Thursday for two years to get through the pizza list. And Bill can accommodate all kinds of dietary restrictions, including providing gluten-free crust. One woman who is both gluten-free and lactose intolerant orders pizza from Dough Licious 3 times a week.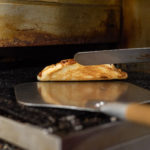 They're coming from everywhere to eat the pizzas: New Bedford, Westport, Warren, RI, even as far away as Easton and Sandwich. His best seller is the Shepherd's Pie pizza (garlic butter with garlic homemade mashed potatoes/corn/angus beef/ cheese.) Everything is made as if you've come to his home for dinner: he makes his own dough, marinara sauce, meatballs, grills his own chicken (he goes through 340 pounds of chicken a week). When you order a sandwich -- and not a moment before -- the meat for the sandwich is cut to order.
The list of pizza combinations is three pages long in a tiny font so -- pro tip -- bring your reading glasses and build in some reading time before ordering.
Dough Licious Pizza, 539 Berkley Street, Berkley.
Photos by Liam Connor Photography.
We hope you enjoyed this post, which is part of a series of blog posts celebrating local food spots, sponsored by Surprenant & Beneski, P.C., the premier estate planning and elder law practice serving clients in Southeastern Massachusetts. Surprenant & Beneski can help you prepare the foundational documents needed to facilitate healthcare, financial and legal decisions should a medical crisis occur. Early planning can save money, heartache and angst during a temporary bout of incapacity or a long-term care event. Getting your estate plan in order gives you peace of mind. Find out more about them here.
If you want to make sure you don't miss learning the next favorite food spot, sign up here.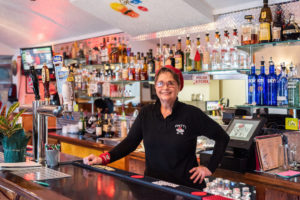 Last post in the series: like Bill Russell, Patti Geary dreams up new flavors in her sleep (though her palette is pierogis, rather than pizza). Visit Patti's Pierogi's in Fall River where she's got everything from traditional to wildly imaginative pierogis on the menu! Find out more here.