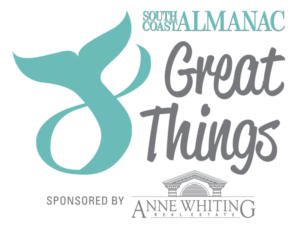 Turn the page to September, that sneaky beautiful gift of a month when you think summer's over but...it isn't! Here are our top picks for events in the area with big thanks to Anne Whiting Real Estate for sponsoring this monthly list.
1. Food Trucks Galore
We are obsessed with food trucks. Fall River and New Bedford give us two opportunities to catch a gathering of food trucks this month. The Narrows hosts an outdoor music festival featuring Blues superstar Shemekia Copeland. The show itself is free (bring a lawn chair or blanket) and food trucks will be around throughout the festival. September 4, 3 to 7 pm at the Gates of the City, Fall River. More here. The following week, New Bedford hosts a Food Truck & Craft Beer Festival. Enjoy live entertainment, outdoor games like cornhole and giant jenga, and, of course, food and drink! Tickets from $5 to $59. September 10, noon to 5 pm. Fort Taber, New Bedford. More here. 
2. A Literary Field Trip
Come with us to West Island while we gather to watch the migrating sandpipers with Justin Barrett from the Nasketucket Bird Club using the beautiful and lyrical novel No Land to Light On by Yara Zgheib as our excuse to get outside. We'll read parts of the book as we walk along. Ms. Zgheib was originally scheduled to attend but her travel return from Lebanon was unfortunately delayed. She will join us via Zoom at a later date to discuss her work, which is among our top picks for 2022. September 11. 2:15 to 4:15. Free. More information here. To sign up for the walk or the later Zoom event, please sign up here. 
3. Cat Video Fest
Haven't we all been sucked into the void of watching cute cat videos to avoid our To Do lists? Here's your chance to make it a joyous and communal experience! Cinema New Bedford brings us the latest and best videos culled from countless hours of unique submissions and sourced animations, music videos, and classic Internet powerhouses. Not only that, you can submit your own short, under-1-minute videos of your special feline friend for prizes and inclusion in the pre-show program by posting on social media with the hashtag #CatsofNewBedford or #ZeiterionPets.  This event supports Moby Kit Rescue, an animal shelter serving Southcoast MA. September 18 at 2 pm. The Zeiterion, 684 Purchase Street. $10.  Tickets here. 
4. Make some Furry Friends
West Place Animal Sanctuary only opens its doors to the public a few times a year. Get in on this month's open house to get up close and personal with alpacas, donkeys, horses, pigs and a variety of other animals, all while learning about the non-profit organization's life-saving work. $20 ($15 for children) September 17 and 18th, 3198 Main Road, Tiverton. More here. 
5. Wet Paint Padanaram
Dozens of artists will set up for a day of plein air painting throughout the village of Padanaram. You can join them in painting or just wander around and admire their work. The artists will set up in the morning and paint until 3, returning to the Dartmouth Cultural Center to add their work to the day's exhibition which will be open to the public, along with music and refreshments from 4:00 until the last person leaves! September 24 (rain date: September 25) throughout Padanaram. More info here. Note: registration for those who want to participate as artists closes on September 11. 
6. History at Home
For a fundraiser, the Little Compton Historical Society invites us in to nine historic homes, including the home with the infamous Spite Tower (said to have been built expressly to interfere with neighbor's view). We love a day of touring houses. $50 (benefits the Historical Society). September 17, 12 to 5 (rain date: September 18). More here. 
7. Walk & Learn
Join National Park Service rangers for hour-long afternoon walking tours throughout the month that focus on a variety of New Bedford topics, like whaling, textiles, fishing and the underground railway. Free. 2:30 to 3:30 pm on Wednesdays, Fridays, Saturdays and Sundays.  Show up at the Visitor Center, 33 William Street, New Bedford. More here. 
8. Sonata Saturdays
Bring a chair and set yourself up outside The Drawing Room in downtown New Bedford to listen to two violinists from the New Bedford Symphony perform a free concert. Maybe treat yourself to an artisan popsicle from Sorbae (which we've gushed about and are now sold at The Drawing Room) while you're there! Free. September 24, 4 to 6 pm. More here. 
Sneaking in a 9th Great Thing
Take advantage of September's beautiful weather and go for some bike rides (here are five routes that inspire us!) Then join us on October 2 for the Watershed Ride to raise money for the Buzzards Bay Coalition's efforts to make the areas surrounding Buzzards Bay healthy, sustainable and beautiful. Register here for 35, 50 or 100 mile routes.
***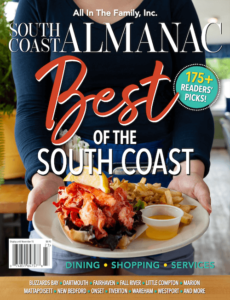 Want more ideas? Think about becoming a subscriber to support our mission to tell the South Coast's stories and get your copies delivered right to your door before it hits newsstands. Each issue has a calendar with even more Great Things to do.