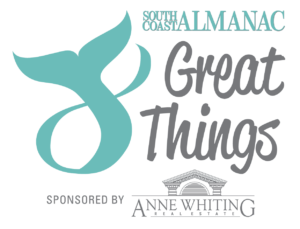 We're deep in summer fun here, how about you?! We've got 8 Great South Coast events for you to check out, like outdoor music, free family sails, cookouts, baseball & more. With many thanks to our sponsor, Anne Whiting Real Estate, who makes sure we share our top calendar picks with you every month.
1. Step Back in Time
The sound of some Von Trapp family singing will help ring in the Martin House Farm for another season of house tours and events. Listen for mini-concerts throughout the day while you tour the 18th century farm, barns and fields which all still retain the character of its original setting. July 10, 1 to 4 pm. More here. 22 Stoney Hill Road, Swansea. Following July 10, the Martin House will be open Sundays 1 to 4 pm through September. $5 admission.
2. Come Sail Away
On Wednesdays, the Buzzards Bay Coalition offers free sails on their Drascombe Gig with up to 10 lucky passengers. Enjoy a lovely sail and then, follow your ears across the street to the music wafting over from Onset's Summer of Love music series. Buy an ice cream cone and you've got the perfect summer evening hat trick of water, music, ice cream. Onset Pier, Onset Avenue, Onset. More on the sailing here (Wednesdays, 6 to 7 pm). More on the music here (Wednesdays, 6:30 to 9). 
3. Summer Cookin'
Leave it to the DNRT to make their fundraisers as easy and fun as a summer barbecue. Join them at 1 of their 3 summer cookouts complete with standout barbecue (and vegetarian options), lawn games, music and good cheer. July 15, August 4 and 26, 5:30 to 8 pm, DNRT Center, 318 Chase Road, Dartmouth. More here. 
4. 96 (!!) Cupcakes
The Marion Art Center hosts its retrospective exhibit of local artist Mary Ross who turns 95 years old this month. Join them for the artist's reception and enjoy one of the 96 delicious cupcakes (95 for each year + 1 for good luck!) from Artisan Bake Shop.  While there, you can celebrate the musicians of the Buzzards Bay Musicfest as well. July 15, 5 to 7 pm. Marion Art Center, 80 Pleasant Street, Marion.
5. Peek into Inspiring Settings
The public is invited into dozens of artists' studios, galleries and spaces in Dartmouth, Westport, Little Compton & Tiverton for two glorious summer weekends of the South Coast Artists Annual Open Studio Tour. July 16-17, 11 to 5 (and also, August 20-21) More here. 
6. Collegiate All Stars
See next year's Major Baseball League players play at the Cape Cod Baseball League's annual All Star game, hosted this year at Wareham's Spillane Field. We're so sure you'll get to see a future major league star at this event that we guarantee it! (Seriously, we'll give you free peanuts and crackerjacks next year if no one on this year's All Stars team gets drafted!) July 23, 6 pm start for the game, but pre-game festivities start at 2. 54 Marion Road, Wareham. More here. 
7. Fiddle Faddle
Join the Old Time Fiddle Session and Community Gathering for their monthly gathering of fiddlers, banjoists, mandolin players, guitarists, bassists, and fans of fiddle music! They welcome every level of musician, including beginners and listeners to their monthly sessions at the Mattapoisett Museum. In fair weather, they set up outside.
July 31, 1 to 3:30. 5 Church Street, Mattapoisett. More here. 
8. Italian Getaway
A trip to Italy may not be in your plans this summer but head over to Killburn Mill for a taste of Italy anyway. Sommelier Jason Cotter will guide you through 6 special Italian wines, along with your own personally curated charcuterie board in Dough Co's fabulous light-filled space. Saluti! July 27 at 5 pm. 127 Rodney French Boulevard, New Bedford. $75. Tickets here.
Happy July! Go out and make it count! With many thanks to our sponsor Anne Whiting Real Estate.
---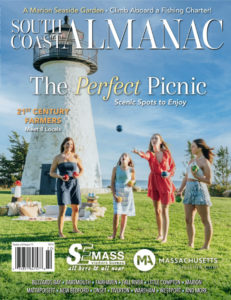 Our print issue is filled with more great things to do on the South Coast, along with features that explore this place we love. It's on newsstands by June 9. Or get a copy delivered right to your door by becoming a subscriber.
4 issues delivered straight to your door is just $19.95.