There have been reports of fields of onions buried in Idaho; milk dumped in Wisconsin and Ohio. An irony during this pandemic is that while shoppers have faced supermarket shortages, some farmers and fishermen are inundated with too much food because their normal chain is off as purchasing by restaurants, schools and hotels has cratered.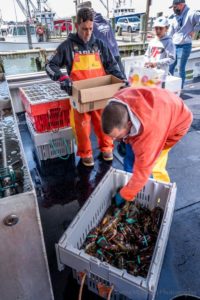 Shopping Moves Directly to the Piers and Farms
Ironically, Troy Durr has never eaten a lobster in his life (he hates seafood). But his uncle and plenty of his friends are lobstermen. When he saw them struggling with this supply/demand dichotomy, the 25 year old Mattapoisett resident decided to do something about it. He let people know via Facebook that a lobster boat had lobsters that couldn't be sold. Friends and neighbors came down to the pier and the lobsters sold out.
Troy created a Facebook group called SouthCoast Direct Source Seafood which is spreading exponentially (so good to hear about exponential growth not involving a virus).  Fishermen hauling in fish, lobster and shellfish alert him when the boats are coming in. He lets the public know through the Facebook page.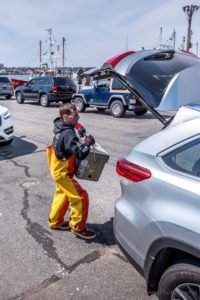 Already, there are over 7,000 people in the Facebook group. Troy says it's growing by "roughly 2 people every minute." On Easter Sunday, hundreds of cars lined up at Union Wharf for fresh lobsters, observing social distancing by staying in their cars. They sold between 2200 and 2400 lobsters on Easter Sunday.
It doesn't get more direct than that. And there's something so very inspiring about it. Consumers banding together to help out their local food producers. The importance of our local food supply has never been so evident as it has in these past few weeks. It's more than getting fresh seafood. It's a way for neighbors to help neighbors.
The Facebook page is now adding scallops to the menu, focused on the smaller day boats. Scallops from the 24 hour day boats are the freshest you can get. And because the yield is always the same (600 pounds), you can pre-order the scallops.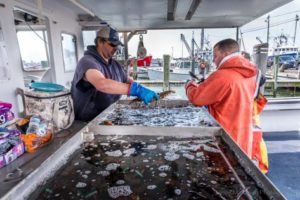 Troy says that this Facebook group, created on the fly a couple of weeks ago when his uncle was stuck with 600 pounds of lobster, has enabled lobstermen and scallopers to get their boats out on the water. It's providing weeks of income that they would otherwise not have had. And despite the long waits at the pier, with no guarantee that they'll go home with lobster, the feedback from buyers has been overwhelmingly positive.
Who else is selling directly to residents?
Some of you may remember that we featured dairy farmers in print last year (we reprinted the story digitally here). We checked in with Pine Hill Dairy in Westport — Shauna Ferry wrote a letter to her Facebook followers: "Hi everyone, we're living in some difficult times and I know everyone is feeling the struggle. Currently for dairy farmers, due to cases of Covid in various plants across the U.S, milk is being picked up and dumped because it cannot be processed. Unfortunately, this is happening to our milk, as well as many other farmers we know across the state…. Our milk is farm fresh raw milk, it's as thick as whole milk, slightly creamier. I wanted to take the time to let people know that our milk can be pasteurized at home on the stove top or right in an Instant Pot….[and] to put this information out there because we pride ourselves on the quality of our milk and to know it's being thrown away is a shame, to know all of our and our herd's hard work is almost for nothing is heartbreaking."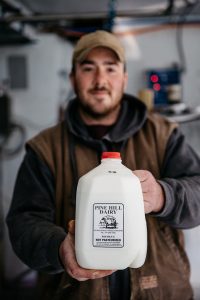 Shauna and Andrew have set up contactless purchasing so that you can buy milk directly from Pine Hill Dairy. The store uses the honor system with a money box to leave your money.  Even though she can't be there when you buy it, Shauna is really happy to talk to folks about raw milk and how to pasteurize it (though she loves it raw). Call her at 774-319-0026 or check out their Facebook page.
Paskamansett Farms, another farm featured in our 2019 story, is also selling milk, eggs and meat to consumers directly from the farm. See more here.
Over in Dartmouth, Copicut Farms is offering home deliveries of chicken, pork, eggs. More here.
As many farms start to ramp up their CSA programs, we encourage you to purchase a produce share at a farm near you. Check out (and support) SEMAP for more information on local farms and food producers. Also, the Marion Institute Southcoast Food Policy has put together a resource list, directly responding to the Covid-19 crisis. Check that out here. 
Finally, we've heard people expressing frustration with the lack of delivery availabilities on big name grocery apps. Meet Fall River's Kelly Robidoux who launched a local grocery delivery service last Fall. She calls herself The Errand Lady and, unlike Instacart and other delivery companies, you will actually know the person who does your shopping every time. She'll deliver anywhere within 25 miles of Fall River and you can find out more on her Facebook Page.
Did we miss your favorite farmer/fisherman/local food supplier? Let us know in the comments and we'll add it in! In the meantime, stay safe and eat local.
---
Keep up with all things South Coast by subscribing to our free email newsletter right here.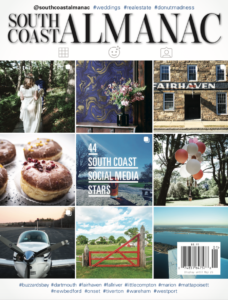 Want to get our print issue delivered to your mailbox quarterly. Subscribe for just $19.95 here and be happy to know that you'll be supporting local storytelling, photography and design.