Demand is dwindling. More people everyday turn to alternatives from soy, almonds and coconuts. Costs to produce traditional milk are soaring, while the prices of the product leave little room for making a profit. The business of milk just isn't what it used to be. The challenging economics of maintaining dairy farms has led to the closure of dozens in the past few decades.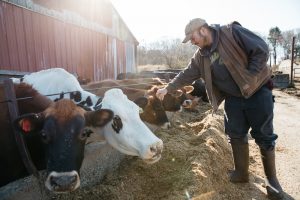 But a few farms that dot the landscape of the South Coast have persevered. Their secret to survival: going beyond pasteurized milk and venturing into products that both bring a better return on investment and broaden the flavors that characterize our local food stock.
For Andrew Ferry, who operates Pine Hill Dairy in Westport, and Bill Couto of Paskamansett Farms in Dartmouth, the answer is selling raw milk. This milk is creamier and healthier, and doesn't lose the good bacteria that is stripped from milk during pasteurization, they say.
Other farms have achieved success by selling their milk to local cheese makers like Shy Brothers Farm in Westport and Great Hill Farm in Marion. Many of these local cheeses are sold nationwide and have garnered national and international awards for their quality and flavor.
'The cows are number one'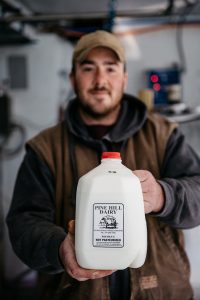 Andrew Ferry is no stranger to life on a dairy farm. He is the fourth generation of dairy farmers (his grandparents are from Portugal) and grew up on his father's farm on Gifford Road in Westport.
His grandfather, who came to Westport, had 11 children, and Ferry's father is the youngest. ("He has never had to hire a single guy," Ferry quips.) Two years ago, a fire burned his grandfather's 80-year old barn to the ground. He was devastated. "I don't know if we'll ever get over it. It's strange when home doesn't really look the same," he says.
As he works to overcome this loss, he is busy keeping his dairy operation at Pine Hill Road viable, and the family tradition alive. Ferry, along with his wife Shauna, works seven days a week, taking care of their 50 cows (a mixed herd of Jersey and Brown Swiss) that he milks twice per day, every day.
Ferry is clearly fond of the animals, and says they do not push them for production. They roam the 30 open acres and enjoy a diet of grass, alfalfa and mineral packs. "The cows are number one. If you don't have happy, comfortable and healthy cows, you're not going to end up with good milk," he says. "The number one thing is cow comfort."
When he started running the operation, he received about $26 per 100 pounds of milk, which was sold to Garelicks Farms in Franklin, where it was pasteurized and then distributed in supermarket chains. The price has dipped, and at one point was $16 per 100 pounds.
Ferry, who produces 5,000 pounds of milk every other day, continues to sell to Garelick, but began producing raw milk to get a better price for the milk, which he feels pride in producing.
"It's kind of a shame to send everything to Garelick Farms, where they mix it with everybody else's milk," he says "That is why we went in that direction [of selling raw milk]. We process our own milk so that people in the community can actually enjoy the products right from the cow."
Growing demand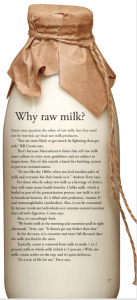 Under state regulations, customers must purchase raw milk directly from the farm that produces it. At Pine Hill Farm, in a small room only a few feet away from the cows, raw milk in a freezer is on sale. A nearby wall lists the prices and a small wooden box to deposit money is on a nearby counter; it's all on the honor system.
"It seems to always be growing," Ferry says, regarding demand for raw milk. Customers come from all over: locally in Westport and throughout the state. In Rhode Island, raw milk is illegal to sell, so many come to Massachusetts to purchase raw milk from him. He fondly notes one customer, a father of 14 children from Coventry, R.I., who comes every week for 15 gallons.
Looking forward, Ferry is working to find other ways to innovate in his business. He currently is building a processing room where he will be able to pasteurize his milk in-house.
"Then I can offer other products like yogurt or flavored milk. I'm looking to make Skyr, a type of yogurt [technically a cheese] from Iceland that is a little bit thicker than Greek yogurt. It's a really trendy product," he says.
'Collecting cows'
Bill Coutu, who grew up in Dartmouth, recalls a time when there were 200 dairy farms in Dartmouth alone. "We had cows in our backyard," he says. Now there are only 140 dairy farms in the entire state of Massachusetts.
Couto, who owns Paskamansett Farms, a 27-acre farm on Tucker Road in Dartmouth, began specializing in raw milk many years ago to keep his farm from closing.
Coutu purchased the land in 1991 when it went up for auction, and his family originally focused on growing vegetables and running a nursery. His young son, Tom, then 9 years old, started "collecting cows," he says. Over time, the herd grew to 40 cows, and after undergoing a state licensing process, the farm began selling raw milk.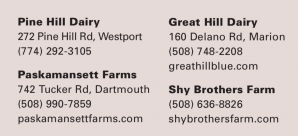 Now, "we are one of the largest dairy farms that sells only raw milk," he says, although they do sell their own fresh meat as well. His son, Tom, milks the cows and keeps the operation going–whether through blizzards or power outages. (The family invested in three back-up generators after a devastating blizzard a couple of years ago.)
"It is difficult in the dairy business. It's seven days a week. It doesn't matter if you have the flu," Coutu says. However, his family is committed to the farm. Interest continues to build for his product, and he likes not being affected, as other farmers are, by the market price of milk for large-scale distribution.
Like Ferry, he gets customers from all over—from Provincetown to Rhode Island. He could sell his land and retire, but he has no plans to do so. "It's a lifestyle," he says.
Cheese business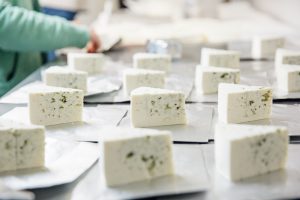 At the picturesque end of a small peninsula in Marion, out on Delano Road, Great Hill Dairy is making some internationally-acclaimed blue cheese—and barely keeping pace with demand. Great Hill Dairy purchases raw milk from a cooperative of local farms (including Shy Brothers Farm) to make its blue cheese.
Tim Stone, the owner of Great Hill Dairy and great-grandson of a banker who purchased the land in 1908, says that he originally focused on selling milk but struggled to stay in business.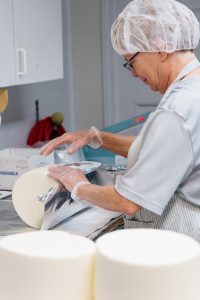 "I realized you have to do something different. If you don't diversify and do a value-added product, you aren't going to make it," he says. Stone began producing primarily blue cheese after extensive research into cheese in demand. At the time, Great Hill Dairy became the sole maker of blue cheese (called Great Hill Blue) in the Eastern part of the United States. More recently, other creameries have begun to produce blue cheese.
His first customer: Marion General Store, a beloved family- owned grocery still in operation a few miles away. From there, "I gained a couple more customers on the Cape, and gradually built it up, schlepping around in a jeep with the cheese in a cooler," Stone says.
Since then, his distribution has grown dramatically. Great Hill Blue is sold in Whole Foods markets nationwide, other big and small retailers, and restaurants, including many high-end establishments in Boston. At one point he was a supplier for Legal Sea Foods, but couldn't keep up with their demand.
"There is a demand for higher quality, more natural products. There has been a lot of growth through those markets that was never envisioned," he says.
Day in the Life
Great Hill Blue has won its fair share of awards, including a gold prize in the Los Angeles cheese competition and eighth place in the 2018 World Cheese Championships
"We're the only one in the country making cheese the way we do. We don't homogenize the blue cheese. We have to age it longer because of this [about four months], something our competitors don't do. We get a different flavor profile, as it's not as acidic. It's creamy, full-flavored and smooth tasting, " he says.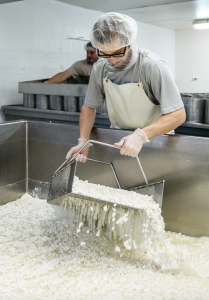 Great Hill Dairy employs a staff of 10 to handle the cheese- making, which begins at 4 am and finishes up mid-to-late afternoon three days per week. The operation produces a half a ton of blue cheese every day, Stone says. Stone himself makes the rounds to local farms on the weekends to purchase the raw milk.
In house, upon coagulation, the curd is cut and stirred until reaching the desired consistency, at which time the whey is drained off. Each cheese form is hand-filled using traditional techniques to ensure proper whey expulsion and curd structure. The workers produce six-pound wheels, which are cut, using wires, into wedges of desired sizes.
Great Hill Blue has carved out a following even among folks who don't typically like blue cheese, he says. Stone has no plans to expand his operation, despite the fact that he can barely keep up with demand. "The model is working the way it is now," he says, explaining that he wants to keep his business small.
Nearby Shy Brothers Farm produces Hannahbells: a curd-free thimble-sized hand-made cheese—in the classic French flavors and Cloumage, a creamy and tangy cheese. The unformed, unstructured cheese was discovered a bit by accident, as it started as a curd of Hannahbells.
The cheese is versatile and can be used for cheesecakes. The Back Eddy restaurant in Westport sells "Shy Lime Pie," a key lime pie made from this delicious pliable cheese. Food & Wine magazine has listed Cloumage as among its 10 top cheeses.
The Shy Brothers Farm also sells mozzarella, which Hanley describes as buttery in flavor, to the local chain Brick Pizza as well as dNB Burgers, among other places.
Written by Laura Pedulli; Photography by Adam Graves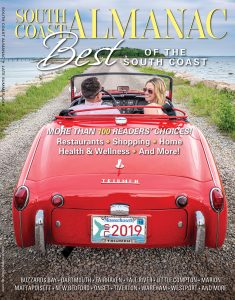 A version of this article appeared in our early summer 2019 print issue. Want to read more stories exploring the people and places of the South Coast? Subscribe to the magazine and we'll arrive quarterly in your mailbox with stories and photographs reflecting back the beauty and character of the South Coast! Subscribe right here for $19.99 a year.