When I told a friend the next food spotlight was on Sola's Disco Dumplings, she said, "what the heck is that and why have I never heard of it?!" Exactly!  Surprenant & Beneski sends us out to keep you updated on exactly this kind of important information.  Surprenant & Beneski, P.C. is a law firm that is all about family and they know food is an integral part of family life. This month's secret tip: the most delicious dumplings you'll ever have are hidden in a Wareham industrial park.
At 15 years old, Sola Lee moved from Beijing to an apartment in New York right next door to Studio 54. Though long past its heyday by the time she arrived, Sola reveled in the idea of Studio 54. "You could be whatever you wanted when you were in there," she says. "You'd see grandmas in blue bikinis!" After college, she did an extremely practical,  unStudio 54 thing: she worked in finance on Wall Street. But while she worked in finance, she dreamed of being whatever she wanted. In particular, she dreamed of food trucks and dumplings.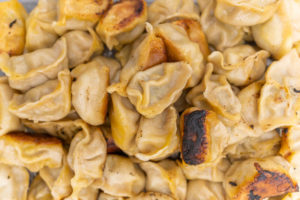 She had grown up with dumplings at every family celebration and she thinks of them as the perfect food. "Every culture finds a way to wrap meat in carbs," she jokes. She left her finance job and went to the International Culinary Center in New York before working in several New York kitchens. As for food trucks, she had long admired the way the owners interacted with their regulars, "they knew them, they knew their lives. They were like bartenders. I wanted a community like that."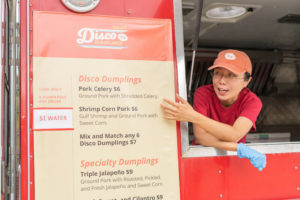 When her boyfriend moved to Wareham, she decided to set up shop here, featuring dumplings that are extraordinary. Just four varieties on the menu, each one is carefully orchestrated to pack a lot of flavor in its little package: Pork Celery, Shrimp Corn Pork,  Triple Jalapeno and Beef, Carrot & Cilantro. They are simply the best dumplings I've ever had. And I can't decide which is better than the next. The only other thing on the menu is her homemade fudgy brownies which are also extraordinary.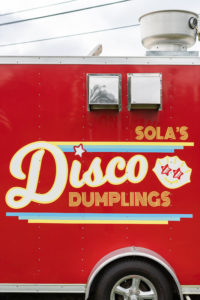 Plus, it's all just so fun. The fire engine red food truck, the music streaming out of it, and Sola herself bring such vibrant energy to the quiet cul-de-sac where she's parked. There are some ironies here. First, she won't be coming to a place near you because it's a stationary food truck (Sola hates driving and has only just recently obtained her license). Second, her music playlist does not feature disco but it does embody that Studio 54 spirit of possibility.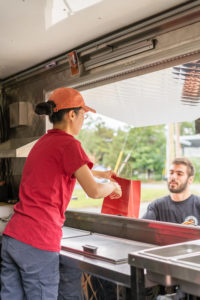 She's gaining quite a following. People are coming. Then they're coming back with their buddies. Then they're bringing their extended families. She's building the community she dreamed of while she detoured on Wall Street.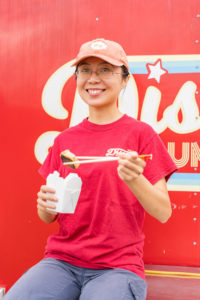 If you want in on the action, go soon because her business is seasonal. She'll be open until it gets too cold and then she'll throw herself into dumpling production mode through the winter. Last winter, she produced and froze over 10,000 dumplings for this season. Production season is relentless ("I don't talk to people. I just talk to dumplings," she says.) Barring an early and fierce Nor'easter, she should be in Wareham talking to humans until early December in Wareham on the grounds of Trade Roots where she pays her rent in dumplings.
Sola's Disco Dumplings, 6 Thatcher Lane, Wareham. Open Wednesdays-Saturdays, 11:30 to 2:30, until July 29, 2023.
Photography by Liam Connor Photography.
We hope you enjoyed this post, which is part of a series of blog posts celebrating local food spots, sponsored by Surprenant & Beneski, P.C., the premier estate planning and elder law practice serving clients in Southeastern Massachusetts. Surprenant & Beneski can help you prepare the foundational documents needed to facilitate healthcare, financial and legal decisions should a medical crisis occur. Early planning can save money, heartache and angst during a temporary bout of incapacity or a long-term care event. Getting your estate plan in order gives you peace of mind. Find out more about Surprenant & Beneski here.
If you want to make sure you don't miss learning the next favorite food spot, sign up here.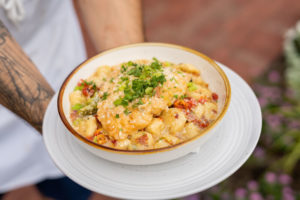 Last post in the series. TrailsEnd Bistro is worth getting lost for. Their Tuscan Chicken Gnocchi? Delicious! Find out more here.