The Best Place You've Never Been
Surprenant & Beneski, P.C. is a law firm that is all about family and they know food is an integral part of family life. They also like to keep up with all the food news. This month's secret tip: head to the heart of residential South Plymouth to find flavor and cuisine.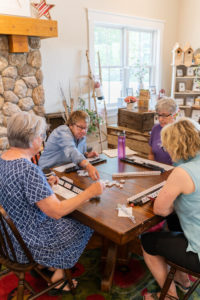 For a while, we questioned the GPS as the car wound along quiet Plymouth roads that seemed to lead nowhere before finding ourselves in the middle of a town center that had a small town feel to it. In the little general store, a quartet of women were playing an afternoon game of mah jong. Next door, at Trail's End Bistro, the kitchen staff was bustling after the lunch rush and prepping for dinner.  One door over, contractors were working to put the final touches on Black Lantern, another restaurant that is scheduled to open around Thanksgiving.
The Gulsens, who live nearby, own both restaurants and Sahin Gulsen is thrilled to bring restaurant options to South Plymouth. He knows from personal experience that it used to take fifteen minutes to drive for a good dinner.  "We're in the hinterlands," he jokes. But no longer! Thanks to him, South Plymouth is becoming a dining destination.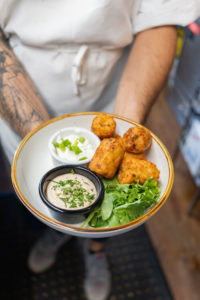 We asked if they could make us the Tater Kegs on their appetizer menu because, frankly, we were intrigued by the sound of them. They happily prepared a bowl of the most popular appetizer, essentially giant tater tots filled with bacon, cheddar cheese, chives and, of course, potato. But they really wanted to show us other things. We learned that the heirloom tomatoes in the Caprese Salad on the special's list came from a garden right outside the back door so we asked to try that. And while we were enthusiastically diving in to these things, Chef Luiz Arduini came out to ask Sahin if he could make us his favorite chicken dish because he felt it showcased the layers of flavor and sophistication that they like to bring to their dishes.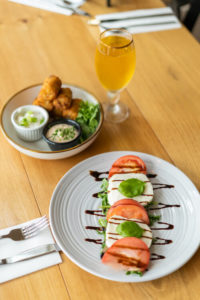 Before we knew it, there was a feast sitting in front of us and we were getting to know Sahin.  The former owner of an HVAC business, he also used to own Mr. G's Pizza in Sagamore Beach. But he wanted to create a sit down restaurant in the forgotten area around South Plymouth;  he viewed the area as a  dining desert in South Plymouth and he wanted to create the oasis.  He laughs, "My wife says, 'most people buy a Corvette for their midlife crisis. You open up two restaurants!'"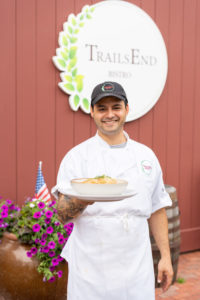 But these restaurants don't taste like a midlife crisis. The chicken dish was scrumptious, with layers of flavors, as promised. The lemon, the parmesan, the scallions, the leeks, the white wine with gnocchi and really tender chicken, it creates a dish that is greater than the sum of its parts. Chef Arduini says gnocchi was a staple in his boyhood in Brazil. He wanted to make a comfort food that isn't well represented at restaurants. He swapped in his boyhood favorite in Brazil -- gnocchi -- for dumplings and set to work to create a multi-faceted take inspired by good ole chicken-and-dumplings. "This dish really hits home for me," he says, "and I really wanted to bring that feeling here."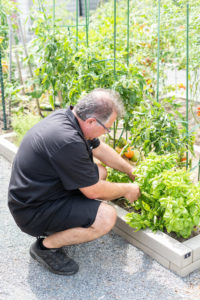 The outdoor vibe adds to everything. The seating area glows with a firepit and outdoor strung lights. But it's the community garden out back that really made me swoon. Behind many of the resident's plots, Sahin has his own plot. He regularly goes back there to harvest his own tomatoes or herbs for the day's menu. Even more charming, he often uses residents' overstock. Too many cucumbers? Bring it to Sahin and you'll find it in your salad that night.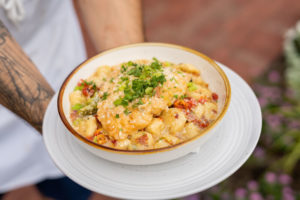 Bottom line: Trail's End is worth finding. We can't wait for its high-end companion restaurant, The Black Lantern, to open. We're pretty sure that people from well outside South Plymouth are going to be beating a path to Sahin's doors.
TrailsEnd Bistro, 1 Greenside Way North, Plymouth
Photography by Liam Connor Photography.
We hope you enjoyed this post, which is part of a series of blog posts celebrating local food spots, sponsored by Surprenant & Beneski, P.C., the premier estate planning and elder law practice serving clients in Southeastern Massachusetts. Surprenant & Beneski can help you prepare the foundational documents needed to facilitate healthcare, financial and legal decisions should a medical crisis occur. Early planning can save money, heartache and angst during a temporary bout of incapacity or a long-term care event. Getting your estate plan in order gives you peace of mind. Find out more about Surprenant & Beneski here.
If you want to make sure you don't miss learning the next favorite food spot, sign up here.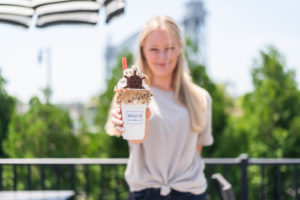 Last post in the series: summer fun in a cup. Mic's Main Scoop serves eye-catching milkshakes that you're going to want to stop and admire before slurping them down. Find out more here.