Updated for Thanksgiving 2019
There's a questionable rumor going around that the tryptophan in turkey doesn't actually make you sleepy. We have a hard time believing that ­– everyone knows the post-Thanksgiving torpor is real!
Lucky for us, we've got people looking out for us! We're going to fight that post-Thanksgiving sleepiness by getting out and moving our bodies. Here are five activities which will help combat the tryptophan (though – to be clear – we do recommend some good, old-fashioned lollygagging this weekend so don't skimp on that).
The Great, BIG "Walk It Off" Hike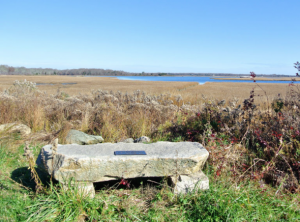 Join Mass Audubon to walk off all those mashed potatoes and pumpkin pie! Starting at the Allens Pond Wildlife Sanctuary field station, travel along to the beach and the Quansett Trail on what the Buzzards Bay coalition describes as "a scenic, calorie-burning blitz of approximately 6 miles." Make sure to dress for a day hike and come prepared wearing closed toe shoes and a daypack with water and snacks.
Where: Allens Pond Wildlife Sanctuary, 1280 Horseneck Rd., Westport
When: Friday, November 29, 2019, 9 to noon
Registration is required. Check here for more info. $15 members, $18 non-members.
Post-Thanksgiving Day Hike
Join the Dartmouth Natural Resources Trust on a refreshing hike through Destruction Brook Woods. Burn off the stuffing!
Where: Destruction Brook Woods, 205 Slades Corner Rd., Dartmouth
When: Sunday, November 30, 2019 at 9 a.m.
Free. More info here.
Hatha Yoga
This gentle to moderate class is a perfect way for yogis of all levels to ease themselves back into post-turkey society and stretch off the pumpkin pie. Wear comfortable clothing and bring a mat, towel, and water.
Where: Boys & Girls Club of Wareham, 13 Highland Ave, Onset, MA
When: Saturday, November30, 2019 at 9 a.m.
Suggested donation of $10 supports next year's Onset Summer of Love concert series. More here. 
Walking Book Club (+ beer!)
Mix your walking with a little literature! Join us as we walk along the Fall River waterfront with local author Paull Goodchild as he reads from his new book, The Case of the India Pale Ale, a detective noir mystery that reads like The Big Lebowski…but instead of a missing briefcase, our detective will be looking for a long-lost beer recipe. With moments of magical surrealism, delicious beer, dames, distress, and hijinks—this book tour will transform Fall River for you, leaving you seeing the noir in every nook and cranny. Appropriately, we'll end the tour at Troy City Brewing. Sunday, December 1, 2019 at 1 pm. Meet at Heritage State Park in Fall River.
The event is free thanks to our sponsors at Partners Village Store in Westport but the first 40 people to sign up here will receive a free tasting at Troy City Brewing. See more here.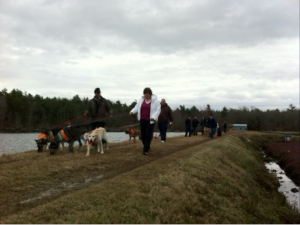 Post-Thanksgiving Dog Walk
Four-legged friends will love joining you for this annual walk in the crisp, late-fall air at the Sippican Lands Trust's 248-acre White Eagle property. Dogs must be leashed and under owners' control at all times.
Where: White Eagle, Parlowtown Rd., Marion, MA
When: Sunday, December 1, 2019 at 1 p.m.
Free. More info here.
An extra bonus beyond getting the blood flowing: By showing up to any of these events, you're letting the good people who create these wonderful events know that their work matters and that we are grateful for them. And, isn't that exactly what Thanksgiving is all about?
Want to keep up with things to do on the South Coast? Sign up for our free, bi-monthly email newsletter right here.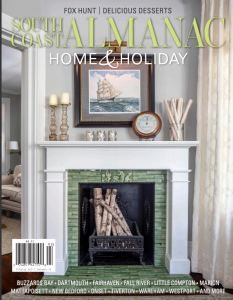 Want more? Subscribe to get our quarterly print magazine delivered straight to your mailbox. The print magazine is chock-a-block filled with beautiful images, engaging stories and great information that you won't find on-line. Sign up here to get 4 issues delivered to your door for just $19.95. Or give it to a friend for the holidays and we'll send it with a holiday card letting them know it's from you.