Surprenant & Beneski, P.C. is a law firm that is all about family and they know food is an integral part of family life. They also like to keep up with all the food news. This month's secret tip: Fall River is the place to go for exceptional pierogis and other Polish comfort food at Patti's Pierogis on South Main Street.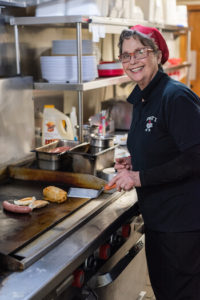 Patti Geary dreams up new flavors of pierogis in her sleep. When she wakes, she works to make them a reality. She's created 140 different varieties so far and has named them all. Like the Jesse James which is hot and spicy (filled with potato, horseradish and sour cream). Or the Wild Hoggi (with barbecue sauce, pulled pork, onions). She's even got the Mac & Cheesogi, and dessert pierogis.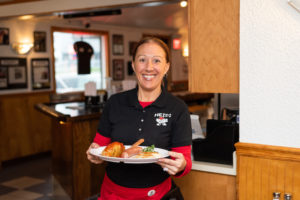 Guy Fieri has featured her place in a Diners, Drive-Ins and Dives episode. Bill Murray made a special trip from Martha's Vineyard just to try the pierogis. Plenty of other less famous people drive long distances for her pierogis, served at the aptly named Patti's Pierogis.
How did Patti become the Pierogi Queen?
Growing up, pierogis were a staple in her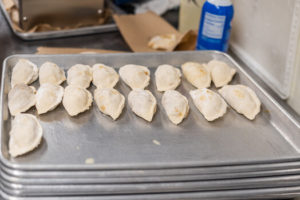 Polish grandmother's kitchen. At 10 years old, Patti started to lend a hand in making them. She loved the kitchen. She got her first restaurant job as a busgirl at 14 years old and worked in restaurants throughout her life. Always in the back of her mind was the dream of owning her own restaurant, featuring pierogis. She watched as some of the local Polish-American churches closed. She saw as it became harder and harder to find pierogis around town. "The time was right, there was a need," she says.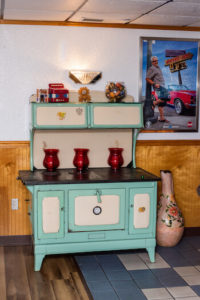 In 2009, Patti repurposed the old Rockland Diner on South Main Street into a pierogi emporium. Sure, there are other things on the menu (particularly the scrumptious soup), but the reason to come is for the pierogis. Dozens of varieties, with flavor combos that reach far beyond Poland and a homespun feeling that makes you feel like you're sitting in Patti's grandmother's kitchen, complete with a polka soundtrack and antique stove.
Patti's always buzzing around the place, greeting customers out front and making sure they're well taken care of. She's also got her eye on the kitchen where a half dozen employees are making the food by hand.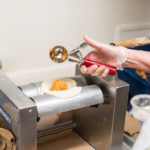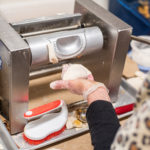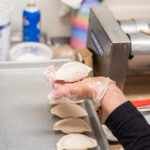 You may never have heard the phrase "artisanal pierogis" bandied about but artisanal is exactly what they are. One woman is carefully feeding the made-from-scratch dough into a roller to make the round disks that will envelop the fillings. Two other women feed the disks along with the filling into hand-cranked machines to create the distinctive half-moon shapes. These are dropped by yet another woman into a big vat of boiling water for several minutes. After this, they're ready for frying on the range.
The women are making pierogis almost as fast as they can sell them. "Sometimes we run out, like a bakery," says Patti.
Everything made here has its roots in Patti's old family recipes. Her mother Nora still stops by to check on things. The dough? A family recipe. The heartwarming cabbage soup? Family recipe.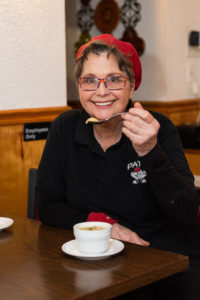 Patti's figured out a weather pattern. If it's rainy, Patti expects the  cabbage pierogis to fly out the door. On sunny days, the most popular are the potato and cheese pierogi. We tried the traditional potato and cheese pierogi (it was a sunny day), a golumbki (a homemade cabbage roll) and the kapusta (cabbage) soup. We're going back with a crowd so that we can order Patti's Platter which features 12 pierogis, 2 golumbkis and a link of kielbasa. The menu says this serves 2 or more. We're pretty sure the "or more" is correct. Especially if you want to save room for some dessert pierogis like the apple cranberry, peanut butter cup or fluffernutter pierogis. Because, yes, we want those too.
Patti's Pierogis, 1019 S. Main Street, Fall River.
Photos by Liam Connor Photography.
We hope you enjoyed this post, which is part of a series of blog posts celebrating local food spots, sponsored by Surprenant & Beneski, P.C., the premier estate planning and elder law practice serving clients in Southeastern Massachusetts. Surprenant & Beneski can help you prepare the foundational documents needed to facilitate healthcare, financial and legal decisions should a medical crisis occur. Early planning can save money, heartache and angst during a temporary bout of incapacity or a long-term care event. Getting your estate plan in order gives you peace of mind. Find out more about them here.
If you want to make sure you don't miss learning the next favorite food spot, sign up here.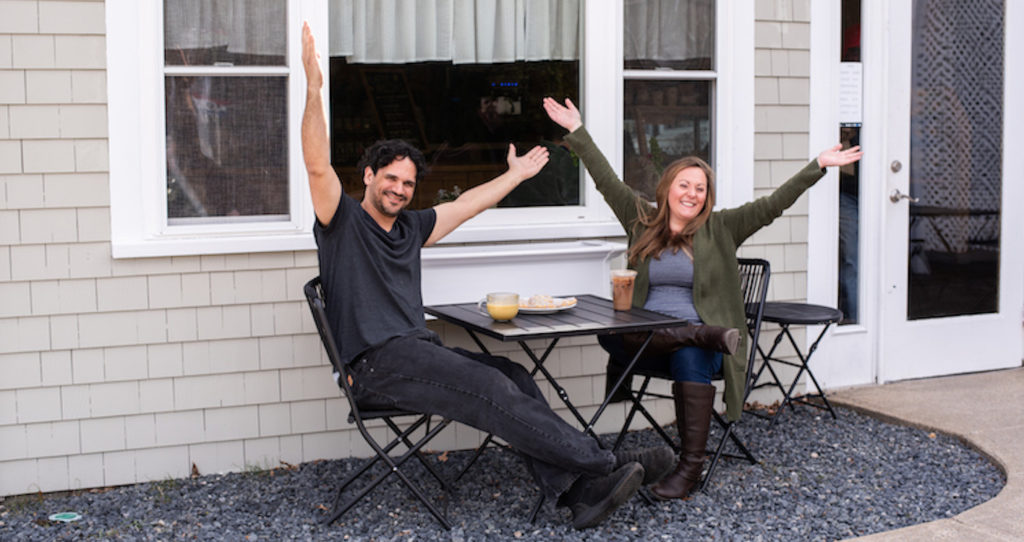 Last post in the series: Westport's Wild Honey Cafe has some unexpected -- and delicious flavors -- like cookies featuring earl grey tea, lavender, and malted milk! Find out more here.