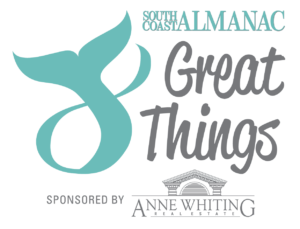 May is that glorious peak of spring, capturing the sweet spot between the spring equinox and the summer solstice. We've got 8 Great Things to help you "bring in the May"! Many thanks to Anne Whiting Real Estate for sponsoring this list and helping us find ways to celebrate each season!
1. SouthCoast Spring Arts is Back
The biggest treat this month is that SouthCoast Spring Arts is back for its sophomore season. Dozens of arts organizations across the region are collaborating to bring you 10 days of fun, interactive content. 60+ events!!! From dirty pour painting, to tastings and lunchtime concerts, the whole lineup of events is on the SouthCoast Spring Arts website now. Have a look and start filling in your May calendar! The whole calendar can be found here. 
2. Walking & Talking Books
Our Walking Book Tour is back for its first event for 2022. First up: we feature a lovely springtime walk around Westport Point with Fred Thurber and his book In the Wake of the Willows. No need to have previously read the book -- join us to see what a book reading is like when it takes place in the area that directly inspired it! May 14, 2 pm. Free but please register to receive updates in case of weather. For more information and to register, go here.
3. Stargazing
Head over to UMass Dartmouth's observatory for a night of moon and star-gazing with telescopes provided along with some guidance from the folks from the Astronomical Society of Southern New England. Free and open to all ages (but registration is required). More here.
4. Wander and Nosh
New Bedford Food Tours is up-and-running. Join them for a 3 hour walking (and eating) tour of New Bedford. You'll eat great food and learn a lot of history and make new friends on the tour. Thursdays - Saturdays (private tours available on other days). More information here. 
5. Celebrate the Roaring Twenties
We'll be at the New Bedford Symphony's concert, Prohibition, which celebrates the Roaring Twenties, complete with a street party featuring the South Coast Brass Band before the main event and a speakeasy featuring signature cocktails. We've set aside 10 tickets next to our seats in case you want to join us (plus, we'll donate $10 toward your ticket price -- so you'll pay just $25 for $35 tickets). May 14, 684 Purchase Street. Street party at 6. Concert starts at 7:30. See more about the concert here. Buy seats in our section here. 
6. Full Moon Paddle
Take the kayaks out for a full moon paddle in Onset Bay. The Buzzards Bay Coalition provides the guide and the equipment. Nature supplies the magic. What a way to start the week! May 16, 6 to 8 pm.  Onset Bay Center, 186 Main Avenue, Onset. Free but must preregister here. 
7. Taste of Spring
Enjoy 100% farm-fresh hors d'oeuvres, a tour of Round the Bend farm, a fire pit, and live music all to benefit Coastline Elderly Services. And you might meet these cute little piggies while you're there! May 19, 5 to 8 pm. $35. Round the Bend Farm, 92 Allens Neck Road, Dartmouth. More info and purchase tickets here. 
8. Fort-to-Fort Bike Ride
Celebrate Bay State Bike Month by joining South Coast Bikeway for a 20 mile roundtrip bike ride between Fort Phoenix in Fairhaven to Fort Taber in New Bedford and back again. May 21 at 1:00 (rain date: May 22). More info here. Register here. 
There's so many great things going on here this month. Go out and enjoy them!! With hats off to Anne Whiting Real Estate for their sponsorship.
---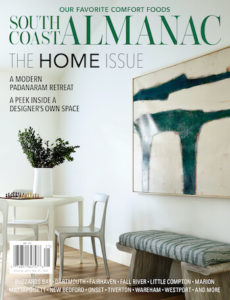 Our print issue is filled with more great things to do on the South Coast, along with features that explore this place we love. And the next one will be out by Memorial Day, just in time for summer fun!
4 issues delivered straight to your door is just $19.95.