Our Recommended Things To Do/Places to Go
Feeling like a 24 hour getaway? We've got some itineraries on the South Coast just for you. They include places to Stroll, Play, Taste, and Learn, and include dinner and breakfast/brunch eating options, with reasonably-priced places to stay for each excursion.
Enjoy!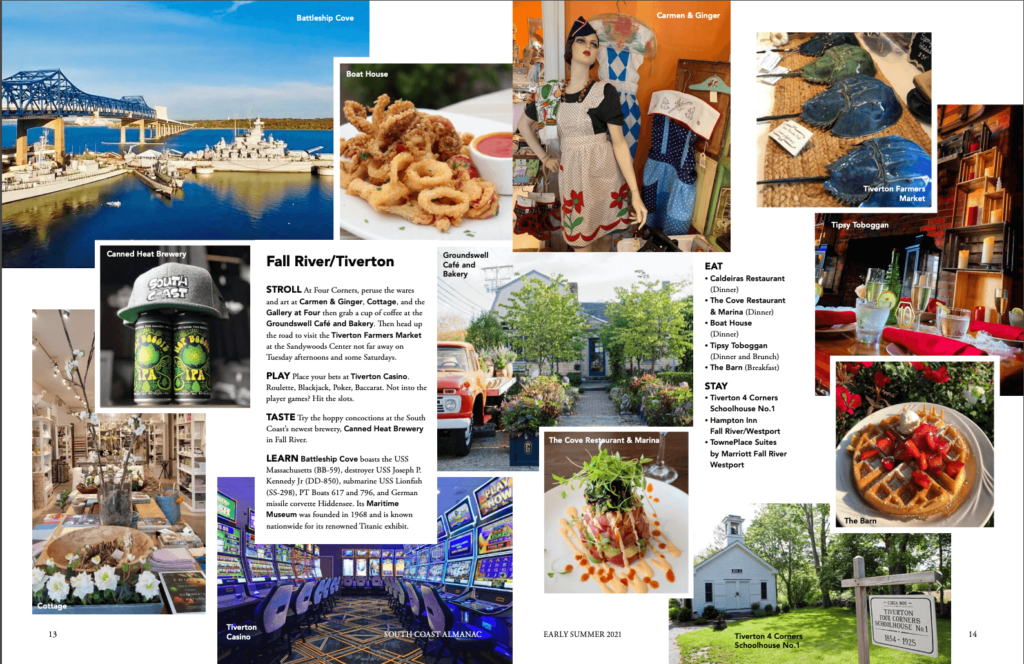 STROLL At Four Corners Tiverton, peruse the wares and art at Carmen and Ginger, Cottage, and the Gallery at Four. Then grab a cup of coffee at the Groundswell Cafe and Bakery. Head up the road to visit the Tiverton Farmers Market at the Sandywoods Center not far away on Tuesday afternoons and some Saturdays.
PLAY Place your best at Tiverton Casino. Roulette, Blackjack, Poker, Baccarat. Not into the player games? Hit the slots.
LEARN Battleship Cove boasts the USS Massachusetts (BB-59), destroyer USS Joseph P. Kennedy Jr (DD-850), submarine USS Lionfish (SS-298), PT Boats 617 and 796, and German missile corvette Hiddensee. Its Maritime Museum was founded in 1968 and is known nationwide for its renowned Titanic exhibit.
EAT • Caldeiras Restaurant (Dinner) • The Cove Restaurant (Dinner) • Boat House (Dinner) • Tipsy Toboggan (Dinner and Brunch) • The Barn (Breakfast)
STAY • Tiverton 4 Corners Schoolhouse No.1 • Hampton Inn Fall River/Westport • TownePlace Suites by Marriott Fall River Westport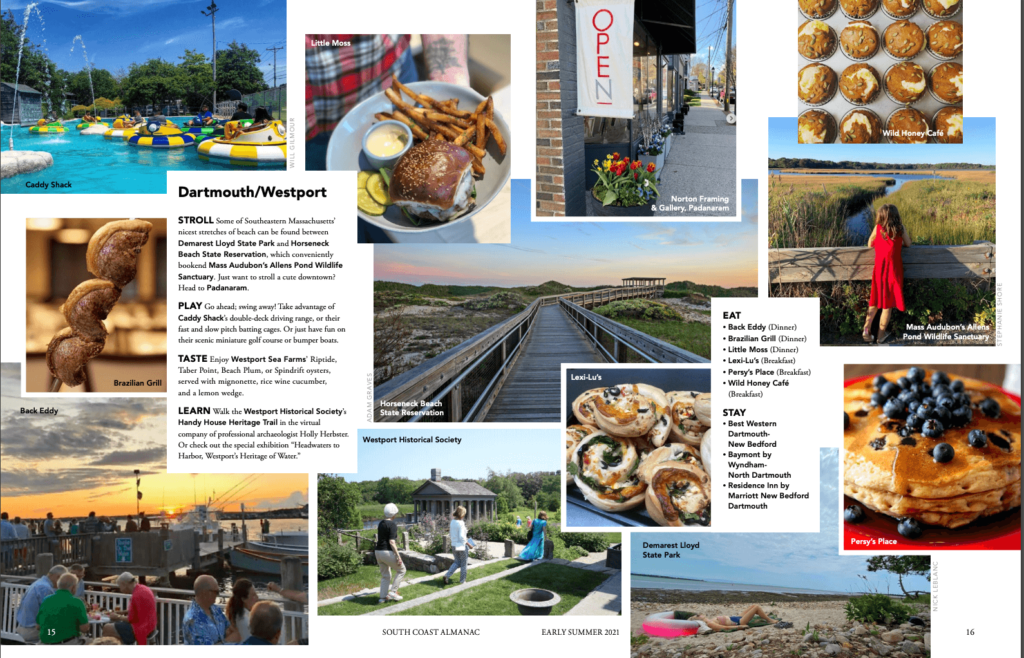 STROLL Some of Southeastern Massachusetts' nicest stretches of beach can be found between Demarest Lloyd State Park and Horseneck Beach State Reservation, which conveniently bookend Mass Audubon's Allens Pond Wildlife Sanctuary. Just want to stroll a cute downtown? Head to Padanaram.
PLAY Go ahead; swing away! Take advantage of Caddy Shack's double-deck driving range, or their fast and slow pitch batting cages. Or just have fun on their scenic miniature golf course or bumper boats.
TASTE Enjoy Westport Sea Farms' Riptide, Taber Point, Beach Plum, or Spindrift oysters, served with mignonette, rice wine cucumber, and a lemon wedge.
LEARN Walk the Westport Historical Society's Handy House Heritage Trail in the virtual company of professional archaeologist Holly Herbster. Or check out the special exhibition "Headwaters to Harbor, Westport's Heritage of Water."
EAT • Back Eddy (Dinner) • Brazilian Grill (Dinner) • Little Moss (Dinner) • Lexi-Lu's (Breakfast) • Persy's Place (Breakfast) • Wild Honey Café (Breakfast)
STAY • Best Western Dartmouth/New Bedford • Baymont by WyndhamNorth Dartmouth • Residence Inn by Marriott New Bedford Dartmouth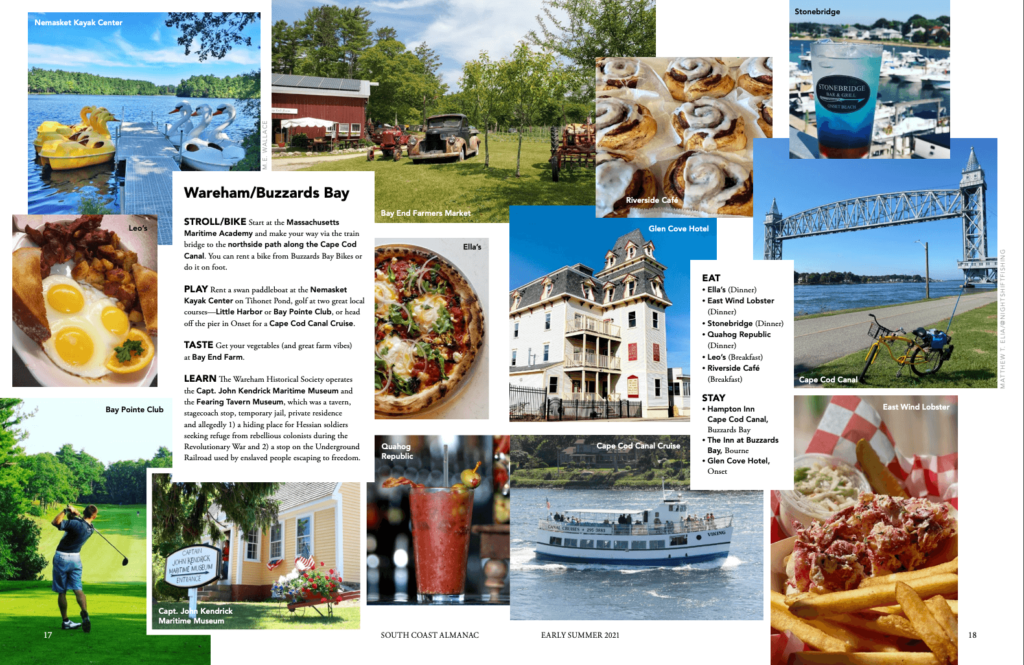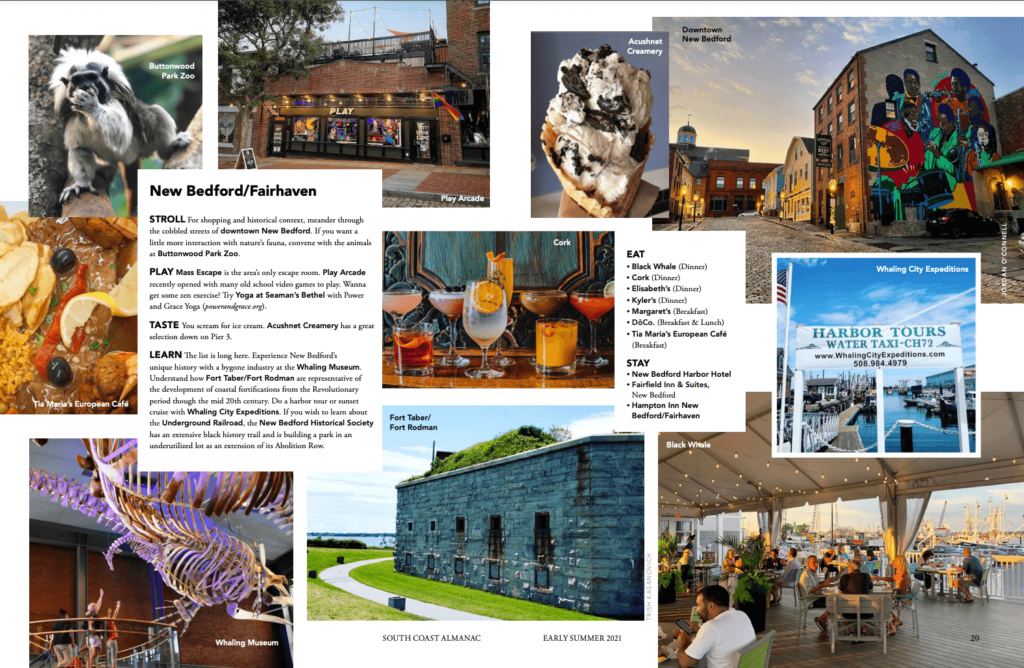 STROLL For shopping and historical context, meander through the cobbled streets of downtown New Bedford. If you want a little more interaction with nature's fauna, convene with the animals at Buttonwood Park Zoo.
PLAY Mass Escape is the area's only escape room. Play Arcade recently opened with many old school video games to play. Wanna get some zen exercise? Try Yoga at Seaman's Bethel with Power and Grace Yoga.
TASTE You scream for ice cream. Acushnet Creamery has a great selection down on Pier 3.
LEARN The list is long here. Experience New Bedford's unique history with a bygone industry at the Whaling Museum. Understand how Fort Taber/Fort Rodman are representative of the development of coastal fortifications from the Revolutionary period though the mid 20th century. Do a harbor tour or sunset cruise with Whaling City Expeditions. If you wish to learn about the Underground Railroad, the New Bedford Historical Society has an extensive black history trail and is building a park in an underutilized lot as an extension of its Abolition Row.
EAT • Black Whale (Dinner) • Cork (Dinner) • Elisabeth's (Dinner) • Kyler's (Dinner) • Margaret's (Breakfast) • DōCo. (Breakfast & Lunch) • Tia Maria's European Café (Breakfast)
STAY • New Bedford Harbor Hotel • Fairfield Inn & Suites, New Bedford • Hampton Inn New Bedford/Fairhaven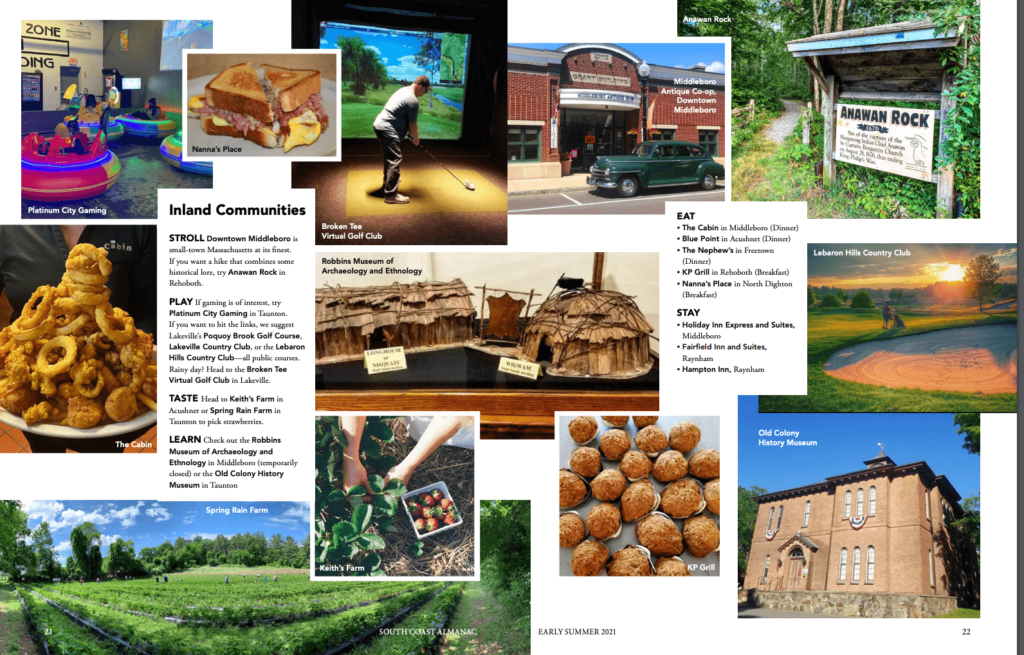 Love the South Coast?
Want to keep up with cool things to do here? Join our free email newsletter.