I've got a friend from high school who enters an ugly sweater competition every year. I watch the gusto he puts into making his sweater so ugly and I am jealous. I soooo want to be invited to an ugly sweater party. Last year, I even bought an ugly sweater after Christmas at the Vanity Fair outlet. So I'm ready. Sadly, no evites have arrived. Luckily, the New Bedford Local Cultural Center has answered the silent prayer I put out to the universe and has organized the Downtown New Bedford Pub Crawl and Ugly Sweater Competition on December 10, 2016 from 4 to 8 p.m. (proceeds benefit The Neediest Families Fund.) Yay!
This weekend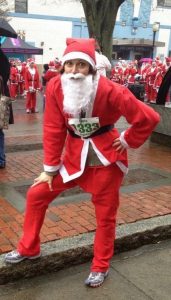 Also on December 10 is the annual 5K Santa Run in New Bedford. Picture yourself running in a sea of Santa suits. What could be more fun? I can hear some of you demurring, "ah, but I don't have a santa suit." No worries (and no excuses) — the santa suit is included with registration! With a 1:00 p.m. start time (12:30 for those under 14 years old), you know what this segues nicely into? Exactly! You can have a bite to eat afterwards, change out of your santa suit and into your ugly sweater! (Participants are encouraged to bring a wrapped toy for those in need.)
The 25th Annual Holiday House Tour in New Bedford takes place on December 10 and 11. I love house tours and I've heard rave reviews about this one. Organized by the New Bedford House Preservation Society, you see the historic homes of New Bedford in all their holiday finery. With lovely architecture, interiors and costumed interpretive guides, this is a fantasy for history buffs, interior designers and nosy neighbors. Discounted tickets are available before December 9. See here for more details.
Bravo! The Seaglass Theater debuts this month at Grace Church. You'll hear New England's finest professional voices as they celebrate the holiday season with thrilling renditions of O Holy Night, Gesu Bambino, Ave Maria, and many more, as well as traditional carols sung in their original language. Support this new local arts organization by attending its inaugural concert at the historic Grace Church. December 10 at 7:00 p.m. and December 11 at 3:00 p.m.  See here for more details.
Later This Month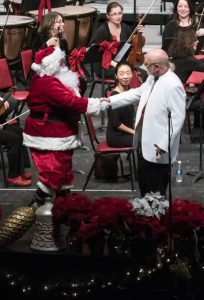 Take an hour break from the hustle and bustle to take in a Holiday Pops concert and hear all your holiday favorites performed by the New Bedford Symphony Orchestra. The 3:30 matinee performance is perfect for younger children and has special surprises in store for them. December 17 at 3:30 and 7:00 p.m. The Zeiterion Theater, 684 Purchase Street, New Bedford. See here for more information and to buy tickets.
On December 21 at 7:00 pm, the Unitarian Universalist Association of Fairhaven celebrates the Winter Solstice with a Solstice Spiral. Each participant takes a candle, walks the spiral (made of winter greens) to let go of the attachments of the year. In the center, they light the candle from a chalice and retrace their steps, to ponder the possibilities of a new year and to find a spot to lay the candle. The lit candles represent the magic of light and possibility. See the UU Association calendar here.
Month Long Events
The Four Corners Arts Center in Tiverton is hosting their second annual "re Tree" – A Showcase of Trees Created with Recycled Materials. Created by families, individuals, community groups, businesses, artists and arts groups, the trees must be composed of 90% recycled, reclaimed or repurposed materials, must light up and must be outdoor friendly and secure when standing. The lighting kick off takes place on December 10 with seasonal, warm refreshments by the outdoor fire. The trees will be on display through January 4, 2017. 3850 Main Road, Tiverton. See here for more info.
The annual open house at the Fall River Historical Society features spectacular holiday trees in each of the historic Victorian mansion's rooms. The trees are decorated with different themes and in unexpected ways and they've been featured in Victorian Homes magazine, the Boston Globe and WCVB's Chronicle.  Follow the visit with high tea at the Historical Society's Easton Tea Room. The open house runs from November 19 – December 30 and admission is free. (holiday hours: weekdays, 9 a.m. to 4:30 p.m.; weekends 1 – 5 p.m.). For information about the tea room, read more here.
Let us know your favorite local December events in the comment section below.
And if you'd like to keep up with South Coast Almanac updates, news and events, sign up for our emails here.