In doing our research on Christmas Tree Farms (see more about that here), we came across a couple of truly unique local wreaths. Handcrafted on the South Coast with care and attention, you gotta pay attention to these. Put them on your door and your neighbors will take notice. (Note: This post was originally published in December 2016. It's been updated to reflect the 2017 Holiday season.)
The Real Thing: Handcrafted Boxwood Wreaths
In 1960, the Pomfrets opened a florist in Somerset. That Christmas, Guy Pomfret began crafting boxwood wreaths by hand for his customers. His son David who now runs the florist shop remembers that he could pick out the Pomfret wreaths around town when he was a kid making floral deliveries. "It's the bow," he says. "It's a handmade bow of cranberry red velvet, nicer than anything else you see."
That's not the only singular thing about the wreaths. They are made on a moss frame that has been soaked in water. With plenty of moisture, the wreaths last long after the holidays. David says that some customers keep them on their doors until Easter. It's a way to get through the shortest, darkest days with a little style.
Each wreath is painstakingly crafted with individual boxwood by Guy Pomfret. After a few years of "retirement," he told David he wanted to start making the boxwood wreaths again. He's back at it this year. Guy will make each and every one they sell. "It's a lost art," David says.
In the late 1990s, David and his wife Jennifer moved to Weinheim, Germany. They lived in the old part of town in a blacksmith's home dating from the 1700s. On the path to their garden, near the town's exotic forest, were some boxwood shrubs. David says he knew exactly what his wife would say as soon as she saw the boxwood. "You know what you're making me for Christmas!" she told him. He remembers making a boxwood wreath for her that year, working out of the bathroom tub. He says, "you can take the boy out of Somerset, but you can't take the florist out of him."
---

He says, "you can take the boy out of Somerset, but you can't take the florist out of him."

---
Their German neighbors were mesmerized by the boxwood wreath. They'd walk by the Pomfret's home and take pictures. They'd ask David and Jennifer where they found the wreath. David laughs, "I missed an opportunity. I should have sold boxwood wreaths in Germany."
Instead, he came home in 2002 to take over running the family business. And he's more than happy that his dad has taken over the boxwood wreaths again.
Check out the wreaths this weekend at Pomfret Florist's open house on Saturday, December 2, 2017 from noon to 5 p.m.  836 County Street, Somerset. (508) 678-6481. Boxwood wreaths are $49 and up. They also sell handcrafted gifts.
Wreaths with a Coastal Flair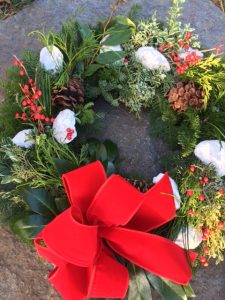 Marion landscape designer Susannah Davis first started making wreaths for her friends and family twenty years ago using unusual plants that she had cultivated in her yard. She added Wareham oyster shells to give them a coastal flair.
They were a big hit. So she made them for her landscape design clients. They wanted more. And thus a cottage industry was born. A few years ago, she partnered with Sarah Miquelle of Sarah Brown Studios and they now make over 100 pieces each year: sprays, wreaths and candle rings.
Last year, they shipped to 14 states, as far away as Texas and Washington state. She gets effusive notes from people around the country who love their wreaths. Susannah says, "I'll have customers tell me, 'Great Aunt Tillie is SO happy!'"
What makes them so special? Davis uses "wild and wacky" greens with plenty of interesting textures. But she doesn't tell you exactly what they are. Their very unconventionality is part of the mystery of these wreaths. In fact, Davis offers a competition: "If anyone can tell me the genus and species of every plant in their wreath, I'll give them a free wreath."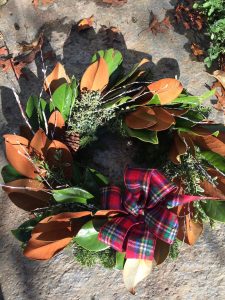 Each year, the business keeps increasing. And they keep adding designs. This year, they designed a wreath that showcases magnolia – "people are wild about magnolias," Susannah says. The original design – with the oyster shells and textured greens – is still a best seller.
One person ordered 12 wreaths this year. "Her whole Christmas list," Susannah says, "Because it's the perfect gift. You cannot lose."
Wreaths are $75, sprays are $50. Orders of 5 or more receive a 10% discount. To order, call (508) 498-4677 or email [email protected]
To keep up with other cool things on the South Coast, sign up here for occasional updates …And shoot us an email at inf[email protected] if you have suggestions for us to cover.