We used to hate September because it meant the end of summer. Then we realized that September had all of the best things of summer (beautiful perfect beach days! fresh local produce!) without any of the bad parts (heat waves, crowds). And now we love September. Sometimes — especially these times –what we need is an attitude adjustment.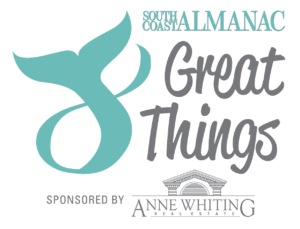 But we digress! We're here to tell you our top picks for the month ahead: 8 things that will undoubtedly make your September that much better. A special shout out to Anne Whiting Real Estate for sponsoring this monthly roundup!
1. The Symphony is Bach!
Join the New Bedford Symphony for their opening concert for the 2020-21 season and the whole symphony will be performing with some great music, including Bach (get it? they're bach!) Like all things, it's a bit different this year. Purchase tickets (for just $10) and the symphony will email you a Youtube link to watch the concert along with your fellow music lovers. See more info about the Symphony here. BUT WAIT, there's more! Buy a ticket, and South Coast Almanac will mail you a complimentary copy of our September issue. Because we've missed the symphony and we want to help welcome them back by encouraging more ticket sales! September 12, 7:30 pm. Buy tickets here. 
2. Remember Festivals and Crowds
The Narrows Center is giving a welcome look-back to the festivals, feasts and parades of Fall River — splashy parades through downtown, communal events in city parks and neighborhoods, religious processions, or celebrations of cultural heritage. The Feasts and Festivals exhibition features about 250 photographs of the city's feasts and festivals from the 1950s to the present, selected from the archives of Fall River's Herald News and the work of anthropologist, Andrea Klimt. Settle in with a cup of tea, maximize your screen and enjoy the crowds! The gallery is right here. 
3. Get Out There and Ride!
The South Coast Bikeway is holding its third annual Pedal for the Path ride this month — it's a socially distanced casual ride with no registration fee. There are multiple options for mileage. Join to show your support for the completion of a bikeway connecting the entire South Coast, from Rhode Island to Cape Cod. September 13 from 9 to 3. See more here. To register, go here. 
4. How Do You Like Them Apples?
Did someone say apples? This month, go pick your own at local farms. They usually are ready for harvesting starting in mid-September but check in with the individual farms to see when the season officially starts this year for them:
Keith's Farm, 1149 Main Street, Acushnet. Check out their website or Facebook page for more information. Young Family Farm, 260 West Main Road, Little Compton. See their website for more information.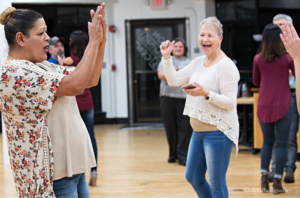 5. Have Some Salsa!
No, not chips & salsa! Put the chips & salsa down and join the Zeiterion Theater for three Wednesdays in September when they teach us to salsa virtually. The Afro-Cuban-based dance has influences from Puerto Rico, Colombia, and New York and is also the most requested dance styles in The Z's Creative Classroom. Join them for three Wednesdays in September to learn Salsa (and work off some of those chips) over Zoom!  6 to 7 pm. September 16, 23 & 30. Pay what you can for the entire course. See here for more.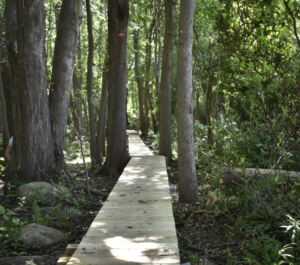 6. A Little Walkabout!
A new trail opening in coronavirus times is like a cool new restaurant/club opening in normal times. A new scene! Lots of buzz! This one lives up to the hype. The DNRT and Buzzards Bay Coalition acquired the Dike Creek Reserve last year to conserve the 128-acre Apponagansett Bay Farm.  If you like boardwalks, bridges over creeks and a nice 2 mile hike (we do!), this is the place to go. Bakerville Road, Dartmouth. See more here. 
7. Eat Local!
Farmer's Markets are still going strong. Check a new one out this month and feel good about supporting local farmers and artisans. Click on the links to find out more about the individual markets. Sundays in Fairhaven, Swansea, and Carver. Mondays and Wednesdays in New Bedford; Fridays in Dartmouth. Saturdays in Swansea, Middleborough, and Westport. If we missed any, let us know by commenting below and we'll get 'em up there! (Check out Coastal Foodshed to see how they're making eating local easy by offering home delivery, and more!)
8. Light & Art
Good news: the New Bedford Art Museum is open again. They are partnering with DATMA's summer programing Light: 2020 to present  Pastoral Light is in conjunction with DATMA's summer programming and features 19th century landscapes from the New Bedford Library's collection.  Through December 31. See more here. Note: You must purchase timed tickets to attend the exhibit right here.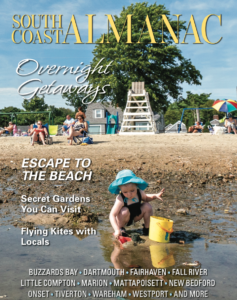 Keep up with things to do on the South Coast by signing up for our free monthly email newsletter right here.
Want more stories and photography? Subscribe to our quarterly print magazine right here. The next issue hits mailboxes mid-late September!
Thanks to our wonderful sponsor Anne Whiting Real Estate who has been serving the community for over two decades!