Good news, everybody! October sees a resurgence of events — so many that we had to leave some really good ones on the chopping block. There are even a couple of South Coast Almanac events in here. Since we are shamelessly plugging a couple of our own events, we added a bonus. So this month you're getting 9 Great Things for the price of 8 Great Things. 😉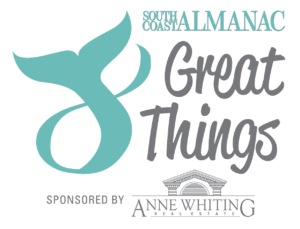 Hats off to the wonderful folks at Anne Whiting Real Estate for sponsoring this monthly roundup! We love them because they like to do fun things AND they make buying or selling your home a real pleasure!
1. The Z's Drive-In is Back!
And we couldn't be happier. Throughout October, the Z presents a ton of wonderful programming with all sorts of music, dance and movies. Take advantage of this wonderful opportunity to experience outdoor entertainment under the stars in New Bedford. Evenings throughout October. See here for more information. 
2. For the Birds!
Did you see our September issue where 4 local photographers gave us a bird's eye view of, well, birds. We're following that up with a birding walk with Justin Barrett of the Nasketucket Bird Club in the hopes of seeing some magic in action. Newbie birders are welcome. October 3 at 9:00 on Gooseberry Island. Limited to 10 participants. Reserve your spot now by emailing [email protected].
3. Pedal On!
The show must go on! The Buzzards Bay Coalition's popular Watershed Ride is happening, tweaked a bit to allow for Covid. South Coast Almanac will continue to try to win the spirit competition. Wanna join us? Here are the 3 easy steps:
Choose a route (a metric century (62 miles) or metric half- century (31 miles)
Raise $300 to support the Coalition
If you're on our team, wear a crazy hat at the start line. Actually, the hat isn't required (though we'll have a couple of extras, if you're game). Join our team here.
NOTE: REGISTRATION CLOSES AT MIDNIGHT ON 9/30. If you missed registration, check out the route to cheer along the riders.
October 4, staggered start times from Sakonnet Point in Little Compton and Horseneck Beach in Westport. More on the ride here. 
4. Live from New York (but supporting the South Coast)
In celebration of her just-released album, An Evening of New York Songs and Stories, Suzanne Vega will play a globally live streamed concert from New York City's iconic Blue Note Jazz Club in Greenwich Village. You can buy tickets which will support Fall River's Narrows Center. October 7 at  9 pm. $24/ticket. More here. 
5. Art in Tune…
Vaha! has its usual line-up of cool activities, a mixture of virtual and IRL. Anyone up for champagne, symphony and flowers? October 8, various times. New Bedford and virtually. Check it all out here.
6. A Parade of Pumpkins!
Thank you Rotch-Jones-Duff House and New Bedford Creative for giving us the chance to admire jack-o-lantern's carved by creative community members and displayed in the RJD Gardens. Thank you for making a scavenger hunt with prizes for kids. And thank you for encouraging costumes! October 15, 4 to 8 pm. Rotch-Jones-Duff House and Garden Museum, 396 County Street, New Bedford. Suggested donation: $5 individual/$10 per family. More here. 
7. A Festival? Yes, A Festival!
Current limitations on international travel and on public gatherings may have altered the Fall River Fabric Arts Festival's original programming, but not its spirit. With a whole lot of creativity, they give us art, music, walks, community and the city, its stories and places in an ingenious format for these extraordinary times. October 16 and 17 in Fall River. Check it out here. 
8. Solitude & Adventure
We're all a little afraid of feeling a bit isolated come winter. Might we suggest reading Joshua Slocum's 1900 adventure memoir: Sailing Alone Around the World to realize our isolation isn't anything like Slocum's solo trip around the world? Then join us for our newly revived Walking Book Club in an online format. We'll discuss passages from the book interspersed with video clips of the Fairhaven spots that star in the memoir. We usually like to invite the author to our book club — impossible, in this case! — so we're working on inviting a special guest who can lend some interesting perspective. To register and for more info, go here. October 19 at 7 pm.
9. Chowdah!!
Ahhhh, One SouthCoast Chamber isn't letting us down. The Chowder Festival will continue this year as a nine-day Road Show. When a Chowderfest Passport is presented at a participating restaurant, the passport holder will receive a free 2 oz. sampling with no purchase necessary. Passport holders can then vote online. October 22 through 31. Find out more and get your passport here!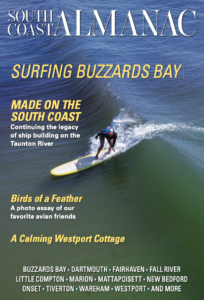 Keep up with things to do on the South Coast by signing up for our free monthly email newsletter right here.
Want more stories and photography? Subscribe to our quarterly print magazine here. The September issue is on newsstands now!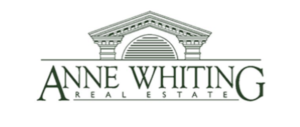 Thanks to our wonderful sponsor Anne Whiting Real Estate who has been serving the community for over two decades!