We're deep in summer, folks! Sitting at the beach, eating Twizzlers and wondering what to do this month. We know your usual go-to August traditions may be cancelled so we're stepping in to give you some great alternatives. To paraphrase The Isley Brothers: if you can't do the thing you love, love the thing you do.
1. Drumming Circle on the Beach!
Experience the magic created by drums and salt air with the weekly drumming circle in Onset. Monday evenings, until further notice. Shell Point Beach, Onset. By donation. 6 to 7 pm, weather permitting. Bring your own chair and a drum (if you'd like one).
2. Common Ground: A Community Mosaic
The New Bedford Whaling Museum is working on a new exhibition that will highlight individual stories that, together, represent the vibrant community that is New Bedford. On August 6, attend a virtual talk where the Museum's Director of Digital Initiatives, a curator, and Alison Wells (who we profiled in our Summer 2017 print issue) discuss this project. Register here!
3. Fresh Air & Flicks
We don't have to trek to Wellfleet or Mendon to enjoy a drive-in movie this month. We can watch Finding Nemo under the stars in Plymouth! This is great way for you and your family to spice up movie night. August 7 at Holmes Field in Plymouth. Purchase tickets here.

4. Theatre in the Park!
Bring a picnic blanket or chairs and enjoy an outdoor live theater experience in Marion. Intended for an adult audience, Good People has been dubbed a hilarious drama, a pair of words you don't often see together. Bicentennial Park, Marion. August 15-16, 22-23. Ticket details will be posted here soon!

5. Open Studios is OPEN
UPDATE: This event has been cancelled although you are still encouraged to participate virtually. Follow them here on Facebook for more on that.
We're thrilled that this annual event is is a go! Visit the studios of some of the best local artists on the South Coast, an amazing way to get inspired and support artists on the South Coast. Follow a self-guided tour and discover beautiful artwork ranging from ceramics to watercolors. This event is free and open to the public! August 15 and 16. Learn more here.
Speaking of art, if you're an artist, we suggest joining Artists Share! It's a South Coast-based artist critique and discussion group. They meet virtually via Zoom every month, aiming to help each other progress and grow in our work by sharing and exploring our art together. This month's meeting is on August 11 from 6 to 7:30. Email [email protected] to learn more.
6. Sunset & Music
An ideal way to spend your weekend evenings! Enjoy the sunset, local musicians, delicious food, and great wine and beer at Westport Rivers Vineyard and Winery. Check out the line-up and ticket info here.
7. Yarrr!
Which pirate stories are myth, and which are true? Head to Fort Phoenix any Friday this month to find out! Watch as Greybeard, Abigail Black, and Caleb the Powder Monkey share tales and fire a black powder swivel cannon. Learn more here! 
8. Clam It Up
The Allen's Neck Clambake has been going strong for well over 130 years. This year, they're continuing with a virtual event to help make up for the fundraising the clambake provides. Join them from home, as always on the third Thursday in August, for a blessing by the minister followed by stories, videos and remembrances of clambakes past. August 20 at 1:00. See here to RSVP and find out more. And may we suggest adding an actual clam boil to enjoy at home from one of our favorite local spots, Kyler's Catch Seafood Market. See more about that here. (Psst….one of our all-time favorite stories featured the Allen's Neck Clambake, see the story here!)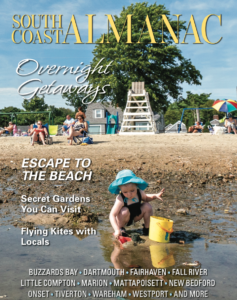 Have you seen our Summer issue on newsstands yet?  Want it delivered straight to your door?
Sign up for an annual subscription right here.