Step away from the candy corn! It's time to start thinking about November. Rest assured, we've got 8 Great Things to take your mind off the Halloween candy.
Run Away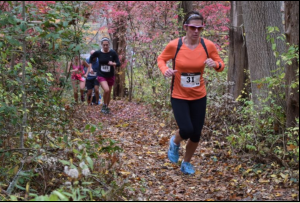 We've got a couple of fun 5Ks to get you moving because you'll want to get in shape for those Thanksgiving pies. We love the annual Dartmouth Natural Resources Trust trail run which winds through the fields and forests of Destruction Brook Woods. You've got a 2.4 mile walking course or 3.3 mile running course to choose from, as well as post-race music, pizza and beer. Later in the month, enjoy Fairhaven's Turkey Trot on Thanksgiving morning. Last year, runners stuffed a truck with more than 2,000 pounds of non-perishables before they went home and stuffed themselves at the Thanksgiving table.
When & Where: DNRT Race: Saturday, November 10 (postponed from November 3 because of weather), Slade's Corner Road, Dartmouth. See more here. Turkey Trot: Thursday, November 22, starting at 8 am. Cushman Park. See more here. 
2. Keep the Junior Mints in Play
Don't take your mind off ALL the Halloween candy.  Pull the movie candy out and head for the New Bedford Whaling Museum to experience the Mountainfilm Tour, sponsored by the SouthCoast Film Forum. The annual Mountainfilm Festival in Telluride is listed among the 25 best film festivals in the world and it's coming here, folks. Settle into your seats and enjoy the best short documentary films chosen from its festival that showcase nonfiction stories about environmental, cultural, climbing, political and social justice issues that matter. Bonus: while you're taking them in, you'll be helping to support the work of the Buzzards Bay Coalition.
When & Where: November 3 between 3:30 and 9:00 p.m. at the Whaling Museum, 18 Johnny Cake Hill, New Bedford. Tickets are between $10 and $20. Purchase them here.
3. Walking Book Club. Wait a Minute, What's That?!
We're bringing walking book clubs to the South Coast! Be the first on your block to try it! We stole this idea from the Brits (see here) but are putting a decidedly South Coast spin on it by choosing Blue Collars, a book with a local setting, local author and local publisher. Join us on a 1 mile walk, as we visit 5 spots described in Catherine McLaughlin's novel of Finn Kilroy's childhood in New Bedford's South End, as she navigates keeping a dark secret of abuse from her close and loving family. The price includes the book (which we can ship to you ahead of time, if you order before November 3), a treat from the New Bedford Baking Company & a tour led by Joe Thomas, Publisher of Spinner Publications and Corey Nuffer. Whether you've already read the book (we can deduct the cost of the book from the ticket price if you already have it) or not, the tour will be enjoyable either way accompanied by fellow book lovers, Portuguese sweets, period music and, we hope, good weather.
When & Where: November 10, from 2-4 p.m. $24.95. Email [email protected] to register. Rain date is November 11, 2-4 p.m. Questions? call 781-475-4526. (The walk is about a mile long but if you'd rather drive from spot to spot, we can accommodate that.)
4. Penny for your Thoughts
Canadian Folk Music Awards Nominee Dave Penny brings original and traditional songs of Newfoundland to New Bedford. Dave's most recent recording, All Turned Around, was nominated for a 2017 Music NL award for Celtic/Traditional Artist of the Year and a 2017 Canadian Folk Music Award for Traditional Singer of the Year. It's a cozy concert in a charming setting, nestled among the main exhibit space of the Fishing Heritage Center which has surprisingly excellent acoustics.
When & Where: November 10, 7 p.m. New Bedford Fishing Heritage Center, 38 Bethel Street, New Bedford. $12 – $15. Get your tickets here.
5. Art, Music, Food, Friends, Gifts — Is There Anything Else?
The 80+ creatives who work in the Hatch Street Studios throw open their doors and invite us in for a festive weekend. Looking for a gift? You'll find upcycled fashions, ceramic bowls, framed photographs, glass mobiles, wooden jewel boxes, and antique treasures. Or just come for the live music, demonstrations, workshops & good food. Last year, more than 1400 from all over New England ambled through. Shouldn't you?
When & Where: November 16-18, Friday, 5 – 8; Saturday and Sunday, 11-5. Hatch Street Studios, 88-90 Hatch Street, New Bedford. See more here.
6.  Pebble Beach
Seek treasures along the shore with a guided beach walk at Allens Pond. You'll collect pebbles, pieces of weathered glass, pottery and more. After the walk, engage in a facilitated creative session where you'll be provided with a canvas to create a unique, beach-inspired work of art, using the materials found on the sanctuary's shores.
When & Where: November 24, 9 am to 12 pm. Allens Pond Wildlife Sanctuary, 1280 Horseneck Road, Westport.  $20 Mass Audubon members; $25 nonmembers. Register here. 
7. Get Rockin'
Taunton-raised Sarah Borges is on a national tour to promote her newest album Love's Middle Name.  American Songwriter calls the new record "arguably her finest, most focused and explosive hand grenade of an album yet" and her live shows as "set em up/knock em down." We like that you can't box her music into a category: is it rock? is it country? rockabilly? If you haven't seen her yet, now's your chance to try to figure her out. And while you're at the Narrows, check out its 6th Annual Poster Exhibition.
When & Where: November 24, 8 p.m. Narrows Center for Performing Arts, $22 in advance, $25 day of show. More here.
8. All Dressed Up & Ready to Go!
The Rotch-Jones-Duff house is a treat to visit any time of the year. But around the holidays, it's especially compelling. For two weeks, the halls of the RJD are decked with lights, ribbons, baubles, boughs of greener and unique trees which have been decorated and donated to the museum by community groups, schools, artists and designers. Kick off the holiday season with the preview "Tree View" Party which helps support the museum. If you fall in love with a tree, you can even purchase it for your own home!
When & Where: November 29, 6-8 p.m. Rotch-Jones-Duff House & Garden Museum, 396 County Street, New Bedford. If you miss the party, check out the trees between November 30 – December 9, Monday through Saturdays 10 – 4; Sundays 12 – 4.  More here. 
There you have it. Another great month on the South Coast. Wanna keep up with the coolest happenings each month on the South Coast?! Sign up for our free monthly newsletter right here!
Want a copy of our beautiful print magazine that just hit newsstands this week, filled with things you can't find online — Best Dishes from favorite local chefs, Local Makers Gift Guide, Nightlife Guide: A to Z, and lots more — subscribe right here!