"This tree must be falling for me, as soon as I sat under it, it dropped its leaves.
Oh sweet October!"  – Charmaine J Forde
Our monthly list of 8 reasons to love life on the South Coast this month!  You know what else is happening in October? Our first ever Fall/Holiday print issue gets delivered to mailboxes and newsstands all over the South Coast. You want one? Order an annual subscription (4 issues) right here!!
1. "Come On Down!"
 The Price is Right will be filming a live show at the Zeiterion, making it the perfect time for South Coasters to enjoy their 15 minutes of fame.  So start studying up on prices, because some lucky contestants are going to have the shot to walk away with big money! Tickets for the event range from $37.50 to $150, and are still available for sale. October 5, 8pm, The Zeiterion Theater, 684 Purchase Street, New Bedford. More here. 
2. Giant Pumpkin Weigh Off
Giant pumpkins?! Ok, we really don't feel like this one needs any selling. Last year's winner weighed in at 1914l pounds (almost a ton)! Need we say more? If you aren't convinced by the prospect of insanely oversized vegetation, the food trucks, free corn maze, pumpkin painting (although we imagine not of the giant variety) and scarecrow creations should do the trick. Admission to the event is free, parking is available for $5, and some crafts have an additional fee (check their website for specifics). October 6, 9 – 5. Frerichs Farm, Warren, RI, (rain dates: October 7 or 8). More here. 
3. Cycling and Wine
We're still pretty geared up from our September Buzzards Bay Coalition Watershed Ride, and ready to hit the road again (with maybe just a little different motivation). Westport is already a beautiful place for a bike ride, but throw in early fall foliage and some wine at the end and we've got ourselves a day! The Appalachian Mountain Club is leading the 20-25 mile ride that ends at Westport Rivers Winery and Vineyard, ending with a private tour and wine tasting. The event is $15, and pre registration is required. If biking isn't your thing, skip the ride and join the group at the finish line. October 6, 1:30 ride, 4:00 tasting. To register, call Jeannine at 508-493-8221.  More information and registration is here. 
4.  Berry Exciting!
One of our favorite annual traditions, the Cranberry Harvest Celebration is the perfect way to welcome fall on the South Coast. Located on the beautiful grounds of A.D. Makepeace, the event allows guests to walk in a farmer's shoes for the day (no really, pull on a pair of waders and walk on into the bog). The views are insanely beautiful and can be enjoyed from the ground or aboard a scenic helicopter tour. The event has something for the whole family, from paddle boat and pony rides, to cooking demonstrations and a craft fair. This is a must do event. October 6-7, AD Makepeace, 158 Tihonet Road, Wareham. $10 for adults, $5 for seniors/military, free for kids under 7 (helicopter tours are extra). More here. 
5. Don't Miss It! Last Chance for the Grand Panoroma!
If you've not seen the world's largest painting, then get down to Kilburn Mill where the New Bedford Whaling Museum has it on display for free until October 8 when it gets packed away again. Multiple media outlets from near and far recommended this exhibit (even the Wall Street Journal), and for good reason — how often do you get to see a work of art that is over 1200 feet long? Kilburn Mill, 127 Rodney French Boulevard, New Bedford. Free
There are a couple of special events this week to celebrate the Panorama. On October 6, Tom O'Leary and Simon Xerxes White perform a musical finale to accompany the whalemen's journey depicted in the painting with a special 22-minute video of the Panorama in motion forming the backdrop for the performance. 3-5 pm.
Or join the New Bedford Symphony Orchestra on October 7 which will perform next to the painting. Reception begins at 7:00 and the concert begins at 8:00. Tickets are $85. See more here. 
6. Oktoberfest!
Craft beer fan? Local entertainment enthusiast? Big South Coast community lover? This event is for you. The South Coast Business Alliance is throwing down to celebrate fall, and you won't want to miss out! Not only does the event benefit local charities, it also features food trucks, a signature brew by Moby Dick Brewing Co., and live music. Reserve your ticket soon to snag a stein (available to first 200 ticket holders). October 13, 3 – 11:30 pm. $15 in advance, $20 at door, 21+. Pier 3, New Bedford. More here. 
7. Oh When the Saints, Go Marching In…
If you were at our launch party last May, you had the pleasure of hearing the South Coast Brass Band and watching Gilda (one of our profiles in the summer print issue), sing and dance along. If you missed it, no worries! You can view the band in October at Gilda's very own club, Gilda's Stone Rooster. Join them for their second to last Mardi Gras Monday of the year for good jazz and good company (trust us, we can attest to both!). October 15, 8pm, reservations recommended, Gilda's Stone Rooster, 27 Wareham Road, Marion. More here.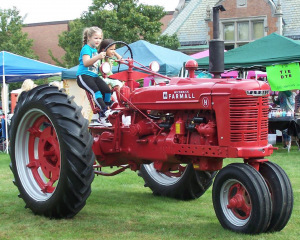 8. Fairhaven Harvest Fun Day
Fairhaven Fall Family Fun (say that 5 times fast!) is back again! Face painting, games, bouncy houses, craft and food vendors, and fun make the perfect recipe to celebrate a Saturday in October. October 13th, 10-4. 141 Main Street, Fairhaven. More here. 
Wanna keep up with the coolest happenings each month on the South Coast?! Sign up for our free newsletter right here!