Snowflakes, lights and candy canes. It's that time of year. Thanks to Anne Whiting Real Estate, here are 8 Great Things to help you create the great holiday memories, not the "bah, humbug" kind.
1. The Largest Holiday Parade in New England!
It's right here in Fall River! Two and a half hours of marching bands, colorful floats, huge balloons, cartoon characters, Santa and more. What's not to love about a parade?! December 4. Stepping off at 1:00 from Kennedy Park at South Main Street down to City Hall. More here. 
2. Shop 'N Stroll
New Bedford and Padanaram are gearing up for holiday merriment on December 4, with tree lightings, carolers, music and just boatloads of activities for everyone. December 4. Padanaram info here. New Bedford info here.
3. Mix a Little History with your Literature
It's outdoors! It's quirky! It's free! Join us for a downtown New Bedford walk, listening to Paull Goodchild read from his new collection of holiday short stories while Corey Nuffer throws in some New Bedford history. We'll also stop for some holiday refreshments along the way. 2 to 4 pm. Sunday, December 5. Meet outside New Bedford City Hall, 133 William Street. Pre-register here so we can make sure we have enough refreshments!
4. Bright Night Walk
Drink in the creativity of the Tiverton Four Corner Art Association's 8th Annual "re Tree" – which showcases spectacular trees created almost entirely with recycled materials. Opening event is December 3 but trees are up until December 17 and the public is invited to vote for their favorite. Tiverton Four Corners. More here. 
5. Christmas in the Village
Onset Village celebrates Christmas with a community sing-a-long, visits with Santa, decorating the lobster pot tree on the pier and more. Snow or shine, join them on December 11 from 12 to 3 pm. Onset Village, Onset Ave. More here. 
6. Holiday Pops!
There's something about a full orchestra playing holiday tunes in a theater all gussied up for the holidays that's just darn special. You feel you're George Bailey at the end of It's a Wonderful Life!  With two performances -- the children's matinee at 3:30 (with Santa and a gift for each child) and the evening version at 7 (with a little more music) -- clocking in at just an hour, it's easy to fit into your busy holiday schedule. Plus, the Showstoppers will be performing outside the theater at 2:30 and 6:00 for a half hour before each performance (with cider and donuts)! December 11, The Zeiterion Theater, 694 Purchase Street. Purchase tickets here. 
7. For the Birds
Get outside for the annual Christmas Bird Count. The local Nasketucket Bird Club helps out the national bird census on December 18, in various locations throughout South Coast. Not only is it helpful (and fun!) to participate, it's a great way to learn more about the local club. Join the fun here. 
8. Sunrise, Sunset
Celebrate the winter solstice in two ways this year. Join the Buzzards Bay Coalition for a sunrise walk through the forest to enjoy beautiful views of the sunrise from a scenic salt marsh or join the Tiverton Land Trust for some festivities around sunset, including a tree lighting, hot chocolate, Santa photos and more. Sunrise: December 21, 6:30 am at West Island State Reservation. More here about Fairhaven event. Sunset: December 21. 3:30 to 5:30 at Pardon Gray Reserve, 3460 Main Road, Tiverton. More here about Tiverton event.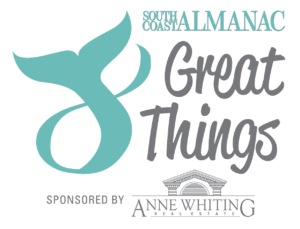 We love putting this list together every month and getting excited to see what's in store for us! And we love Anne Whiting Real Estate for sponsoring this list! Thanks to everyone over there for supporting great things on the South Coast.
---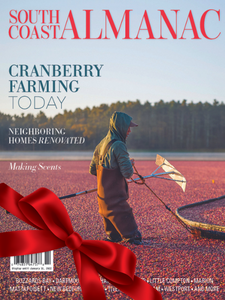 Our Fall/Holiday issue is on newsstands now! Think about giving it as a gift to someone from the South Coast who has moved away so they can keep up with things here -- we'll include a holiday gift card telling them it's from you!
Just $19.95 gives them four issues chock-a-block full of stories about the people and places of the South Coast.