We love finding hidden gems! Our friends at Surprenant & Beneski, PC sent us to a little place on Brock Avenue in New Bedford.  S & B is a law firm that is all about family and they know gathering for a meal around the table is an integral part of family life. Turns out, this Japanese kitchen feels the same way about family!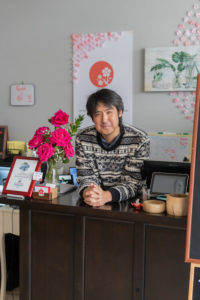 We love secrets! And we found a good one.
From a small place off the beaten path on Brock Avenue, William Foley and Ross Young are serving up authentic Japanese food at Yozakura Sushi.
That's not the secret.
Here it is: there is a hidden menu, one limited only by your own imagination. You want any Japanese food at all? Owner William Foley will make it happen for you even if it's off-menu. There are a few things that he may need a day or two heads up, but for most things, he'll whip it right up. "If you see something in an anime or a manga," he tells folks, "I can make it for you." Sometimes patrons will bring up photos on their phones to show him what they want. Yep, he'll make it happen.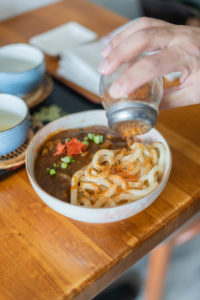 It's the perfect place to take sushi lovers and those who don't love sushi. That's partly because he's got his father on his mind. His American dad met his Japanese mom when his dad was stationed in Osaka, Japan. They married and moved to Fairhaven when William was 5 years old.
His father is kind of a meat-and-potatoes guy; when William was opening his own restaurant, his dad told him to make sure there was something on the menu for him. More specifically, he said, "I'm not coming unless you make surf & turf." William turned that directive into a menu item that is called I.D.L.Y.A. (a joke to his dad, which stands for "I don't like your attitude"). The dish is shrimp tempura and cucumber topped with short rib, sweet soy and truffle salt. People who don't like sushi LOVE it.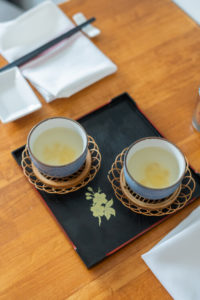 William treats everyone who comes in like family, going out of his way to make them feel at home. Visiting Yozakura Sushi is like coming home from college, telling your mom what you want for dinner and having it appear on the table that night. But it's even more than that. "If someone wants to take 3 hours, that's good. I'm not here to turn tables," he says. In fact, he encourages people to spend extra time. At the end of every meal, he presents a cup of complimentary tea. Its simplicity belies its deliciousness;  hot water poured over his homemade ginger-lemon marmalade. The ginger kick was absolutely the perfect way to finish off a meal. "What I appreciate about Japanese food is that there's a purpose for everything. You respect the ingredients," says William.
We went in at lunchtime for a bento box which was beautifully presented. With Japanese food, it's the presentation as much as the food itself. William has the right vessels for the dish you want, including some special bowls that were used in his grandmother's Japanese kitchen. The food lives up to the presentation. The panko breaded sole we had was delicious, along with the miso soup and other accompaniments.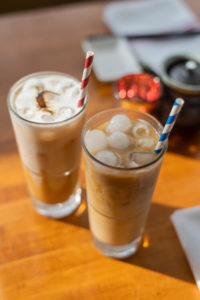 Some other things you might not know that we're here to tell you about:
William has some cool teas and specialty drinks on the menu but he doesn't have a liquor license so it's BYOB if you want alcohol.
He's always got ramen on the secret menu.
His miso soup won the prize for Best Signature Soup at the Chowder Fest last year.
He hosts monthly chef's tasting menus that you'll want to keep an eye out for.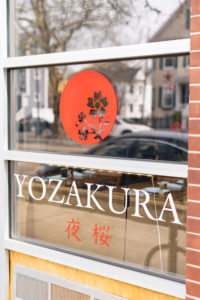 The last hidden thing for us to reveal: it's hard to find at night. But no need to worry. William will guide you there. When our friend got lost, she called and he picked up the phone, greeted her by name and led her to his front door. It's all part of the family vibe you get when you visit Yozakura Sushi.
Yozakura Sushi, 466 Brock Avenue, New Bedford.
Photos by Liam Connor Photography.
We hope you enjoyed this post, which is part of a series of blog posts celebrating local food spots, sponsored by Surprenant & Beneski, P.C., the premier estate planning and elder law practice serving clients in Southeastern Massachusetts. Surprenant & Beneski can help you prepare the foundational documents needed to facilitate healthcare, financial and legal decisions should a medical crisis occur. Early planning can save money, heartache and angst during a temporary bout of incapacity or a long-term care event. Getting your estate plan in order gives you peace of mind. Find out more about Surprenant & Beneski here.
If you want to make sure you don't miss learning the next favorite food spot, sign up here.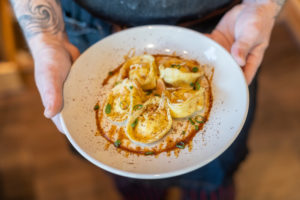 Last post in the series: The street corn and lobster tortellini at Scarlet Rose Bistro are SO good. Come check out how Chef Mike Rose blends unexpected flavors to create creative dishes. Find out more here.