Our friends at Surprenant & Beneski, PC sent us to a new restaurant on Wareham's Main Street that is focused on creative approaches to flavor.  S & B is a law firm that is all about family and they know gathering together is an integral part of family life. Add some flavor to make that gathering extra special! 
Chef Mike Rose was born to be a chef. From the time he was 6 years old, he was shucking and eating his own oysters. "It's illegal to take the oysters from the beach," the Wellfleet native says, "It's not illegal to eat the oysters at the beach."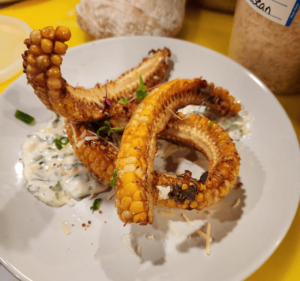 He's establishing the menu at the newly opened Scarlet Rose Bistro on Wareham's Main Street with the same can-do, youthful spirit. The menu is fun and unexpected. Take a look at his fried street corn, which arrive looking like octopus tentacles after he quarters the cobs and deep fries them.  Where'd he think that up? He laughs, "TikTok."
Other techniques are from the many chefs he's worked under at noteworthy restaurants all over the Outer Cape. We came to find out about the lobster tortellini. Every dish is made from scratch in his kitchen: the pasta, the ricotta cheese. For the lobster tortellini, he patiently rolls the pasta dough repeatedly through the pasta make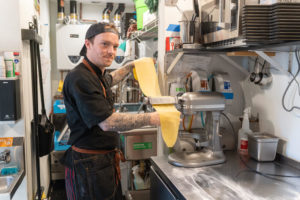 r to reach the desired thickness. He cuts out perfect circles and fills it with the filling: lobster, ricotta, shallots, herbs, lemon and vanilla. Vanilla?! Yep. "I learned that from one of the chefs I worked with. He told me to add a little vanilla to some lobster bisque. I looked at him like he had 6 heads. But it was amazing!"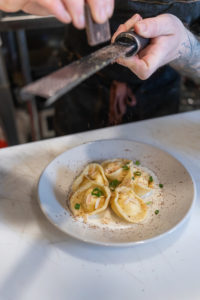 He carefully folds the disks in half, give them a little poke and creates little tortellini that look like Navy sailors' hats. After cooking them, he lays them on a bed of cauliflower puree and sprinkles slivered almonds, scallions, a little marsala reduction and....COCOA. So deliciously good! What a way to start a meal.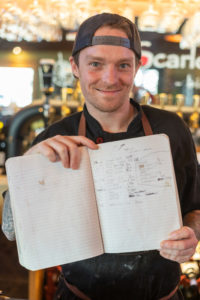 Owners Mike and Connie Kjelgaard knew it was a match from the moment they looked at Mike's resume. The Kjelgaards  looked at his resume and noted his first name (same as owner Mike Kjelgaard) and his last name (same as the Scarlet Rose Bistro) and figured it was a sign. Connie likes watching him as he plans menus, scribbling ideas and recipes in his notebook, cookbooks strewn all around. His favorite? Flavor Bible, which is less cookbook (there are no recipes) and more a divining rod to find successful flavor combinations -- like a little vanilla with a lobster dish.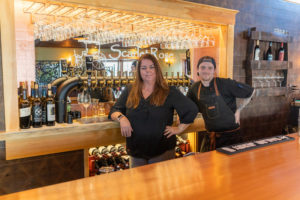 Neither Mike nor Connie had restaurant experience before buying the longtime florist/gift shop on the corner of Main and Center Streets. The nurse and engineer decided to search out a place they could transform into a cozy and intimate tavern and they set to work to do just that. They both worked their original jobs, until Connie left nursing a year ago to focus on the bistro full time. "It's everything I pictured," she says, "It doesn't feel like work to me." It doesn't feel like work to Chef Rose either. He has an Anthony Bourdain quote on his whiteboard in the kitchen: "Your body is not a temple, it's an amusement park. Enjoy the ride."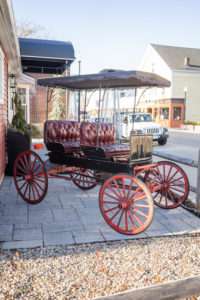 Look for the antique horse carriage outside the Scarlet Rose Bistro and enjoy the ride.
Scarlet Rose Bistro, 196 Main Street, Wareham.
Photography by Liam Connor Photography.
We hope you enjoyed this post, which is part of a series of blog posts celebrating local food spots, sponsored by Surprenant & Beneski, P.C., the premier estate planning and elder law practice serving clients in Southeastern Massachusetts. Surprenant & Beneski can help you prepare the foundational documents needed to facilitate healthcare, financial and legal decisions should a medical crisis occur. Early planning can save money, heartache and angst during a temporary bout of incapacity or a long-term care event. Getting your estate plan in order gives you peace of mind. Find out more about Surprenant & Beneski here.
If you want to make sure you don't miss learning the next favorite food spot, sign up here.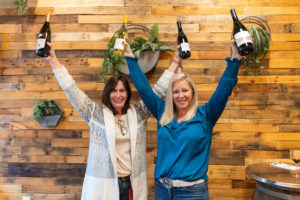 Last post in the series. Uva in Plymouth is the only self-serve wine bar in Massachusetts (the only one in New England, for that matter!) Come find out that's all about. Find out more here.